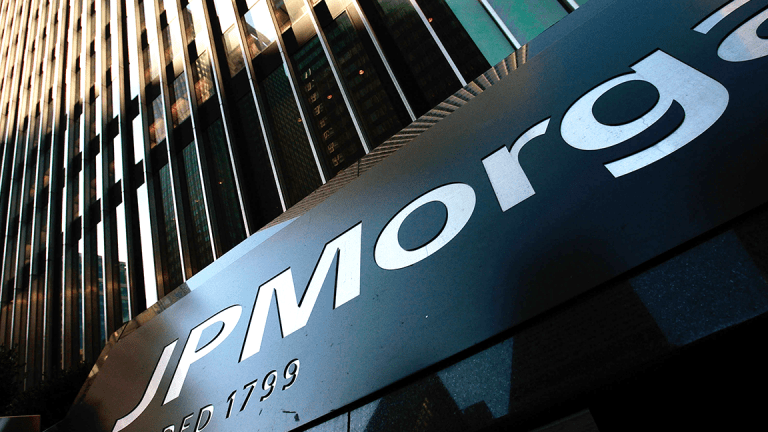 Why Jim Cramer's Trust Bought JPMorgan Ahead of Friday's Earnings
Stockpicker says the firm is 'widely considered to be the world's best bank.'
Jim Cramer says his charitable trust added JPMorgan Chase (JPM) - Get Report ahead of Friday's earnings report because the firm "is widely considered to be the world's best bank," and should enjoy "superior earnings growth" going forward.
"What excites us with JP Morgan, led by the able CEO Jamie Dimon ... is its earnings power in a rising-rate environment because of its massive deposit base and its ability to profit from the needs of companies to raise capital globally, not just in the United States," Cramer said in an exclusive conference call with members of his Actions Alerts PLUS club for investors. "We expect JPMorgan will have superior earnings growth -- especially during a period of global expansion -- and we know it's widely considered to be the world's best bank."
Cramer added that even if JPM "hits an air pocket" with Friday's earnings, "we're prepared for that, [because] we need to build a position up."
JPMorgan plans to report quarterly results on Friday before the opening bell. Cramer told AAP members in his conference call that the banking giant has several things going for it heading into 2018, including:
Looming U.S. Rate Hikes. The three to four Fed Funds rate increases that market watchers expect the Federal Reserve to enact in 2018 are "a dream come true" for the bank, Cramer said. After all, he noted that a steepening yield curve should "dramatically" widen the bank's net interest-rate margin.
Lower Corporate-Tax Rates. Newly lowered U.S. corporate taxes should spur economic growth that benefits JPM through increased lending, while also cutting the bank's own federal tax bill.
Bank Deregulation. "Given its size, JPMorgan has suffered from a huge regulatory burden more than any other bank," Cramer said. "In a deregulated Trump regime, it stands to reason that JP Morgan has the most to gain."
More Dividends and Share Buybacks. Cramer said incoming business-friendly Fed Chairman Jerome Powell will likely help ease Great Recession limits on bank dividends and share buybacks. "We believe that 2018 will be the year that the bank won't be held hostage from raising its buyback or its dividend by a stringent Fed," he said.
(Editor's pick. Originally published Jan. 11.)
Want to join in on Jim's monthly conference calls? Click here for a free 14-day trial subscription to Action Alerts PLUS and hear all of the latest call, plus get e-mails before Jim makes any trade and enjoy lots of other exclusive material.
More of What's Trending on TheStreet:
Employees of TheStreet are restricted from trading individual securities.