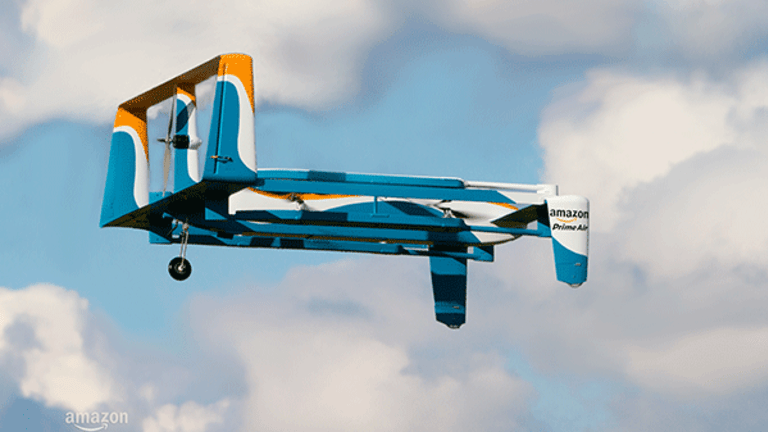 Why Amazon Doesn't Need to Do a Whole Foods-Like Deal in Apparel
The company has little need to buy a bricks-and-mortar apparel seller when its online apparel sales are performing so well.
For the time being, Amazon.com Inc.  (AMZN) - Get Amazon.com, Inc. Report isn't doing anything too dramatic to add to its share gains in a giant U.S. apparel market. It's just tweaking a successful online retail strategy by adding a service that the company is uniquely positioned to deliver, and forging the kind of direct relationships with major apparel brands that only larger retailers can establish.
Now that Amazon is on its way to running a major grocery chain--and likely using the chain's assets to advance a number of online and offline retail initiatives--there's understandably a lot of speculation about what other types of bricks-and-mortar businesses Amazon the company wade into. Discount retail, furniture, pharmacies and convenience stores are among the possibilities that have been thrown around.
So has apparel. This is, after all, an industry estimated to be worth over $350 billion in the U.S. alone, and for which--judging by eMarketer's estimate that U.S. e-commerce apparel and accessories sales would total $74 billion in 2016--over 75% of sales remain offline. An industry where the preference of many consumers to see items in person, and learn how they fit and feel, still produces quite a lot of retail store traffic. Analysts have argued upscale retailers such as Nordstrom Inc. (JWN) - Get Nordstrom, Inc. (JWN) Reportand Lululemon Athletica Inc. (LULU) - Get Lululemon Athletica Inc (LULU) Report could be targets.
But apparel is also an industry where store closings have been happening at a manic pace. Some of this is inevitable fallout from the retail overbuilding that happened in dozens of metro areas over the last 15 years. But rapid online apparel sales growth also hasn't been helpful to physical retailers contending with low margins and significant overhead. And Amazon has been responsible for a decent portion of that online growth.
Given all of that, it arguably makes sense for Jeff Bezos' company to stick with an online-centric apparel strategy. One where it can keep leveraging the cost and convenience advantages provided by its online sales model--advantages that grow each year as its warehouse and logistics footprint keeps expanding--while coming up with ways to address the reasons why many consumers still prefer to do their apparel shopping offline.
Thus, just a few days after Amazon announced it's buying Whole Foods, it unveiled Prime Wardrobe. The service, currently in beta mode, lets Prime subscribers try out between 3 and 15 clothing items, with Amazon taking care of shipping in both directions. A 10% discount is provided if a user decides to buy 3 or 4 of the items, and a 20% discount if 5 or more items are bought.
Over a million items are supported, including ones from major brands such as Levi's, Calvin Klein, Timex and Adidas. By making returns free and painless, Prime Wardrobe gives Amazon an interesting way to win over apparel buyers worried about shopping online due to concerns that ordered items won't look, feel or fit right. Meanwhile, the scale of Amazon's operations, along with the fact that it's collecting Prime subscription fees from those using Wardrobe, make it better-positioned than rivals to both cost-effectively deliver a service like this, and to provide a quality user experience in terms of selection and shipping times.
Separately, Bloomberg has reported Amazon has struck a deal with Nike Inc. (NKE) - Get NIKE, Inc. (NKE) Report to directly sell Nike shoes on its site through a brand-registry program. The deal aims to let Nike, whose products are sold by many Amazon marketplace sellers, combat counterfeiting and more generally better control how its products are sold on Amazon. It also helps the shoe giant better compete with Under Armour Inc. (UAA) - Get Under Armour, Inc. Class A Report , which already directly sells its wares to Amazon.
With the deal potentially increasing Amazon's Nike inventory and--assuming Amazon used its buying power to negotiate a favorable deal--lowering the prices at which its sells Nike gear, shoe sellers such as Foot Locker Inc. (FL) - Get Foot Locker, Inc. Report , Finish Line Inc. (FINL) and Dicks Sporting Goods Inc. (DKS) - Get Dick's Sporting Goods, Inc. Report sold off following Bloomberg's report. The deal could be a sign of things to come for Amazon, and not just in apparel: Bloomberg reported in March that Amazon is trying to convince top consumer packaged goods brands to start selling directly to consumers via Amazon, and to rethink their packaging along the way.
Amazon doesn't break out its apparel sales, but all signs point to them being significant, especially with younger shoppers. Cowen estimated last October Amazon's apparel and accessory sales would grow 30% in 2017 to $28 billion, leading the company to surpass Macy's Inc. (M) - Get Macy's Inc Report as the biggest U.S. apparel seller and giving it an 8.2% local apparel share. And in March, e-commerce research firm Slice reported that Amazon accounted for a market-leading 16.6% of 2016 U.S. online apparel sales to people aged 18 to 34. Nordstrom came in second with an 8.1% share.
Between numbers like that, and the far more dismal numbers that exist for offline apparel sales these day, it will be hard to blame Amazon if the company doesn't pull a Whole Foods-like deal for the apparel market, and sticks with what it knows best. Especially since the company is showing that its e-commerce operations still have room to innovate in this space.
More of What's Trending on TheStreet:
Visit here for the latest business headlines.