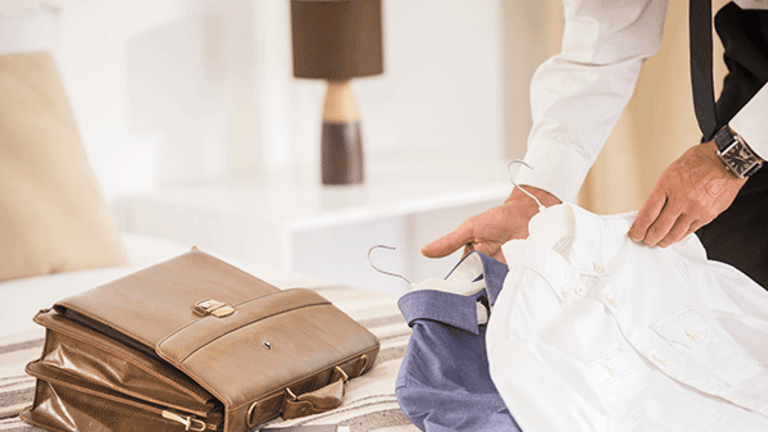 Why It Might Be Time to Start Checking Out of Hotel Stocks
Experts see global terrorism,the Zika virus and weak corporate earnings growth hitting the lodging sector hard in the next two years. Is it time to check out of hotel stocks?
Hotel industry experts are slashing guidance and offering up some worrisome predictions for the lodging industry over the next two years. And if their projections play out, investors might want to start checking out of hotel stocks sooner - rather than later.
Lodging stocks have been on a tear over the past two months, with hotel real estate investment trusts generating total returns, including dividends, of 5.7% in June and 10.2% in July. Year-to-date, they're up 15.4%, outpacing the S&P 500's 6.7% return and Nasdaq's 4.4% return.
But experts warn that the surge in global terrorist attacks, fears about the Zika virus, weak corporate earnings growth and other factors could trigger a sharp pullback in hotel bookings this year. And this, they say, could cause the sector's stellar fundamentals to unravel - and even turn negative - over the next two years.
A report, released this week from Fitch Ratings, appears to back up this doom-and-gloom scenario: it's predicting hotel occupancy will fall in 2016. And if historic trends are any indication, this would mean the industry's RevPAR(revenue per available room) - which measures room rate and occupancy growth - will slow significantly in 2017 and turn negative in 2018.
"Occupancy is usually the first thing to go, and then rates follow suit six to 12 months after that," said Stephen Boyd, a senior director of real estate and leisure at Fitch Ratings.
The last time RevPAR flipped negative was at the height of the recession in 2009, when it plunged 16.6%.
Boyd said a litany of factors are weighing on the industry.
Corporate America's sluggish earnings growth poses the biggest threat, as companies tend to rein in spending on corporate business travel when they're looking for ways to chop costs. And since business travelers tend to pay the highest hotel room rates, any decline in this segment will drag down a hotel's revenue.
"The CFOs are putting a lot of pressure on corporate travel managers to find ways to reduce costs," said Dr. Bjorn Hanson, a professor of hospitality and tourism at New York University's Tisch Center. "So fewer people are going on trips, trips are shorter, people are trading down to less-expensive hotels, and this adds up to slower RevPAR growth."
Indeed, TravelClick reported business hotel bookings in July were down 3.6% from the same month a year ago.
On the leisure side, global terrorism and Zika-related health concerns are spooking travelers as they make vacation plans.
Some experts play down the Zika virus scare.
"If you remember all the hoopla around Ebola two years ago, that had negligible impact on hotel demand, and that was a far bigger scare than Zika," said Lukas Hartwich, a senior analyst at Green Street Advisors.
Other factors - the strong U.S. dollar and geopolitical events, such as Brexit, are expected to cause a dropoff in the number of international travelers visiting the U.S. Even the surge in demand for Airbnb is cutting into the lodging sector's business.
All of this comes as a flood of newly-constructed hotel rooms are slated to hit the market, particularly in large gateway markets, such as New York, Miami and Seattle.
Experts believe the lodging sector peaked in 2015 when it posted its highest occupancy rate - 65.5% - since 1984. At the time, skittish investors dumped the stocks, causing hotel REITs to post negative returns of 24.4% in 2015 and another negative 9.7% in January 2016. "They had baked in a recession at that point that had not happened," said Wes Golladay, a research analyst at RBC Capital Markets.
The sector rebounded in 2016, with most of the gains following the Brexit vote as investors flocked to the hotel REITs for their lofty 5.6% dividend yields. The rally continued even after most lodging companies slashed guidance for the year. "When everything rebounded in the equity markets - now at all-time highs - some thought eventually business travel would follow, but so far we haven't seen that," said Golladay.
Certain lodging companies will likely be less impacted than others from the strife.
In general, hotel operating companies, such as Marriott International Inc. (MAR) and Hilton Worldwide Holdings Inc. (HLT) , will likely weather through the turmoil better than hotel REITs. They operate - but don't own - the hotels, and collect fees and recurring revenue every time a new hotel joins their brand, said Hartwich.
"They're also more geographically diversified than REITs," added Patrick Scholes, an analyst at SunTrust Robinson Humphrey.
Also, certain REITs, such as Summit Hotel Properties (INN) and Apple Hospitality REIT (APLE) , face fewer risks since they don't focus on big gateway markets where new hotels are being rolled out and international tourism plays a role.
Still, some industry experts believe the fears are overblown and predictions overdone.
"The sky is not falling," said Jan Freitag, senior vice president for lodging insights at STR, a data and analytics specialist in the hotel industry. "Room demand is closely linked to GDP growth and as long as GDP growth is positive, room demand and RevPAR growth will be positive."