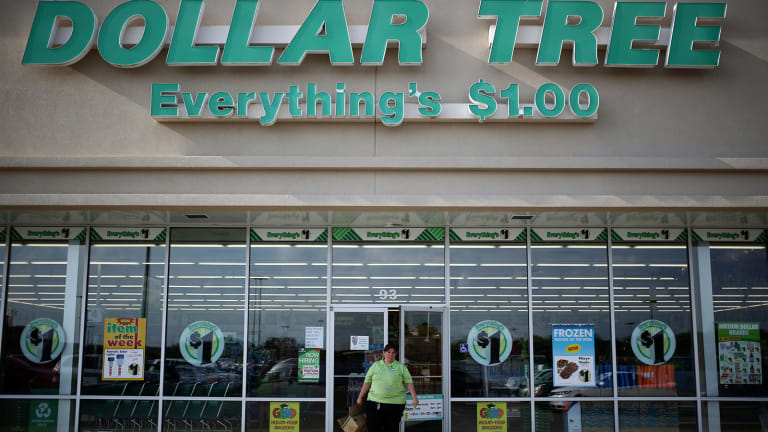 Why Is Dollar Tree Stock Trading Higher After Its Awful Earnings Miss?
Do I want to own the shares now?
Personally, I like the Dollar Tree (DLTR) - Get Free Report location on one of my running routes. The place is always packed. There is a small furniture store next door that accidentally provides the much needed extra parking spaces. Occasionally, I will walk the aisles to see what can be had so cheaply these days. For those who think all boats have been lifted as the tide has risen, the folks you meet in these aisles would in many cases disagree. So, it is that Dollar Tree went to the tape on Wednesday morning with their fourth quarter financial results. They aren't pretty. Revenue declined by -2.4%, but managed to beat expectations. Earnings per share? That's going to require an explanation.
The firm suffered a massive loss when figured, according to GAAP standards. DLTR took a $2.73 billion non-cash goodwill impairment charge connected to the sagging brand name value of the Family Dollar chain acquired in 2015. That charge brought EPS down to -$9.66. Adjusted, EPS prints at $1.93, which was a penny beat. In addition to these results, gross profit fell significantly due to such maladies as increased markdowns, as well as higher than expected expenses associated with moving freight, occupancy costs, and shrink.
Did I mention guidance? Yeah, that was awful as well. The firm guided Q1 EPS below consensus, while also taking full year EPS and revenue generation below the street. So why, oh why are these shares trading higher on Wednesday morning? Let's go there.
Correcting a Mistake
The firm makes clear that fair value for the Family Dollar chain was far lower than the value that the firm had assigned to it on their balance sheet... hence the impairment charge. The firm reported same store sales growth of 2.4% for the fourth quarter. Broken out by brand, stores bearing the Dollar Tree name saw 3.2% same store sales growth, while their Family Dollar counterparts experienced growth if just 1.4%.
The parent closed 84 Family Dollar stores in the fourth quarter, while expressing an intent to close another 390 in 2019. In addition to that, the firm expects to rebrand 200 Family Dollar locations as Dollar Trees. while also renovating 1,000 stores in the process.
Adding a little more umph to pragmatism of the parent firm's approach, the forward guidance offered was figured with tariffs on Chinese imports increasing from 10% to 25% in March. The firm expects to see better than expected guidance on margin if those tariffs stay where they are, or are dropped all together. That's a no-brainer.
Do I want to own the shares now? Management is doing the right things. However the balance sheet remains a bit unbalanced if you will, Cash and equivalents have been reduced to $422 million over the past 12 months from the nearly $1.1 billion that the firm had shown at that time. That, plus the reduction in goodwill (a good thing) show a reduction in total assets that comes to almost $2.8 billion. Meanwhile, long-term debt has been reduced by a rough $500 million over that time, but still stands above $4.2 bilion.
The Chart
I think one look at this chart tells the investor just how significant this fight is at the 50% retracement line. The chart also relays the importance of the support seen earlier this week along the lower trend line of the Pitchfork. My thought? If the name re-tests the $95 level, it's going to $92. Maybe I play the name from there. If one were to go the equity route at this price, I would suggest a companion sale of maybe $105 calls expiring in August as a way to reduce net basis. That series is now going for more than $4.
At the time of publication, Stephen Guilfoyle had no position in the securities mentioned.