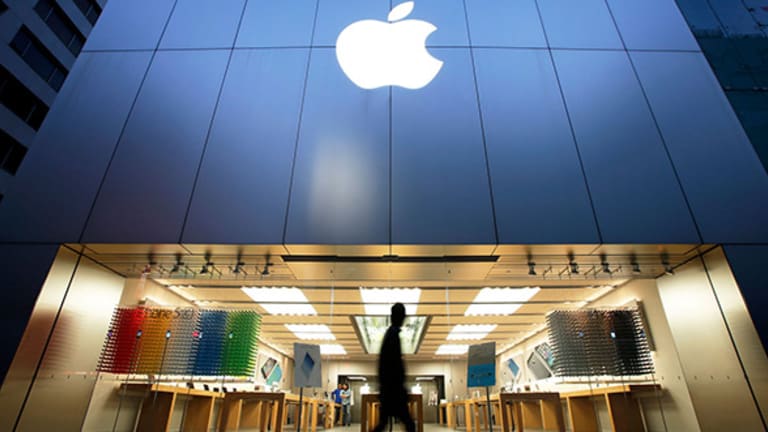 Why I Think Apple's Stock Bites
The key to Doug Kass' short case for Apple lies in the notion that its most-recent product upgrade cycle was the last important one for the next few years.
This commentary originally appeared on Real Money Pro at 9:01 a.m. ET on Wednesday, Oct. 28. Click here to learn about this dynamic market information service for active traders.
Apple (AAPL) gave something for both the bulls and the bears in its fiscal fourth-quarter earnings released yesterday after the bell.
For the bulls, Apple's $1.96 earnings per share slightly exceeded the $1.88 consensus expectations. And as Tim Cook recently mentioned in an e-mail to Jim "El Capitan" Cramer, China sales were robust -- doubling from the year ago period.
However, the $12.5 billion in quarterly China sales were down from $13.2 billion in the previous period and from the +120% year-over-year increase. And while the company noted that the upcoming quarter's iPhone sales will exhibit an advance over the prior year's stellar results, management gave conservative forward guidance overall (as is typical).
Bears will also note that iPhone unit sales' year-over-year growth rate has decelerated over the last four quarters, from 46% in fiscal 1Q to 40% in fiscal 2Q, 35% in fiscal 3Q and 22% in the latest period.
Further, the company modestly missed analysts' unit estimates in every major product line:
iPhone: 48 million units vs. 49 million expected
iPad: 9.9 million vs. a 10 million estimate (down 20% year over year)
Mac: 5.7 million vs. 5.85 million projected (up 3% year over year)
Revenue came in slightly ahead of some analyst estimates despite these misses only because the company's "Other Income" line expanded.
Why I'm Short on Apple
Personally, I continue to look at Apple through the prism of a bear. (And if you're interested in my view of Twitter (TWTR) , I have a full rundown of TWTR's earnings in my diary on RealMoney Pro this morning.)
The key to my short case for AAPL lies in the notion that the most-recent product upgrade cycle was the last important one that Apple will see over the next few years.
While the iPhone 7 lies ahead for fiscal 2016, I don't expect we'll see much of a technological change from the iPhone 6. And I don't see a compelling reason to upgrade to an iPhone 7 despite the iPhone 6's relatively low penetration rate (28%) among Apple's existing installed base.
At the same time, ancillary businesses (iWatch, Apple Pay, Apple TV, Apple Music and even the Apple car) won't likely be earnings "needle movers," nor materially offset the absence of growth in the company's core iPhone division during 2016-17.
And while Apple's "Other Business" line contributed about $3 billion in the latest quarter, that's a large figure for most companies but not for Apple -- which had $51 billion in total revenues. Indeed, in looking at the non-core businesses, it's not even clear to me that music will survive.
And even though penetration into China is a plus that will make a strong contribution to Apple's top-line sales growth over the next few quarters, the overall smart-phone market is maturing (particularly at the high ASP level).
My Forecast
As a result, I expect Apple's top- and bottom-line growth over the next two to three years to dramatically moderate from what we saw over the last two to three years.
Despite fiscal year 2015's 42% growth EPS rate, I expect flattish Apple profits of about about $9.50 per share in fiscal 2016 vs. $9.22 this time around. I also predict revenues will come in essentially unchanged at $235 billion next fiscal year vs. $233 billion in this one.
Sales might be flat in fiscal 2017 as well, with EPS benefiting from continued share buybacks and growing about 8% to roughly $10.25 a share.
Overall, I think that while Apple's fiscal 2015 sales totaled $234 billion, revenues will likely only reach about $250 billion by fiscal 2018. That's a small, 8% cumulative advance.
The Pros and Cons of Cash
Of course, much is made of Apple's cash horde, which provides a safety net for investors. (Note: Net cash was unchanged in the latest quarter over the previous one).
It's true that all of that cash provides a continued buyback opportunity for the company, and pressure from Carl Icahn and others will pressure management to continue share repurchases.
However, should Apple decide to make a major acquisition, that could be valuation destructive -- as it would underscore the company's "maturing-market" theme.
While Apple's valuation is around 12x projected 2016 EPS (less than the overall market's average), a maturing company of Apple's size in terms of sales and market capitalization deserves a substantially lower market multiple.
The Bottom Line
As I've previously written, Apple suffers from its prior successes and the "Law of Large Numbers," which I expect we'll began to see in the company's next quarterly report. It is tautological that the needle of sales/profits/cash flow will be ever harder for management to move.
Finally, who's left to buy Apple stock? And conversely, the shares could continue to be an ATM for investors who'll sell their AAPL stock if the bull market fades.
At the time of publication, Kass was short AAPL, although positions may change at any time.