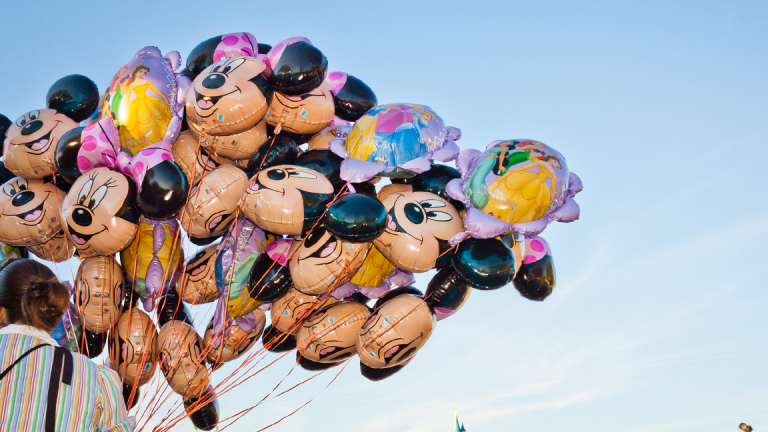 Why I Still Love the House of Mouse
Here is why, and how to play Disney ahead of February's earnings.
Here is why, and how to play Disney ahead of February's earnings.
Yes, one of my core longs through all of the recent market misery has been Walt Disney (DIS) - Get Report . Obviously, the business of entertainment is all abuzz regarding the release of just about every Disney movie, as well as every improvement made at Disney theme parks around the world. The focus, at least for the short-to-medium-term, remains on the transition of cable television to a model that accommodates both traditional cable viewers as well as cord cutters.
Many of you know that one of my favorite short ideas for 2019 is Neflix (NFLX) - Get Report . The fact is that I did indeed cover that short last week, but that was simple profit taking. The trade had exceeded its target price -- and well, you know how I am about market discipline. The fact is that for many firms engaged in the business of streaming television, costs are only going higher, perhaps much higher as the field becomes ever more competitive. After first dealing with Hulu -- primarily a Disney offering going forward -- and Amazon (AMZN) - Get Report Prime, the field has grown. Or will soon enough to include Alphabet (GOOGL) - Get Report , AT&T (T) - Get Report  and Walmart (WMT) - Get Report , not to mention others. The biggest dog in this fight will likely be the king of content, itself, Walt Disney (DIS) - Get Report .
I'll tell you what. I love the ESPN plus service. So much to see there. It has all of the ESPN offerings across the various networks, in addition to many sports not readily available otherwise. I watched Army play Brown in ice hockey Sunday night. Beat that. I know that I will be an early sign up for the new Disney service when it becomes reality. Still love the mouse.
What I see here is a name that until recently had held up rather well. Then, in line with broader markets, took a serious December beating, only to find some solace last week. Money Flow remains glaringly awful. The daily Moving Average Convergence Divergence, though potentially turning, still places all three EMAs (12, 26, 9) below the Mendoza line.
Help did arrive last week above par ($100). There had been some resistance to that spot back in the Spring, which created some algorithmic recognition there. There remains the danger, after the pension rebalance and any lingering January effect are out the way, that the name could experience more selling. Hard support seems to live down around $96. The stock has been repelled at, or close to $118 three times now. DIS will report the firm's first-quarter earnings results after the closing bell on Tuesday, February 5. Looking to add, or initiate, here is an idea.
Trade Idea (minimal lots)
--Purchase 100 shares of Walt Disney (DIS) at or close to the last sale of $107.30.
--Sell one DIS Feb 8 $118 call (last 0.70)
--Sell one DIS Feb 8 $101 put (approx value: $2.00)
--Sell one DIS Feb 8 $96 put (approx value: $1.00)
Notes:
1) The sale of these options in aggregate drops the net basis of the initial purchase to $103.60.
2) Short-term best case... DIS stock rises above $118 by Feb. 8, and the shares are called away -- resulting in a profit of 13.9%.
3) Short-term worst case... DIS stock drops below $96 by Feb. 8, and 100 shares each are put to the trader at both the $101 and $96 levels. In that case, the trader would end up long 300 shares at a net basis of $100.20.
4) In the event of a worst case scenario, the trader would then sell three out of the money calls (likely targeted around Q2 earnings results in May), against the position in order to further reduce basis.
(An earlier version of this column appeared at 8:07 a.m. ET on Real Money, our premium site for active traders. Click here to get great columns like this from Stephen "Sarge" Guilfoyle, Jim Cramer and other experts throughout the market day.)
At the time of publication, Guilfoyle was long AMZN, DIS equity. Short DIS puts.