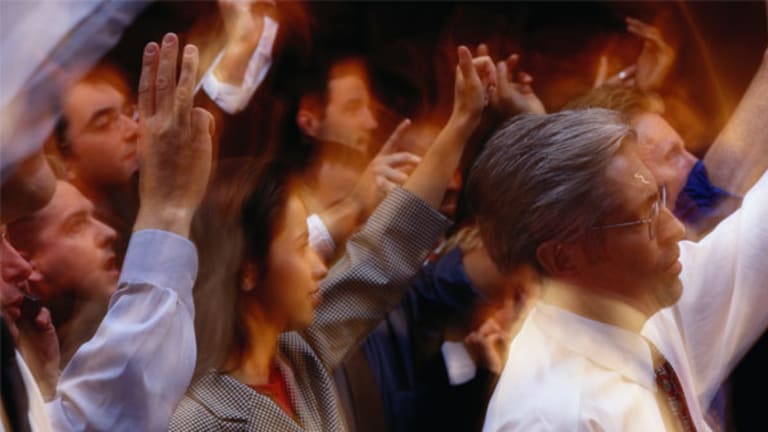 Why I'm So Negative; A Bear-Market Rally; Rig Fight!: Best of Kass
Doug Kass says he's negative on the markets, turns to the charts to outline the bear rally he sees and disagrees with Cramer on rigs.
Doug Kass of Seabreeze Partners is known for his accurate stock market calls and keen insights into the economy, which he shares with RealMoney Pro readers in his daily trading diary.
This past week, Kass discussed why he's feeling so negative, how we're in a bear-market rally and why he disagrees with Jim Cramer on Schlumberger.
I'm Bearish in Word and Deed
Originally published March 24 at 8:18 a.m. ET
"Central banks can ignore the CDS market, but they cannot imagine away the losses coming through the system. They cannot save the banks now without creating a recession, with all the consequences that has for bad loans and falls in GNP. The fall in productivity is already encouraging companies to eschew capital spending in favor of buybacks, which compounds the problem of credit growing faster than the economy. Profit margins are naturally falling as wages rise faster than prices and overcapacity rules out pricing power. No wonder that central banks feel that they are nearly out of ammunition. There is not a good choice to be made."
-- Hedge fund manager Crispin Odey, as quoted by Zero Hedge
I'm traveling to New York Thursday, but will hopefully be able to post while on the plane.
But before I go, I want to emphasize that rarely have I ever been so blunt and unequivocal in my market negativity. And rarely have I been so decisive in restructuring my portfolio in anticipation of market weakness and the belief that we're in a bear-market rally.
It's important to emphasize that I bought stocks during both of the recent market dives even as many on this site and elsewhere grew more bearish. Indeed, I also bought stocks during the two dips in 2015's second half.
But now, the S&P 500's move to about 2,040 earlier this week took the index to about 9% above my fair-market-value calculation of 1,860. I believe that radically altered stocks' upside/downside quotient.
I might be totally incorrect in view and action, but I've tried to spell out my ursine outlook with specific, well-reasoned and logical commentary. Because actions speak louder than words, I've also made wholesale portfolio adjustments as a clear manifestation of my cautious market view.
In doing so, I've resisted the growing and more-bullish consensus among those who all too often worship at the altar of price momentum. Instead, I've focused on what I see as 2016's fundamental realities.
In a reflection of what I see as a worsening risk-vs.-reward ratio, I've recently sold out of some groups like bank stocks, which I believe represent solid intermediate-term values. In fact, my "Best Long Ideas" list is down to just five stocks, while my "Best Short Ideas" list is up to a record 21.
As always, I might be wrong -- and if the facts or fundamentals change, I will be. But as I do every morning, please begin your day asking the following key questions:
In a paperless and cloudy world, are investors and citizens as safe as the markets assume we are?
In a flat, networked and interconnected world, is it even possible for America to be an "oasis of prosperity" and a driver or engine of global economic growth?
With the G-8's geopolitical coordination at an all-time low, how slow and inept will the reaction be if the wheels do come off?
The answers to these three questions form the basis of my negative market and economic outlooks.
Always keep today's uncertain fundamental, economic, profit, political, geopolitical, currency, central-bank and European-bank outlooks in mind. Always judge their likely direction relative to consensus expectations and market prices.
Lastly, always remember Warren Buffett's famous line: "Price is what you pay. Value is what you get."
Position: Long SDS, Short SPY
Warning: We're In a Bear-Market Rally
Originally published March 23 at 10:30 a.m. ET
I've recently outlined my intermediate-term economic and market concerns in my columnA Second Financial Crisis Looms, my missiveBrussels Reminds Us to Question Our Investments and other postings.

But now let's look at the shorter term -- and explain why I believe the rising stock prices that we're seeing are just a "bear-market rally" rather than a new bull-market leg.
After ringing up their worst start ever for a new year, the major stock-market indices have recently enjoyed a breathtaking five-week rally that wiped out all of the previous losses.
Recession concerns have disappeared as the Federal Reserve delayed anticipated rate hikes, and outflows from risk-on assets have morphed into inflows into junk bonds, equity ETFs and even emerging-market funds.
As a result, many now believe that we're in a continuation of the third-longest bull market in history, rather than just seeing a temporary rally within a broader bear market -- but I disagree.
Here's why:
Previous bear-market rallies have seen the same sort of conditions that we have today -- short covering, a change in sentiment from bearishness to bullishness and a fear of "missing out" on the market's apparent rise.
The recent rally's five- to seven-week timeframe is consistent with previous rebounds from very deeply oversold conditions. Personally, I believe the market has simply moved to an overbought extreme from January's oversold one. (Helene "The Divine Ms. M" Meisler rounds up the evidence for an overextended market in this good column.)
Peter Boockvar's take on the rising bullish sentiment: "The rally off the Feb. 10 low continues to bring out the bulls. According to Investors Intelligence, the number of bulls rose three points to to 47.4% -- the highest reading in nine months -- while bears fell 2.5 points to 27.8%, the lowest since December. The spread between bulls and bears is now at its widest level since August, before you-know-what. ... We [now] have a VIX down to 14, the most overbought market in 1-1/2 years according to the seven-day RSI, and now the widest bull/bear spread in seven months. Be careful chasing here."
Although the recent advance has had some of the best breadth since mid-2009, it's also coincided with clear weakness in the number of stocks hitting new 52-week highs. The low levels of new highs are mostly due to the fact that many of the market's recent big gainers are in depressed market segments like gold, energy, materials and industrials. Contrast this with the health-care sector's struggles.
The rebounding sectors are also quite extended and overbought now, and are beginning to show some signs of momentum loss. (The price of oil comes to mind.)
Other sectors like utilities and consumer staples also look like they're extended and overbought. Both of those are trading well above their 200-day moving averages, and might no longer represent "defensive" investments.
The rebounding groups have benefited from a weakening U.S. dollar, but the greenback is approaching an important support level that the currency has historically rebounded from in recent years.
As I've consistently written, leadership changes typically occur in bear markets rather than bull markets.
The 10-day put/call ratio is down to 0.89, a level that was consistent with market tops during late 2014 and late 2015's rallies.
My pal Tony Dwyer also pointed out that:
"One additional historical data point that reinforces a correction view over the near-term comes from Dow Jones Industrial Average. As of yesterday's close, every Dow component stock was over its respective 10-, 20- and 50-day moving average. Since 2000, the only other time that happened was Oct. 27, 2011. The market topped out a day later and was followed by a 8.17% correction.

In hindsight, the November 2011 drop was the successful retest of the low, which led to the next major leg higher (+18% in four months). But similar to every other overbought correction, [it] was only considered 'natural, normal and healthy' until it happened.
Although we doubt the tragic events in Brussels are the excuse, the derivative effect of the terrorist attack on anti-immigration chatter as we approach the Republican nomination process and 'Brexit' vote in June may be enough to generate the 'pause that refreshes."
Finally, three charts that Zero Hedge posted serve as further evidence that we're in the final inning of a bear-market rally.
The first one shows that Wall Street's recent rise is stretched relative to the real U.S. economy:

Source: Zero Hedge
The second chart illustrates the gap between stocks and corporate-profit expectations:

Source: Zero Hedge
And lastly, this chart illustrates how the historic correlation between stock and bond prices is now very distorted:

Source: Zero Hedge
Position: Long SDS and BGB and short SPY
Rig Fight!
Originally published March 22 at 1:35 p.m. ET
I discussed in my recent missive CAT Fight that I have a respectful disagreement with Jim "El Capitan" Cramer about Caterpillar (CAT) - Get Caterpillar Inc. Report -- and another firm we disagree on Schlumberger (SLB) - Get Schlumberger N.V. Report .
Jim adores Schlumberger and has been adding to his long in the name. By contrast, I'm short SLB and put the stock on my "Best Short Ideas" list on March 3 at $74.43.
Well, Bloomberg recently quoted the CEOs of both SLB and TransOcean (RIG) - Get Transocean Ltd (Switzerland) Report -- which is down some 4% today -- as saying oil prices won't recover any time soon. Transocean CEO Jeremy Thigpen even said rig prices might not move higher over the next three years!
This underscores the rationale for my negativity.
Position: Short SLB
Doug Kass is the president of Seabreeze Partners Management Inc. Under no circumstances does this information represent a recommendation to buy, sell or hold any security.