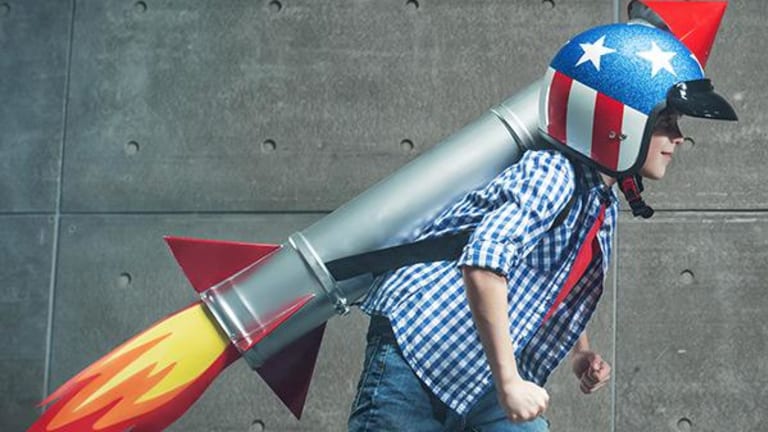 Here's How You Can Make a Ton of Money in the Stock Market in August
Here are some top picks from our key strategist for August.
As July turns into August, the broad U.S. stock-market indices are either at or close to all-time highs. But these indices' components are seeing week-to-week or even the day-to-day mini-rotations based on investor expectations for U.S. monetary policy, fiscal policy, debt-market yields and currency valuations. Folks, there's a lot on our plates.
I've long believed that the perceived current loftiness of equity valuations is indeed proper for today's environment. Although valuations are (broadly speaking) well above historic norms, remember that historical norms have nothing to do with current stock prices. Supply and demand for a specific name are all that really matters.
And while historic valuations are a useful guide, they're just one of many things to consider. Are the rest of the factors that impact stock prices hovering around historical norms? No? What a surprise!
So, as we move forward to "grill" a fine August meal of stocks, let's check on the quality of our ingredients, shall we?
Earnings
Earnings results and analyst expectations are the bread and butter of equity valuations (at least relative to each other). And while Aug. 1 arrives only a few weeks into second-quarter earnings season, results have come in pretty sharp overall so far.
There have been some rough spots for sure. But broadly speaking, corporations are running at a 72.3% beat rate vs. analyst expectations for second-quarter earnings per share. Earnings growth at this early stage of the season is also skating along at a 10.3% year-over-year clip, with revenue growing 5%. (Pre-season consensus was for the likes of 9.5% EPS gains and 4.6% revenue increases.)
Comparisons will likely get tougher later in 2017, but for now, comps aren't tough.
Macro / Monetary Policy
U.S. macroeconomic data have been both hot and cold. We've recently seen slightly better numbers for items like industrial production and inventory building, which should support overall gross domestic product. But what we need to see is sustained improvement in numbers that impact the Federal Funds rate's perceived trajectory.
I believe a shrinking of the Federal Reserve's balance sheet is written in stone at this point. The Federal Open Market Committee would like to make this a reality as soon as September (and basically told us so in its latest policy statement).
The uncertainty lies in what the central bank should do with the Fed Funds rate. With consumer inflation running well below the Fed's 2% target, the data points to watch going forward are obviously the Consumer Price Index and the Personal Consumption Expenditures data.
Additionally, wage growth is now far more important than job creation. Also key will be data on retail sales from a demand perspective, and for core capital goods on the other side of the coin.
What thread runs through everything that matters here, gang? One word -- velocity. Not so easy to increase, yet some would say it's all that matters.
Geopolitical Risk
You might have heard that North Korea threw a newer, more-capable intercontinental ballistic missile into the sea last week. The trajectory of this launch suggests that North Korea now possesses the capability to strike not just South Korea, Japan or even Hawaii, but mainland American cities.
This changes that ballgame dramatically. One has to realistically consider the possibility of military action in response.
However, the whole theoretical scenario of response becomes unpredictable the second it becomes operational. Things like this are precisely why I always suggest a 5% to 10% portfolio allocation toward gold.
And when I say gold, I mean physical gold that you can touch -- not paper or digital gold. (It's never a bad idea to have some clean water in the garage, either.)
Watch: Politics and Cryptocurrencies Are Hot in August
Washington
We all witnessed the recent crash and burn of the GOP's efforts at healthcare reform -- and the broad equity markets reacted as if they never expected any reform in the first place.
Maybe the marketplace was simply looking for a resolution of healthcare reform one way or the other so the politicians could move on to tax reform. That's an interesting subject for Wall Street, especially with the threat of the border-adjustment tax now removed.
But while making international commerce easier, the BAT's elimination makes it much tougher to create a lower-tax environment while remaining dollar-neutral -- that is, unless the politicians are thinking about value-added tax. (Let's hope not.)
Getting less attention but perhaps more important than tax reform is raising the U.S. debt ceiling. (Just a kid from Queens, N.Y., thinking out loud here. What do I know?)
Where Are Stocks Going?
Those who read my columns regularly know that my S&P 500 year-end target has been 2,464. That's been pierced to the upside multiple times now, but is surprisingly still close to the S&P 500's recent levels.
I haven't revised this target, and I probably won't. That's not because I think the broad equity indices have peaked, it's just that nailing a year-end target (which I've actually done before) wins you any prizes.
But the bottom line is that I don't believe equity are grossly overvalued given our current low-inflation, low-interest-rate environment.
The U.S. dollar is weak and trending lower against rival currencies. That's a good situation for U.S. multinationals that face tougher comps over 2017's second half.
Tech stocks? Sure, take your profits, but I won't be evacuating the sector. The Nasdaq Composite index is up 18% so far this year on tech strength, so traders might bail -- but investors likely won't.
Elsewhere in the market, the transports have tailed off lately. With U.S. industrial-production figures coming in as inconsistently as they have, that's a problem to keep an eye on. Without a robust domestic economy, the Dow theorists will feast on this. That could end up creating something of a self-fulfilling prophecy.
And what about small-caps? You'd think small-caps would be in a tougher spot than they are given our somewhat-stumbling domestic economy and soft U.S. dollar, but the Russell 2000 is up 5% this year.
To understand why, I'd point you back to tax reform. Proposals to cut U.S. corporate-tax rates from today's 35% to something in the 20% range wouldn't do all that much for big multinationals that already pay far-lower effective rates, but small-caps are another story. A lot of them are paying close to 35%, so for them, the Trump agenda is still the best game in town.
What Am I Doing Now?
Here are my latest moves in the market:
Bank Stocks
I'm losing patience here, although I'm still long Citigroup (C) - Get Citigroup Inc. Report and will remain so for the long-term. However, I'm still waiting for my stake in KeyCorp (KEY) - Get KeyCorp Report to blossom.
I also previously went long on Wells Fargo (WFC) - Get Wells Fargo & Company Report ahead of the recent bank stress-test results, but I'm already flat on that one.
Energy Sector
I still love, love, love Apache Corp. (APA) - Get APA Corp. Report among energy names. The company has turned itself into a well-managed machine that can make money at ridiculously low price points for both crude and natural gas. I'll buy more of this one on any pull-back.
I'm also still long Schlumberger (SLB) - Get Schlumberger NV Report , although I might look to exit the name on pop (but only on a pop).
Technology
I'm all about semiconductors right now. I love Nvidia (NVDA) - Get NVIDIA Corporation Report -- it's in all of the right businesses. I also love Lam Research (LRCX) - Get Lam Research Corporation Report , the wafer king.
Both are up so much that a pullback has to be expected, but I don't think you should buy more here. (I hate "averaging up.") However, I think we could get another chance to load up down the road if flash-drive demand wanes at all.
Watch:Tech Is Still a Play in August
I'm also still long Intel (INTC) - Get Intel Corporation Report , which I consider a long-term play that pays a healthy dividend. But for those keeping score, I took a loss on Seagate Technology (STX).
Consumer Stocks
I'm still long Walt Disney Co. (DIS) - Get Walt Disney Company Report in this sector. I bought more lower, then sold some on the way up to cut my risk. I want to stay diversified, and that position had just gotten too large.
Meanwhile, I went long on Hasbro (HAS) - Get Hasbro, Inc. Report -- a name I had long coveted -- on the stock's post-earnings beat-down. I finally got my preferred entry price for that one after stalking the name for three months.
I'm also still long Coca-Cola (KO) - Get Coca-Cola Company Report . I can't wait to taste Coke Zero Sugar (only kidding).
Elsewhere, I'm long SiriusXM (SIRI) - Get Sirius XM Holdings, Inc. Report -- and guess what? They're ripping the cover off of the ball, even without auto sales (a key factor for car-radio usage) kicking tail like they used to. SIRI beat on revenues and raised guidance. Oh, and this one is in the Stocks Under $10 portfolio that I co-manage with my pal Chris Versace.
Transports
I cut my overall exposure to this sector by 40%, and I took profits on Delta Air Lines (DAL) - Get Delta Air Lines, Inc. Report . In fact, Southwest Airlines (LUV) - Get Southwest Airlines Co. Report is the only name in the space that I'm looking to increase my holdings of.
I'd also like to add CSX Corp. (CSX) - Get CSX Corporation Report , but I'd like it to get a little cheaper first.
Steel Stocks
I'm still long Nucor (NUE) - Get Nucor Corporation Report -- and still waiting for the Trump administration to make it worthwhile by imposing steel tariffs.
Retailers
Remember when a bunch of folks laughed at me for liking Walmart (WMT) - Get Walmart Inc. Report and Kohl's (KSS) - Get Kohl's Corporation Report ? I haven't heard from lately, as those have been two of my best trades of the summer.
What's Hot in August?
Watch Stephen Guilfoyle on our August Trading Strategies roundtable here. Or, check out more of our experts' August advice at:
Trading Strategies: Hospitality and Leisure Don't Get Enough Attention
More of What's Trending on TheStreet:
At the time of publication, Guilfoyle was long C, KEY, APA, SLB, NVDA, LRCX, DIS, HAS, KO, SIRI, LUV, NUE, WMT and KSS, although positions may change at any time.