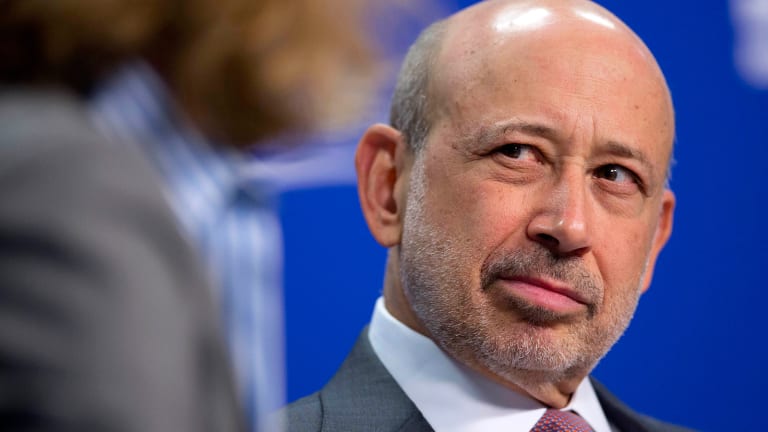 8 Reasons Goldman Sachs CEO Has Every Reason to Be Terrified of Stock Market
Any one of these reasons on their own would be cause for concern.
When the head of major financial institution voices his or her concerns over the market, investors tend to sit up and listen. More often than not the signs have been there all along, but in today's increasing frenetic society it takes a "voice from on high" to catch people's attention.
That's what happened earlier this week when speaking at a conference in Germany, Goldman Sachs (GS) - Get Goldman Sachs Group, Inc. (GS) Report CEO Lloyd Blankfein shared that he was "unnerved" by things going on in stock market. The comment, which came at the end of the question and answer session of his presentation, amounted to the following:
"Things have been going up for too long," he told attendees at a Handelsblatt business conference in Frankfurt. "When yields on corporate bonds are lower than dividends on stocks? That unnerves me."
An old Wall Street firm's slogan was, "When E.F. Hutton talks, people listen," but in order to properly understand Blankfein's current unease let's review the following: 
1. "Things have been going up for too long." While there have been modest pullbacks in the market, such as the ones in late 2014 and the second half of 2015, a longer view shows the major averages have moved sharply higher over the last five years. Before factoring in dividends, the S&P 500, a key benchmark of institutional investors, is up more than 70% since September 2012.
2. If we track things back to March 2009, when the market bottomed out during the Great Recession, the timeframe for the current "recovery" has been more than eight years, or more than 100 months. By comparison, the average economic expansion over the 1945-2009 period spanned 58.4 months. In other words, the current expansion is rather long in the tooth and there are signs in the data that remind of us this.
While this has likely been aided by the Fed's aggressive monetary policy, the bottom line is that at some point the current expansion will come to an end. As the Fed looks to unwind its balance sheet and get interest rates closer to normalized levels, we're reminded that the central bank has a track record of boosting interest rates as the economy heads into a recession.
3. Coming into 2017 there was a wave of market euphoria surrounding newly elected President Trump, with high hopes for what he and his team would accomplish. Over the last few months, the administration has issued a number of executive orders, but there has yet to be any progress on tax reform or infrastructure spending. The risk is expectations for these initiatives are once again getting pushed out, with tax reform, originally slated for August, now anticipated near the end of 2017. The risk is the underlying economic assumptions that powered revenue and earnings expectations for the second half will need to be reset.
4. As the stock market has moved higher, so, too, has its valuation. As I write this, the S&P 500 is trading at 18.7x expected 2017 earnings versus its five and 10-year average P/E multiples of 15.5x and 14.1x, respectively. In 2015 and 2016, earnings expectations were revised lower during each year until annual EPS growth was nil. With economic data once again leading the Atlanta Fed to reduce its GDP forecast, we are seeing downward earnings revisions to EPS estimates in the back half of 2017.
5. Since Aug. 1, shares of utilities have moved higher while financials and consumer discretionary stocks have fallen. Not a positive sign for market watchers with a focus on breadth.
Get ready to pay more for stuff due to hurricanes.
6. Harvey and Irma. Estimates put the damage for Hurricane Harvey at between $75 billion and $95 billion, and we are only starting to see the impact of Hurricane Irma, a category 5 storm that is believed to be one of the most powerful ever coming out of the Atlantic. Over the next several days, we'll have a far better sense of the severity of Irma-related damage, but odds are the combination of Harvey and Irma will be a disruption to the economy and businesses across a wide variety of industries. While we are likely to see a pickup in economic activity once rebuilding efforts begin, look for third-quarter GDP forecasts to see meaningful sequential downward revisions.
7. The S&P 500 has gone more than 300 trading days without a pullback of 5% or more, the longest such streak since July 19, 1929. For those wondering, the record still sits at 369 trading days, per Dow Jones data. Historically speaking, periods of suppressed volatility tend to be followed by periods of heightened volatility, as market behavior reverts back to its mean. Considering this extended period of low volatility, the probability of entering a period of heightened volatility has increased.
8. Another contra-indicator has also reared its head, namely the continued month- over-month rise in TD Ameritrade's (AMTD) - Get TD Ameritrade Holding Corporation Report Investor Movement Index (IMX). For those unfamiliar with the IMX, it's a behavior-based index created by TD that aggregates Main Street investor positions and activity to measure what investors are actually doing and how they are positioned in the markets. The higher the reading, the more bullish retail investors are. In August, the IMX hit 7.45, up from 7.09 in July, an all-time high.
While TD Ameritrade opted to put a rosy spin on the data, saying, "Our clients' decision to continue buying reflects the resiliency of the markets," institutional investors likely see this continued surge higher as a warning sign. Here's why: Historically speaking, retail investors have been late to the stock market party. Not fashionably late, but really late, which means they tend to arrive at or near the time when things start to go awry. This is not a hardcore piece of data such as the monthly ISM numbers, but one institutional investors and Wall Street traders are likely to consider as they roll up their sleeves and revisit the last few weeks of data.
These are just some of the things that could be unnerving Blankfein. Any one of these on their own would be a cause for concern, but in tandem they are a reason to be cautious as we move deeper into September, which is historically one of the most tumultuous months for stocks.
(This article originally appeared on Real Money, our premium site for active traders. Click here to get great columns like this from Chris Versace, Jim Cramer and other writers even earlier in the trading day.)
More of What's Trending on TheStreet:
How will Hurricane Irma move the market? Follow @TheStreet on Twitter for updated storm coverage: