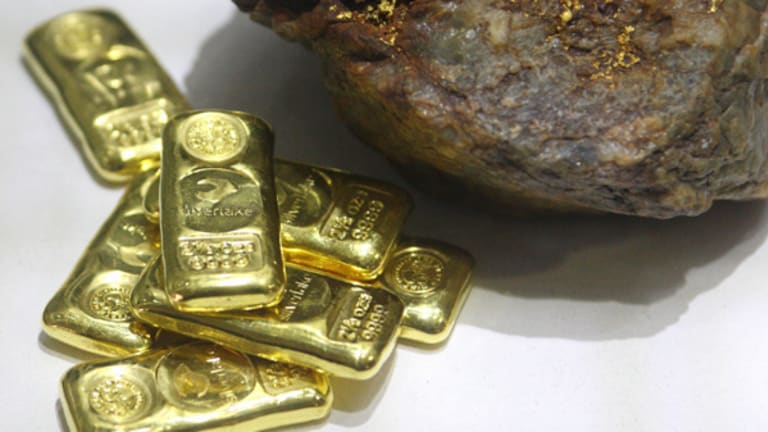 Publish date:
Why Gold Is Crashing
The same factors that shot gold up are causing its fall.
The same factors that shot gold up are causing its fall.
NEW YORK (TheStreet) -- If you want to understand the recent fundamental and technical catalysts that have sent gold prices crashing you need to read my article entitled Gold Is Entering Its Liquidation Phase. However, if you want to understand the deeper underlying cause of this ongoing crash in gold prices, continue reading here.
The Framework
Economists that follow the so-called "Austrian School" of economics are fond of saying that the causes of a crash in asset prices are to be found not in the indicators that are coincident to the crash (as those are mere symptoms and not root causes).
The root cause of a crash in asset prices is actually to be
found in the factors that led to the exorbitant rise in asset prices that preceded it.
And while many analysts of the Austrian persuasion may not necessarily feel all warm and fuzzy having their own well-worn analytical insight applied to the yellow metal they tend to be so fond of, it probably provides the best general conceptual framework for understanding what is happening right now in the gold market.
Also see: Gold in Historic Free Fall >>
The root cause of the current ongoing crash in gold prices is to be found in the factors that led to the exorbitant rise in gold prices that preceded the crash.
The Cause of the Parabolic Rise in Gold Prices
The explanation for why gold prices went parabolic between 2004 and 2011 can be spelled out in exactly three letters: E-T-F.
Roughly $150 billion flowed into the gold market via Gold ETFs such as
SPDR Gold Shares
(GLD) - Get SPDR Gold Trust Report
,
PowerShares DB Gold
(DGL) - Get Invesco DB Gold Fund Report
,
ProShares Ultra Gold
(UGL) - Get ProShares Ultra Gold Report
and
Direxion Daily Gold Miners Bull 3X Shrs
(NUGT) - Get Direxion Daily Gold Miners Index Bull 3x Shares Report
between 2004 and 2011.
This phenomenon of ETF purchases of physical gold has been the #1 key to the rise in the price of gold since 2004. Without the advent of ETFs -- a.k.a. "paper gold" -- the parabolic rise in the price of the yellow metal would never have occurred as it did.
The invention and development of gold ETFs provided an easy means for individual and institutional speculators to trade gold without having to deal with the messy process of buying, storing and insuring the stuff for themselves. Most people who bought ETFs couldn't care less about gold the metal. For them, gold was simply another paper trading vehicle or source of paper "diversification."
What gold wasn't to these buyers, by and large, was something that they were actually interested in for gold's intrinsic worth as a commodity. Gold was being bought by them for essentially the exact same reasons that people have been buying Bitcoin: Pure speculation about doomsday scenarios, combined with a greed-laced ambition to capitalize on such calamities.
Indeed, if people had bothered to look at gold's intrinsic worth as a commodity, they would have never bought it in the past few years.
How to Spot a Gold Bubble
Gold has been and still is in a bubble by any objective measure. How can we tell? For several hundred years, the price of gold in real (inflation-adjusted terms) has remained within a certain range of the real (inflation adjusted) prices of other assets, such as consumer prices, soft commodity prices, industrial metal commodity prices, real estate prices, stock prices and the prices of just about every other asset you can think of. In other words, gold prices completely detached from its real-world reference points and economic reality in the past several years.
The real (inflation-adjusted) price of gold relative to virtually all assets is at the extreme upper end of its historical range. Historically, when this has happened, a crash in the gold price has been just a matter of time.
Now is the time.
Paper Gold
Ironically, hard-core gold bugs have been conducting an intense and concerted propaganda campaign for the last year to try to convince investors to sell their "paper" gold holdings via ETFs and futures and to buy physical gold. The reasoning of this cabal of gold marketers is that if enough people demand delivery of physical gold, they can trigger a run on the physical gold markets as the various counterparties will have to buy gold on the spot market to fulfill the call for physical delivery.
This idea betrays a deep ignorance of how the gold market actually works. But I will not belabor the technical details here. The point I want to focus on is that hard-core gold bugs have completely misunderstood the role of "paper" gold. Far from being something they should have been attacking, they should have realized that paper gold was the number one cause of the gold bubble that developed over the past few years. Without paper gold, the yellow metal simply does not have sufficient appeal as a physical commodity.
Paper gold is the paper goose that has been laying the golden eggs!
Conclusion
The current crash in gold is going to make very clear something that many of us have understood for a long time: The type of investors that buy gold ETFs have absolutely no interest in holding physical gold, and they never will.
In general, the hedge funds and individual investors that rushed into gold ETFs and drove the massive rise in gold prices were and are there for speculative gains.
They have no interest in the physical metal itself. As the gold price turns on them, they will treat gold like the plague dumping it as impulsively as they bought it.
In a word, my contention is that paper gold holders are "weak hands." We are about to test that hypothesis in a big way.
In my view, gold will go down to about $1,300 at least, or another 10% or so from current levels, before finding any solid support from "strong-handed" "non-paper" buyers. However, more downside for the yellow metal is entirely possible as a retracement of the movement driven by paper gold mania would imply gold prices well below $1,000.
Furthermore, it would take a decline to well below $1,000 per ounce before the gold price became aligned with its historical average relative to most other assets.
Assuming a decline in the gold price to only $1,300 per ounce, gold stocks probably have another 25% downside, at least, before this cyclical bear market in gold runs its course. For example,
Market Vectors Gold Miners ETF
(GDX) - Get VanEck Vectors Gold Miners ETF Report
can probably ultimately be bought for less than $25, whereas
Market Vectors Junior Gold Miners ETF
(GDXJ) - Get VanEck Vectors Junior Gold Miners ETF Report
can probably be bought in the $11 range within the next three months.
The reason is that many gold miners simply can't justify their current lofty market capitalizations on the basis of projected earnings and cash flow, even with gold prices at $1,300.
And a few gold miners that have been caught wrong-footed in the midst of expensive capital expenditure projects will be shut out from capital markets and will face insolvency and/or the need to make highly dilutive secondary offerings.
The distress of just two or three companies in the sector will typically set off panic selling in the whole group, as the majority of gold stock investors have no idea whether the stocks they own could become the next distress situation.
I doubt the secular bull market in gold is actually over. But a cyclical bear market in gold is upon us now, and it will not have run its full course until it has inflicted maximum pain on the speculative holders of "paper gold," effectively running the weakest hands out of the market, properly setting the stage for a possible final leg in the secular bull market in gold.
At the time of publication the author held no positions in any of the stocks mentioned.
This article is commentary by an independent contributor, separate from TheStreet's regular news coverage.
James Kostohryz has accumulated more than 20 years of experience investing and trading virtually every asset class across the globe.
Kostohryz started his investment career as an analyst at one of the US's largest asset management firms covering sectors as diverse as emerging markets, banking, energy, construction, real estate, metals and mining. Later, Kostohryz became Chief Global Strategist and Head of International investments for a major investment bank. Kostohryz currently manages his own investment firm, specializing in proprietary trading and institutional portfolio management advisory.
Born in Mexico, Kostohryz grew up between south Texas and Colombia, has lived and worked in nine different countries, and has traveled extensively in more than 50 others. Kostohryz actively pursues various intellectual interests and is currently writing a book on the impact of culture on economic development. He is a former NCAA and world-class decathlete and has stayed active in a variety of sports.
Kostohryz graduated with honors from both Stanford University and Harvard Law School.
View Kostohryz's LinkedIn profile and connect with him
; follow him on Twitter
and Google+
. When connecting, be sure to identify yourself as a reader from
TheStreet
.