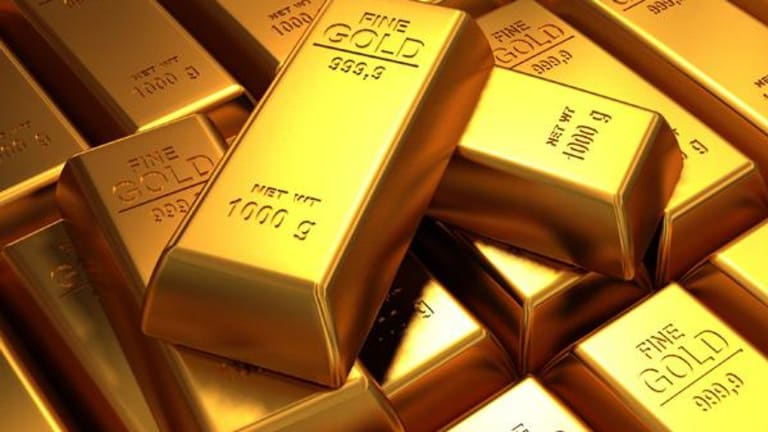 Why Gold Could Be Heading to $1,300
The precious metal's chart is showing a bullish 'golden-cross' pattern.
Gold prices fell Tuesday, but bullion's outlook got a whole lot brighter earlier this week when the metal's chart flashed an appropriated named "golden cross." That's a technical pattern where an investment's 50-day moving average rises above its 200-day moving average -- something that happened for gold on Monday.
Check out this chart:
Technical analysts see a golden cross as a very bullish sign for an investment like gold, which is already up 10% so far this year. Gold has also confirmed a series of higher highs and higher lows since bottoming out at $1,218 an ounce on May 10. Since mid-December, the metal has scored three new higher highs, followed by three new higher lows (the latest being May 10's bottom).
That's a pattern that's consistent with the long-term bull-market scenario that I've been talking about for several quarters now. With the metal now trading around $1,255, we can look for gold's next high to be above $1,300.
Outside of any geopolitical event, I believe that next month's widely expected Federal Reserve rate hike could provide gold with its next upward catalyst. You might recall that after the Fed's past two rate hikes in December 2016 and March 2017, gold moved higher following release of the Fed's official announcements.
(This column originally appeared at 3 p.m. ET on Real Money, our premium site for active traders. Click here to get great columns like this from Jim Cramer and other writers even earlier in the trading day.)
Read More Trending Articles:
11 Countries to Visit With Caution
At the time of publication, Williams was long physical gold (and his company offers gold for sale), although positions may change at any time.