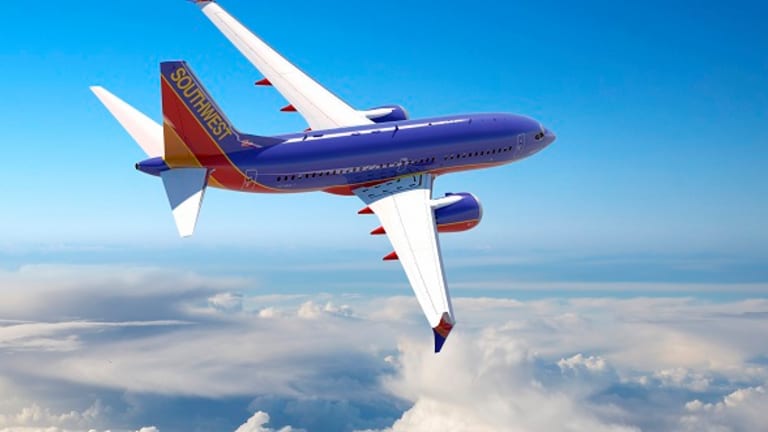 Why GE's Biggest Business May Soon Be Jet Engines
General Electric's record $150 billion jet-engine backlog is propelling its aviation business toward becoming the manufacturer's biggest profit generator.
General Electric's record $150 billion jet-engine backlog is propelling its aviation business toward becoming the manufacturer's biggest profit generator.
NEW YORK (TheStreet) -- General Electric's (GE) - Get Report record $150 billion jet-engine backlog is propelling its aviation business toward becoming the company's biggest profit generator, heightening the significance of airline customers.
Growth in aviation and other manufacturing divisions is more important than ever for Fairfield, Conn.-based GE as CEO Jeff Immelt executes a plan to shed most of the GE Capital finance unit, its biggest single revenue generator, and hit a 2018 target of drawing 90% of total operating profits from the company's industrial units.
Last year, the finance unit accounted for 28% of $18.6 billion in operating income, while the power-and-water business -- the biggest industrial profit generator at the time -- made up 22% and aviation provided 20%. Still, the jet-engine business posted annual growth of 14%, roughly twice as much as the power-and-water segment, and may overtake it within two years if that pattern holds.
"GE, as well as many other diversified industrials exposed to the commercial aviation industry, have all been enjoying a cyclical upswing," Barbara Noverini, an equities analyst with Morningstar, wrote in an email to TheStreet. "As such, the aviation segment has experienced healthy revenue growth and profitability expansion."
The business is benefiting from improved performance by airlines, which have been reducing capacity for six years to bolster profitability and can also take advantage of interest rates near record lows
"When you get a period of excess liquidity and low rates, the tendency is to modernize their fleet," said Nicholas Heymann, an equities analyst with William Blair. Indeed, both Airbus and Boeing (BA) - Get Report, the world's largest planemakers, introduced upgraded jetliners in the past several years that offered more fuel-efficient engines from GE and smaller competitors like United Technologies' Pratt & Whitney unit.
GE and its joint ventures are the largest engine provider for commercial airliners, and at the recent Paris Air Show, the company touted its new LEAP-x engine, which is seen as a successor to the widely popular CFM56.
The LEAP engine is produced by CFM, a joint venture between GE and Snecma, a French aircraft manufacturer and subsidiary of Safran (SAFRY) . The CFM56 "is the best selling engine in the world, has the largest installed base in the world, and a tremendously large backlog," Heymann said. "You are now seeing LEAP come in as a successor to the CFM platform and are starting to see still greater and higher efficiency in engines."
LEAP sales are among the forces behind GE's record aviation backlog, which is chiefly made up of lucrative service contracts and has increased 36% in the past two years. Those orders will provide cash flow to move into new technologies, particularly GE's budding "Industrial Internet," which connects sensors to GE products for optimal performance, according to Joyce.
GE booked $8 billion in jet-engine sales in 2014, compared with $9 billion in service agreements, and maintenance on legacy products has grown 17% since 2013.
Still, the aviation unit's growth doesn't diminish the importance of the power segment, especially given the demand for GE's new gas turbine technology and successful acquisition of French multinational Alstom's  (ALSMY) power-and-water grid business, Morningstar's Noverini wrote.
That will bolster GE's capacity to serve emerging markets as the global economy improves, and "the opportunity to roll out high-margin services and analytics on a strong installed base in power and water may also serve as an attractive future profitability growth engine," she wrote.
Data and analytics are a high-growth business for GE, which is marketing its Predix platform to gather and examine data from equipment sensors, then make real-time adjustments to improve performance. Reams of information from sensors can also help with development of new and improved products.
"If you take a look at the amount of data we can get on a modern jet engine, it is extraordinary," David Joyce, head of GE Aviation, said in a conference at the Paris Air Show, the aerospace industry's largest trade event. "Thirty-five of our customers have given us access to full flight data on all of their engines. Now, what the customer gets from this is really great insights as to how they are flying the airplanes and how they can fly them more economically."
Commercial airlines, in a fairly equal weight between new products and service, constitute about 70% of General Electric's $24 billion in aviation revenue, with only $4 billion linked to military engines and services, according to the company's annual SEC filing.
Of the big three aviation manufacturers -- GE, United Technologies'   Pratt & Whitney and Rolls-Royce (RYCEY) -- GE has lately captured the widest market share, partly through the popularity of its LEAP engine on narrow-body jets. Such aircraft, which include the Boeing 737 and Airbus A320, are the world's most widely flown airliners.
Upgrades of both models, the 737 MAX and the A320 neo that feature more fuel-efficient engines, were introduced in the past five years.
Today, two in every three flights daily are powered by engines from GE or one of its joint ventures, such as CFM -- more than 20 million departures a day, according to a GE investor presentation.
By comparison, Pratt & Whitney and Rolls Royce see about 2 million and 4 million departures per day, respectively. Pratt & Whitney maintains a $57 billion backlog, with roughly half devoted to commercial engines, according to a Pratt & Whitney presentation.
And GE expects to increase the commercial engines in its service portfolio from 36,000 to 46,000 by 2020, according to Joyce. One reason for the growth has been favorable commodity prices .
"Fuel cost remains deflationary, especially in the United States, with the strong dollar in addition to that," Joyce said. "That's the biggest variable cost of every one of these airlines."
Exclusive contracts have also been a big factor in securing GE's growth. The CFM56 has become the "de facto engine" for the Airbus A320, which Joyce views as a bellwether for narrow-body jets, and the recently developed LEAP engines have been selected by Airbus as an option for newer single-aisle planes.
The LEAP is the only engine available on the Boeing 737 MAX, for which Dallas-based Southwest Airlines was the launch customer. It's also the only power plant from a Western supplier available on the C919 single-aisle jet from COMAC, a state-owned Chinese aircraft maker, he said.
The GE9x engine won an exclusive contract to power the new Boeing 777x, slated to be the world's largest twin-engine jet. 
"This aircraft market is huge," Joyce said. "This will be the most advanced commercial aircraft engine in the world. Not just in our portfolio."