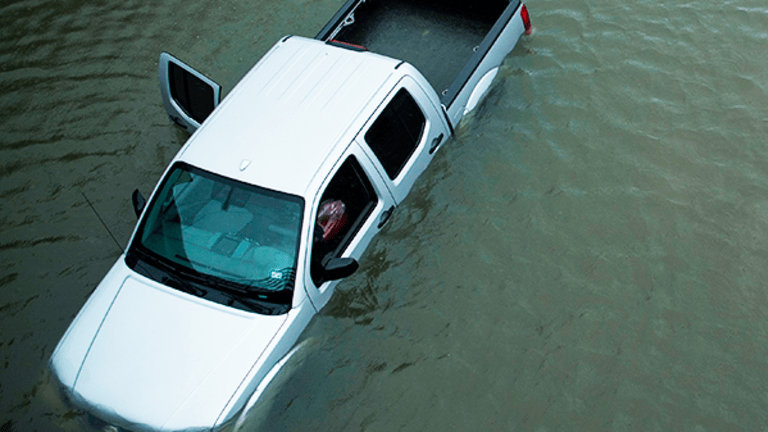 Ford Has a Key Issue That Overshadows Lift from Harvey Victims Buying New Cars
Charts say the automaker and other stocks that seem like post-storm 'winners' are actually heading lower.
It's natural for investors to wonder which companies stand to benefit from post-Hurricane Harvey rebuilding efforts, but before you assume that a given name will gain from this or any other natural disaster, it makes sense to check the stock's charts. For example, technical analysis says that three seemingly likely winners -- Ford Motor Co. (F) - Get Ford Motor Company Report , building-supply firm Masco (MAS) - Get Masco Corporation (MAS) Report and materials maker PPG Industries (PPG) - Get PPG Industries, Inc. Report -- might not win at all.
Let's check them out:
Masco
A friend suggested over the weekend that Masco might be worth a look, as the company owns Delta Faucet Co. and a variety of other home-improvement brands. That seemed like a reasonable suggestion at first, but the stock's daily chart actually indicates that MAS is about to move lower:
As you can see at the right of the chart above, a descending triangle pattern has formed, projecting that MAS will fall from Tuesday's $36.31 close down to roughly the $33 area. At the very least, MAS should drop to $35 (the dotted green line above) so that it fills a gap created back in April. Masco's moving average convergence/divergence indicator (MACD) has also been trending lower since June (the red line above at right), which foreshadows a break to the downside.
Ford
It came as no surprise that Ford gapped higher on Monday's opening, as Hurricane Harvey flooding is damaging countless cars and it's reasonable to assume that automakers gain from the post-storm recovery. 
However, Monday's early Ford buying quickly faced a wave of selling pressure, then sentiment deteriorated even more as the session wore on and the stock eventually closed lower for the day. Those who bid Ford higher at the open were quickly handed a loss, and despite recent gains, the automaker's longer-term trend looks downbeat:
The chart above is telling us that while Ford might gain some sales due to the hurricane, any spurt could be a one-time event. Meanwhile, other industry developments could have longer-lasting negative impacts. For example, the rise of ride-sharing companies like Uber and Lyft has the potential to permanently change the auto sector's landscape.
PPG Industries (PPG) - Get PPG Industries, Inc. Report
Surely PPG -- one of the world's largest suppliers of paint, fiberglass, and other coatings -- stands to benefit from post-Harvey rebuilding, right?
That line of reasoning makes sense, but the chart below indicates that the stock is heading lower:
PPG's weekly chart shows that a so-called bear-flag pattern has formed (the yellow circle above). This projects the stock -- which is trading at around $114 as I write this -- will fall to about $98.
The Bottom Line
Of the three names above, only PPG finished higher on Monday, climbing a mere 0.41%.
In other words, the so-called "smart money" had its chance to pile in ... but passed on all three names. That alone should tell us everything that we need to know about these names.
(This commentary originally appeared on Tuesday on Real Money Pro, our premium site for Wall Street professionals and active traders.Click hereto get great columns from Ed Ponsi, Jim Cramer and others even earlier in the trading day.)
More of What's Trending on TheStreet:
At the time of publication, Ponsi had no positions in the stocks mentioned.