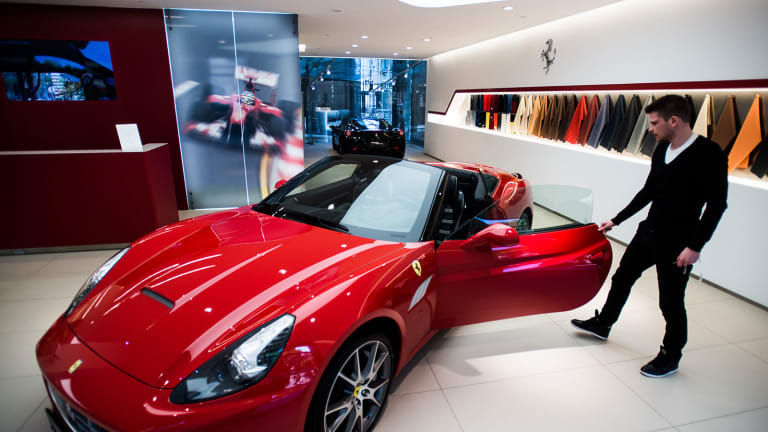 Why Ferrari Is the Best Auto Stock to Buy
Can Ferrari really rally more than 40% to $150 per share?
Can Ferrari really rally more than 40% to $150 per share?
Shares of Ferrari (RACE) - Get Report are racing higher Monday, climbing toward 3% on the day. 
Carrying a market cap of $19 billion, Ferrari is smaller than many of the industry's more well-known players. Companies like General Motors (GM) - Get Report , Ford (F) - Get Report , Tesla (TSLA) - Get Report , Volkswagen (VLKAY) and Fiat Chrysler (FCAU) - Get Report are all much larger.
But quality trumps quantity, right?
That's the case with Ferrari, which unlike the names above -- excluding Tesla -- all trade with dirt-cheap valuations. Ferrari stock trades at roughly 30 times this year's earnings, whereas names like GM and F trade with single-digit P/E ratios and have dividend yields in excess of 4%.
But the businesses are vastly different. While Ford and General Motors operate on thin margins and rely on mass production, Ferrari operates with high margins and limited production. Comparatively, Ferrari has gross margins of 52.5% over the past 12 months, whereas Ford and GM tout gross margins of just 16.5% and 19.7%, respectively. Further, while GM and Ford carry large inventories, Ferrari's order book usually sells out for the year ahead of production.
As the late Sergio Marchionne, the former CEO of Ferrari, said in October 2017, Ferrari "happens to make cars, but it makes luxury goods for a select group of people who cherish belonging to an exclusive club for our users. That's a different argument than making cars. The pricing dynamics are completely different."
It's a high-end product with wide margins and intended for a wealthy clientele. As a result, Bank of America/Merrill Lynch is calling it a top pick in the automotive industry. According to the analysts, "In our view, RACE is a unique asset, with resilient financial performance, significant intangible brand value, and a unique luxury status."
The group is using a $150 price target, which is 15 cents above the stock's 52-week high.
Trading Ferrari Stock
What do the charts look like for Ferrari stock? The name has suffered from a brutal crash. Just days before the fourth quarter started, shares were trading near $142.50. Just last week, Ferrari stock was down near $96, marking a near-33% decline.
However, Ferrari has made a powerful two-day push, getting back over $100 per share and now up over $105. The move is important, as it launches RACE out of its downward channel (blue lines) and above the important $100 to $102.50 area. It's imperative for bulls to keep Ferrari above this zone now. Even if the 50-day moving average keeps a lid on the stock's rally, so long as it holds support above $100, the bulls have something constructive to work with.
This article is commentary by an independent contributor. At the time of publication, the author had no positions in the stocks mentioned.