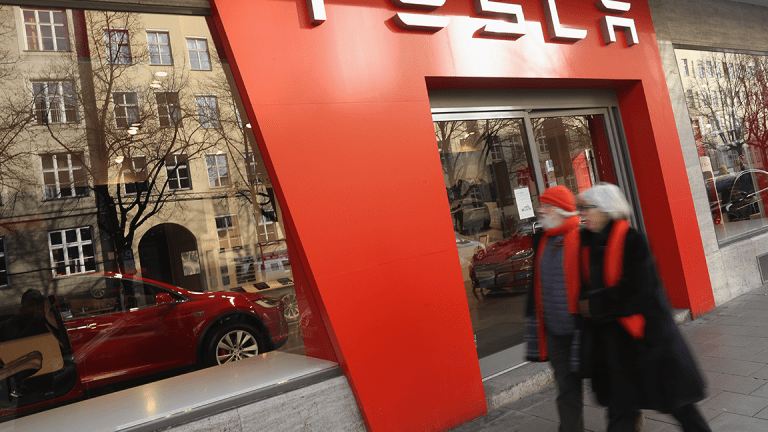 Why Does Elon Musk Keep Buying Tesla Stock?
When and why would Tesla be looking to raise capital?
On Wednesday after the close, investors were greeted with the news that Tesla Inc (TSLA) - Get Tesla Inc Report CEO Elon Musk again bought the company's shares.
Musk bought about 72,000 Tesla shares between June 12 and 13th for  $342.77 to $347 a share. He owns 33.74 million shares worth a staggering roughly $12 billion at current prices.
Wow, talk about a concentrated portfolio.
That follows Musk's previous most recent insider purchase of 33,000 shares between $295.02 and $302.13 on May 7th. That came less than a week after Tesla reported its fiscal first quarter of earnings.
At the time, shorts were banging their fists on the table saying that this stock purchase meant bad things for the company. Although insider buying rarely triggers these types of responses, one has to remember we're talking about Tesla here, a highly emotional, battleground stock.
Short-sellers convinced themselves that Tesla and Musk knew of no pending good news, otherwise buying ahead of that news would be a securities violation. All of this happened while the company was burning cash, profitability still wasn't in sight, and Musk had participated in one of the most memorable conference calls in recent years.
Musk was a buyer near $300 on his first go around, and he's more than doubled up on his second purchase this quarter north of $340. Does that mean even more upside is coming?
It very well could. We warned short-sellers earlier this week not to look at Tesla through biased lenses. Jonas Elmerraji recently laid out the case for why Tesla can continue its ascent too. That's not to say there aren't fundamental concerns, but when money is on the line, it's important to distinguish that price action and fundamentals can be disconnected. 
But is all of this building up to something else? Does Musk have another rabbit in the hat?
One Theory for Insider Buying
During the company's most annual shareholder meeting this month, Musk talked about his tendency to over-promise and under-deliver. Now though, he and his management team seem hellbent on becoming profitable and cash-flow positive in the third and fourth quarter, boosting margins and producing 5,000 Model 3s per week in less than a month.
Part of me wonders if all of that is to get the company in a more opportune spot to raise some capital. Think about it. Is it easier to drum up capital for a company that's turning a profit, has a ton of demand, sees big potential and has insider buying? Or would investors instead jump over each other to buy into an unprofitable, low confidence company talking a big game with little to back it up? 
Musk has acknowledged that the company's lack of profitability is a fair critique and showing sustainable profitability is the key to achieving the company's goal to "accelerate the world's transition to sustainable, clean energy." In other words, I think he knows Tesla's metrics need to be better to keep Wall Street on its side and to get to where they want to go; he needs investors on his side. 
So why raise at all?
Just listen to Tesla's plans. There's the Model Y Tesla hopes to begin producing in about 20 months. It also has plans for a semi-truck and the Roadster. 
There are plans to go after China on its own without a joint venture partner now that the country no longer requires one for manufacturers. That makes for quite the opportunity in a country where electric vehicle demand is high. But it also makes it much harder (from an execution and financial standpoint) to succeed. It also wants a factory in Europe.
All of these projects take big-time capital commitments.
If Tesla hopes to raise capital -- and do so as efficiently as possible -- it will want to elevate its stock price. To do that, it needs to show Wall Street that it isn't as bad as everyone's saying. In other words, Tesla needs profit, it needs cash flow, and it needs to deliver on its production goals. Insider buying, particularly from the automaker's leader, only helps bolster that confidence. 
I'm not saying Musk is doing this intentionally (although he very well might be), but it's giving the bulls the confidence they need to stampede the bears right now, fueling a short squeeze higher. 
Management has previously said it doesn't want to raise capital this year. But what if Tesla stock rallies to $400, turns in a few quarters of break-even or profitable operations and tells a bullish tale of the opportunity in China?
Investors might have little issue breaking out their wallets then. And of course, it helps when Musk is putting his money on the line too. 
This article is commentary by an independent contributor. At the time of publication, the author had no positions in the stocks mentioned.