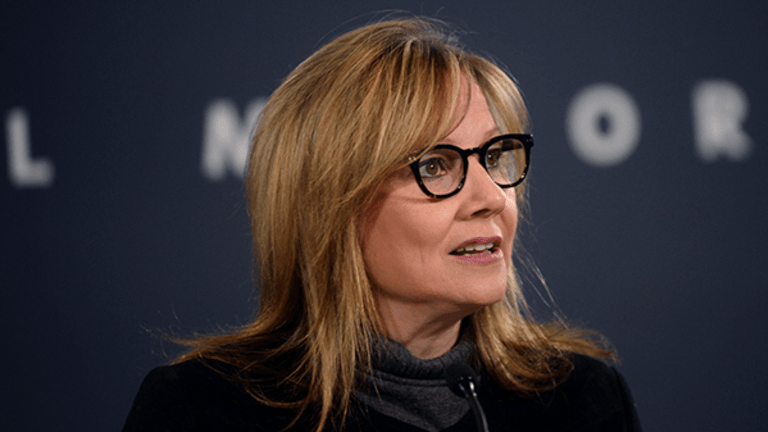 Publish date:
Why Disney's Board of Directors Is the New Supergroup
Disney has created one of the most impressive boards of directors in modern business.
Disney has created one of the most impressive boards of directors in modern business.
Walt Disney Co. (DIS) - Get Report has built a business supergroup. Over the years the company has tapped a virtual who's-who of American business leadership for its board of directors, from Facebook Inc.'s (FB) - Get Report Sheryl Sandberg to Jack Dorsey of Twitter Inc. (TWTR) - Get Report and Nike Inc.'s (NKE) - Get Report CEO, Mark Parker. Adding to its talent pool, on Thursday, Aug. 24, Disney announced that it has added General Motors Co. (GM) - Get Report CEO Mary Barra to the team.
This is, in a word, unusual.
The Disney board stands out not only because it oversees one of the most diverse entertainment empires in the world, with products ranging from Snow White to Deadpool, but also because it does so under the oversight of some of America's biggest names in industry. Here are three reasons why that's a big deal.
Disney Has a Rare Pool of Talent
Few companies have a board of directors that looks like Disney's, in large part because boards of directors have a more active role than they once did.
"The board is very simple," said Charles Elson, a professor with the University of Delaware's Alfred Lerner College of Business and Economics. "The board is there to hire and fire management, monitor them between those two points, and protect shareholder value."
"Historically," he added, "there used to be lots of CEOs on boards, but then that was the whole corporate revolution. … Boards, although legally monitors, they were advisers. Someone the CEO could call and which would give advice. Basically you were on retainer."
Business leaders often served on boards of directors in decades past, sometimes several at once, because historically these were far less demanding positions than they are today. Past boards served in an almost ceremonial role, less directing the company than advising it. Members would often even help companies raise their public profile with "celebrity directors," prestigious or public figures brought on to give an air of importance.
That's not the case anymore. Today's board of directors takes an active role in overseeing its company. The members hire and fire senior management, decide on major company decisions and conduct other top-level duties. (For a good summary of a modern board of directors, see here.)
For someone with the kind of schedule that a modern CEO faces, that's no small thing.
Under the old-school model, CEOs would sit on boards with relative frequency thanks to the position's lighter duties. Today's demanding environment deters many business leaders from taking on board-level duties outside of their own companies, making Disney's board something increasingly remarkable.
It Can Be a Double-Edged Sword
Running a business, even just helping to run a business takes a lot of time. Bringing on someone with commitments elsewhere can risk a distracted leadership team.
For Barra, for example, joining Disney's board of directors will mean committing herself to overseeing the affairs of a global company while also attending to the day-to-day running of GM. That's not impossible -- sitting on a board of directors isn't a full-time job, but it does require some focus.
What happens if Disney and GM need fires put out at the same time?
"You're paying your CEO millions of dollars per year to pay their full attention to your business," Elson said. "Good board service takes only a month per year, and when things get difficult it can take a lot more time. Does someone who's running a multibillion-dollar company have the time to do that?"
"Sitting CEOs do have distractions in my experience," Elson added. "They can be very beneficial in many respects, but the downside is that they have to focus on their own company."
This is the big risk that Disney takes on with its rock-star board, and it's not just Barra. Most of the members of the Disney board of directors have high-level commitments elsewhere, ones they can't simply shrug off. Ordinarily, that's not a problem. These people wouldn't have gotten where they are today without the effective ability to delegate and multitask.
It might become a problem, however, in the event of a crisis. If Disney needs its board of directors during a hack on Facebook, or if another ignition switch malfunction plagues General Motors, multiple companies will need their leadership at the same time.
"There's only so many hours in the day," Elson said. "So the question is, what's your priority?"
It Also Creates Unprecedented Opportunities
As we noted above, Disney's supergroup board is unusual. Today's boards of directors are far more commonly drawn from more diverse talent pools. This gives Disney some advantages.
First, leadership. As we noted above, this is a group whose talent and judgment speaks for itself. From more legacy companies like Nike and Potbelly Corp. (PBPB) - Get Reportto players in disruptive industries like Twitter and Facebook, Disney has tapped talent from some of the most successful companies in America for its leadership team.
They don't just bring impressive resumes. They bring the skills and judgment that got them there. Those are the people who select Disney's senior management and how decide on company-level moves.
Second, networking. Much of business is about who knows who, and Disney's boardroom now hosts perhaps the best power lunches in America (if not the world). This has ongoing potential for the company, as its board members can constantly create new ideas and partnership opportunities.
When most boards talk about technology, they make a note to ask the IT department in the morning. Disney's board can call Larry on vacation.
That's the advantage.
More of What's Trending on TheStreet:
Apple's Newest Products That Will Pummel Your Wallet Are About to Be Revealed
Ulta Beauty Is Tanking Because It Couldn't Live Up to Everyone's Expectations
Where to Buy and Sell Apple Stock Once Correction Rocks the Stock Market