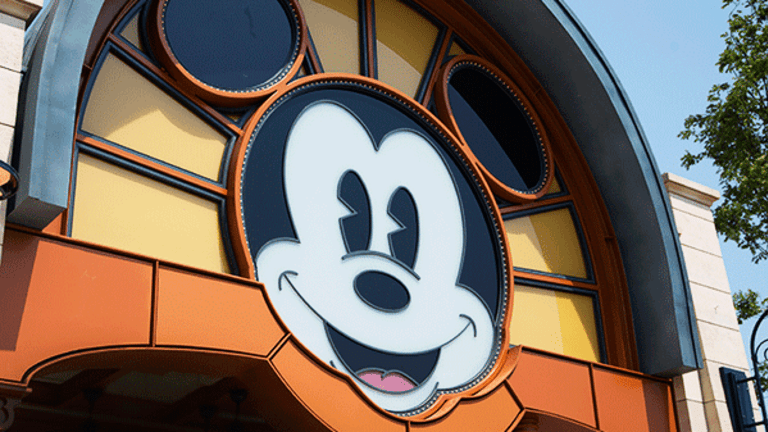 Publish date:
Sell Disney. Sell Netflix. Sell It All!
Both media giants have overhanging issues that threaten the value of their shares.
Both media giants have overhanging issues that threaten the value of their shares.
I have been negative on Walt Disney Co. (DIS) - Get Walt Disney Company Report  for nearly two years based on the notion that the competitive landscape was shifting, thus serving to reduce the company's projected least-squared earnings-per-share growth rate from about 18% (actual) to under 10% (estimated). By contrast, analysts on the sell side still were holding on to the notion that 13% to 14% growth was achievable.
Disney as a short was my Trade of the Week in early June, when I outlined my negative thesis, Let it Go. The shares were also placed on my Best Ideas List as a short in late 2015 at over $116. (I had covered most of my DIS in the low $90s.)
I continue to hold to that ursine view of Disney's shares, and I have been steadily shorting the stock in recent weeks as the share price rose back to $110.
And now, Disney's latest quarterly report came in muddled by strategic issues, or vice versa. The shares closed trading down 3.92% to $102.79 Wednesday.
My take on the earnings report:
Most noteworthy, DIS disclosed that it's taking a majority stake in BAMTech, which powers streaming for HBO, Major League Baseball, the National Hockey League and others, and is developing an OTT (over-the-top) content service to rival Netflix Inc. (NFLX) - Get Netflix, Inc. (NFLX) Report and CBS Corp. (CBS) - Get CBS Corporation Class B Report . The former activity will cost close to $1.6 billion and will be slightly dilutive. DIS also is repatriating its content from Netflix beginning in 2019. The acquisition of BAMTech's "industrial grade technology" should prove problematic for NFLX, especially at the current valuation. (NFLX closed down 1.45% to $175.78 Wednesday.)
Third-quarter revenue at Disney was flat. EBITDA declined 7% -- not a horrible number, and actually better than it looked due to an increase in NBA fees on the cable and broadcast networks. There was continued ESPN cord cutting, a factor that I have argued will hurt valuation. However, parks were strong and another Star Wars movie is coming. The decision to go OTT reflects brand power, pure and simple. Disney trades at around 10 times 12-month trailing EBITDA, possibly exposing the shares to a further decline.
Could your favorite Netflix "Original" Disappear from Your Queue Next? 
As for Netflix (which I covered in The Nuts or a Folding Hand?), word that Disney plans to pull its content from NFLX creates an issue that the streaming giant doesn't need at its current valuation (over nine times DIS on 12-month trailing EBITDA).
On Tuesday's conference call, Disney management said the content that's coming back from Netflix will include new Disney/Pixar movies. This is less damaging, but it will make Netflix investors think about the valuation. Over time, DIS will not let NFLX renew its foreign rights, each of which was individually negotiated.
I suspect that over time, Disney likely will go big or go home in distributing its own product. While a Disney-branded service could migrate high-margin subscribers to the company, the strategy also risks cannibalization and could be plagued by execution risks.
Put simply, it's complicated and still unclear, but not a positive for NFLX, which I have argued was already priced for perfection.
Here is my case to sell Netflix that I presented two weeks ago:
Sell Netflix, Don't Short It

Netflix (NFLX) ($183) has traded up sharply since reporting stronger sub and revenue growth than expected in a quarter that is seasonally weak. Apparently releasing "House of Cards" did the trick, but few have noticed it is something of a one-trick pony. The stock once again is dancing to the sub count and ignoring everything else. I am unable to do so. I recommend avoiding the stock, but I wouldn't short the stock.

Here are the numbers. Few are looking at them. My bet is that at some point they will.

Revenue grew 32% in the quarter. This is undoubtedly a good thing and was only a slight slowdown from 34% growth in the previous quarter.

However, spending and cash burn also grew. The big bet is that at some point, NFLX can raise prices without sub loss. I am not so sure. Right now, the dog is chasing his tail but no one cares.

EBITD increased 74%. However, there is less here than meets the eye. Depreciation increased $5 million (36%), but net interest expense increased $96 million as interestincome was a negative $51 million (for reasons that will need to be explained). Pretaxprofits were down 72% to $14 million from. $51 million the previous year. A tax credit of $52 million on a book basis led the company to report $0.13 a share on the earnings line. In the old days, analysts would observe this is a low-quality number.

Putting it all together, at $183 a share NFLX has an equity value of about $80 billion. Net debt is now $2.7 billion as NFLX has doubled its debt in nine months. This leads to an enterprise value of $83 billion. Trailing 12-EBITD is now $659 million. The multiple is around 125 times. I fail to see value or a margin of safety. "House of Cards" is good, but not that good.

I would sell Netflix if I owned it but I wouldn't sell the shares short.

Firstly, valuation is rarely a solid reason to short a stock.

Second, the short interest -- whether measured by short interest (28 million shares) relative to the float (425 million shares) or average daily trading volume (7 million shares) -- is too large, precluding me from shorting the shares for fear of a continued short squeeze.

Sell Netflix, don't short Netflix.
Postscript
Wall Street likely will come to the defense of both Disney and Netflix. (Already, Piper has written that the distribution agreement that NFLX has with DIS is "nice to have" but "not a must to have.")
I respectfully will disagree with these views, although I'm not a contrarian to be contrary. Hopefully, Disney, Netflix and even Amazon.com Inc.  (AMZN) - Get Amazon.com, Inc. Report are profitable examples of this.
Stay tuned! Literally.
(This column has been updated to reflect morning stock prices and clarify that Disney is buying a majority stake in BAMTech rather than the entire firm. Kass' columns run every market day on Real Money Pro, our premium site for active traders. Click here to get great columns like this from Jim Cramer, Doug Kass and other writers even earlier in the trading day.) 
Don't miss these top stories on TheStreet:
Priceline Shares Being Pummeled -- Here's What We Know
Disney Goes to War With Netflix, Apple to $1 Trillion Are the Hot Tickers: DIS, NFLX, GOOGL, AAPL
Tesla Headlines This Lineup of 12 Amazing New Cars for 2018
At the time of publication, Kass was short DIS.