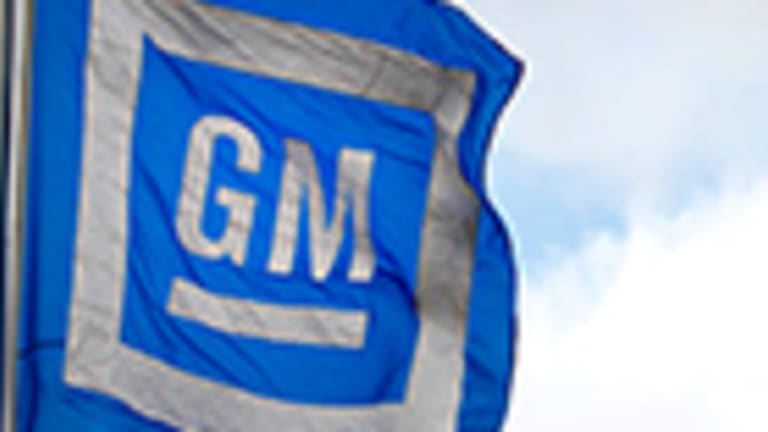 Why Detroit's Big Three Are Best Positioned to Benefit From Lower Gas Prices
GM, Ford and Chrysler could see higher profit margins if consumers favor larger vehicles amid record-low oil prices.
Plummeting oil and gas prices are adding momentum to an auto industry already bolstered by an improving labor and housing market, and that's good news for U.S.-based automakers that make more large, high-margin vehicles than their rivals.
Lower gas prices, while not necessarily boosting overall demand for vehicles, traditionally tip the mix of purchases in favor of higher-margin trucks and SUVs, says UBS securities analyst Colin Langan. Gas prices which correlate to oil prices hit a fresh five-year low on Monday as prices at the pump fell toward $2 per gallon in many areas.
The U.S. 'Detroit Three' - General Motors Co. (GM) - Get General Motors Company Report , Ford Motor Co. (F) - Get Ford Motor Company Report and Chrysler Group, controlled by Fiat's FCA (FCAU) - Get Stellantis N.V. Report - are "best positioned" among global auto manufacturers because of their emphasis on larger vehicles, Langan said in an e-mail. In fact, UBS estimates that lower gas prices could boost General Motors' 2015 earnings by 7%, or 30 cents per share, and Ford's 2015 earnings by 6%, or 10 cents per share.
Overall, December car sales are expected be about 16.9 million on a seasonally adjusted annualized rate, up 9.5% from December 2013, according to TrueCar, a buying and selling platform for automobiles.
"With the strongest demand in a decade, gains in highly profitable segments and modest incentive growth, automakers should be grinning as they close the books this year," said John Krafcik, president of TrueCar, in a statement.
U.S. auto sales rose 4.6% in November from a year prior, more than analysts expected and the best pace since 2003. The industry's annualized sales rate was 17.2 million vehicles in November, according to Autodata Corp., which was above the 16.7 million vehicles Thomson Reuters estimated from a survey of 41 analysts. But sales varied significantly among models with car sales generally declining while light truck sales soared.
At GM, spokesman James Cain said sales of SUVs and trucks are enjoying a steady clip executives expect to carry through December. GM's reported November sales increased 6.5% year-over-year to 225,818 vehicles, with Chevrolet Silverado and GMC Sierra full-size pickups rising 34% to 65,343. GM shares are down 15.2% year-to-date.
"People are tending to buy more vehicles and trucks which obviously helps the domestic industry," Cain said in a phone interview. "We happen to have a lot of new trucks and SUVs in our portfolio, so we have for the last couple months been performing very well and the trends we saw in the market have just continued."
And Ford is noting similar trends toward SUVs, although its light trucks sales growth of 0.3% was not as robust as GM's 12.1% increase. Ford's overall sales in November were down 2% from a year prior, but larger models like the Ford Escape, Explorer and Lincoln had their best sales in years.
With shares about on par with where they opened this year, Ford reported 25,528 Escape models sold in November, up 22% from a year prior for its best November ever. Explorer sales of 14,949 vehicles were up 13%, the best results for that month in 10 years while the 8,113 Lincoln sales, up 21%, marked that model's best November sales in seven years.
Next year, Ford is banking on a new F-150 model, a larger pickup truck with new engine options, an aluminum body and lower-than-expected fuel economy of 20 miles per gallon. But analysts like Brian A. Johnson of Barclays say the low gas prices could hamper its competitive edge.
"When combined with a low gas price environment (which may fall further), market share gains from Ford in the large pickup segment may be harder to come by and could shift the marketing efforts to payload and handling performance," Johnson wrote in a note.
Chrysler Group is expected to lead December sales gains as Edmunds and Kelly Blue Book expect to see a 20.5% and 25% sales gain, respectively, versus a roughly 10% gain industry-wide.
Chrysler sales rose 20% in November from a year prior, although its sales were driven by car sales, which rose 25%, according to Autodata Corp. Light truck sales were up 18.4% from November 2013.
"The fuel price drop may prove transitory, but we believe most other cyclical and structural challenges facing the US auto industry are here to stay," said Morgan Stanley analyst Adam Jonas in a note.
While lower gas prices may weaken the demand for electric vehicles, fuel trends are not likely to impact sales of Tesla Motors (TSLA) - Get Tesla Inc. Report , which with vehicles selling for upwards of $100,000, caters to a customer base less concerned with gas price.
"Tesla Motors has a special case insofar as the company's products provide a unique/premium user experience and driving pleasure for the wealthiest consumers," Jonas said. Tesla sales were up 6.5% in November with the stock up 49% year-to-date.