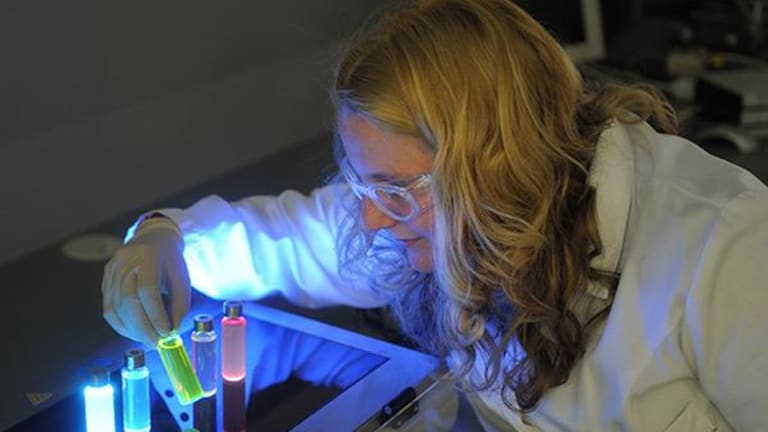 Why Concert Pharmaceuticals Is Music to Investors' Ears
This little biotech packed a big wallop on Monday as its stock nearly doubled. Here's why.
It's been quite a week for biotech company Concert Pharmaceuticals (CNCE) - Get Free Report . On Monday, Concert's shares skyrocketed by more than 90% following the announcement that a larger rival will purchase rights to one of its pipeline candidates. But with other drugs in development, Concert has the potential to prove it's not a one-hit wonder.
Concert is a clinical-stage biotech company with a diverse portfolio of products in the pipeline. One of these drugs is CTP-656, which treats cystic fibrosis (CF), an incurable disease. According to the Cystic Fibrosis Foundation, globally there are about 70,000 people living with the disease, with 1,000 new cases diagnosed every year.
One of the most popular treatments for CF is Kalydeco, which treats the causes of CF, rather than just the symptoms. It's a life-changing drug, and one that is expected to create revenue of as much as $2 billion for its maker, Vertex Pharmaceuticals (VRTX) - Get Free Report .
However, most patients who take Kalydeco require two doses a day, and there's plenty of room for error and skipping a dose.
That's where Concert Pharmaceuticals comes in. The company has developed a drug, currently known as CTP-656, which is nearly identical to Kalydeco except in one way--it's long-lasting and requires only one daily dose.
Vertex, seeing the potential for losing some of that expected $2 billion, quickly stepped in and has agreed to pay Concert $160 million upfront for the development and commercialization rights to the treatment.
But that's not all. While it may seem like Vertex is jumping the gun--after all, CT-656 doesn't have FDA approval yet--the larger rival has made the pot even sweeter for Concert. If the drug does receive approval, Vertex will pay an additional $90 million.
That's a good deal for Vertex. Remember, the company is expecting revenues as high as $2 billion for Kalydeco, and this week's deal values CTP-656 at $250 million.
But it's also a great deal for Concert. This is a drug development company, and it was unknown how Concert could successfully commercialize the product. In addition, this removes the shadow of potential lawsuits by big Vertex against the little drug maker.
Investors have clearly seen the positives, as well, and sent Concert skyrocketing. Investors who got in as late as last week could have roughly doubled their money.
But this is nothing new for Concert-the company has a history of inking lucrative deals for its development-stage drugs.
The company specializes in creating "better" versions of existing drugs. It uses a proprietary method of swapping out hydrogen atoms with deuterium, which is like hydrogen but contains a neutron. That makes Concert able to create longer-lasting versions of certain drugs.
Another Concert treatment, CTP-370, is an "improved" version of psoriasis drug Otezla. Like Kalydeco, Otezla is capable of generating billions of dollars in revenue for its maker, Celgene (CELG) - Get Free Report . Concert has already entered into a partnership with Celgene that will net the company millions of dollars as CTP-370 hits developmental milestones.
With this business model, Concert stands to continue this trend of lucrative partnerships. Watch out for dips as good opportunities to load up on this biotech stock.
---
As we've just explained, Concert Pharmaceuticals is an excellent growth opportunity. If you're looking for other growth opportunities, we've found a genius trader who turned $50,000 into $5 million by using his proprietary trading method. For a limited time, he's guaranteeing you $67,548 per year in profitable trades if you follow his simple step-by-step process.Click here now for details.
The author is an independent contributor who at the time of publication owned none of the stocks mentioned.