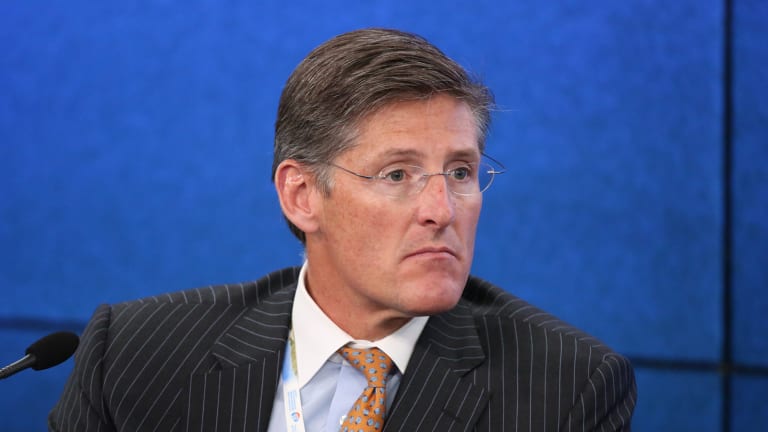 Why Citigroup Is Focusing More on Buybacks Than Dividend Increases
Citigroup CEO Michael Corbat said the bank's stock is trading below book value, so repurchasing it is the best way for the bank to reward investors.
NEW YORK ( TheStreet) -- Citigroup (C) - Get Report will focus more on buying back its stock than raising dividends as the company rewards shareholders after passing last year's review by the Federal Reserve, CEO Michael Corbat said on Thursday.
"As long as our stock trades below book value, we're going to be primarily focused in terms of buyback," Corbat said during a nearly hour-long talk at Bernstein's 31st Annual Strategic Decisions Conference in New York. "It's the most accretive thing we can do for our shareholders."
Citigroup raised its quarterly dividend to 5 cents a share in March, after receiving no objections from the Federal Reserve to its plans, and said it would repurchase $7.8 billion of its stock over a five-quarter period starting in the three months from April through June.
The moves occurred as the New York-based bank continued to grapple with regulatory issues. 
Among the most painful may have been the fallout from the role of some employees in rigging the euro-dollar exchange rate from 2007 to 2013. In November, Citi was fined $1.02 billion by U.S. and U.K. authorities, and last week the bank was fined $1.26 billion by the Justice Department and Fed for similar charges and pleaded guilty to a felony antitrust charge.
The bank "got through a lot of issues," in 2014, Corbat said. "Some of those were painful to deal with, but I think we have positioned our company and our businesses in a way where we can show the real true earnings potential."
Corbat didn't offer much more regarding the bank's recent settlement and guilty plea except: "We took an important step to get a big one behind us on foreign exchange."
During the rest of his nearly hour-long talk, Corbat appeared more optimistic. While the U.S. will lead the charge in growth after the Fed raises interest rates, Corbat said, he sees opportunity globally.
Mexico is one area of particular interest, especially since -- by Corbat's count --the country has outpaced Brazil in auto manufacturing and the rest of Latin America in aviation.
Citigroup focuses its growth and investment in affluent urban areas, he said, and China and India are particularly appealing because of their growing middle classes.
Among this year's noteworthy accomplishments, Corbat said, was an agreement to issue Costco's (COST) - Get Report private-label credit card, a service formerly provided by American Express (AXP) - Get Report. Visa (V) - Get Report will provide the payment network.
"We've gotten some important deals done that a couple of years ago we couldn't have gotten done," Corbat said.
From a capital-liquidity perspective, "the institution going in and coming out of the crisis has never been stronger," the CEO said. 
Citigroup's dividend increase this year was an important step for the bank, which had been paying just 1 cent a quarter since 2011. In early 2008, in the buildup to the financial crisis, the bank cut its dividend from $5.40 a share to $3.60 a share, then slashed it further before discontinuing the payout altogether in 2009.
The bank posted annual losses in both 2008 and 2009, receiving a government bailout, before returning to profitability in 2010.
"We're clearly focused on making sure the business is in a position to continue meaningful capital return to shareholders," Corbat said.