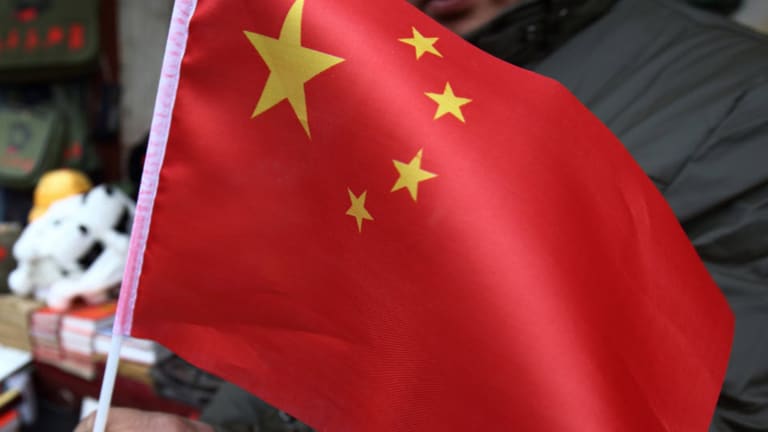 Why China is a Bigger Threat to the U.S. than Greece
China's slowing growth is one piece of a triple threat -- and perhaps the largest -- to a global economy also grappling with debt crises in Greece and Puerto Rico.
Update: This article, originally published at 12:06 p.m. on Wednesday, July 1, has been updated to include comment from the European Bank for Reconstruction and Development in the eleventh and twelfth paragraphs.
NEW YORK (TheStreet) -- Greece's debt crisis alone may not pose significant danger to U.S. markets. Combined with a debt crisis in Puerto Rico and slowing growth in China, however, it creates a potent triple threat for investors.
"Any single one would be easy to digest," said Peter Tchir, managing director at New York-based investment bank Brean Capital, adding that the three events unfolding so close together is problematic since each threatens a different part of the market.
While Greece's default is a risk mainly for its creditors in the European Union's common market, China could create a problem for the U.S. because of investments the two countries have made in each other. Last year, U.S. direct investment in China was $92 billion, while Chinese investment in the U.S. totaled $128.5 billion, according to data from the United Nations Conference on Trade and Development. American manufacturers including General Electric (GE) - Get Free Report have expanded significantly there.
Since mid-June, China's stock markets have lost 20% of their value, slipping into bear-market territory months after the world's second-largest economy opened itself to foreign investment following an extended period of growth. China has been preparing for slower expansion for years, but recent interest-rate cuts, including one on Saturday, have underscored how nervous Chinese officials are about their country's economy.
That's one of several factors posing heightened risk for the so-called shadow-banking system in the U.S., which includes hedge funds and mutual funds, said Janus Capital's (JNS) Bill Gross, the co-founder of Pimco.
The People's Republic is "a riddle wrapped in a mystery, inside an enigma," Gross said in a blog posting. "It is the 'mystery meat' of economic sandwiches -- you never know what's in there. Credit has expanded more rapidly in recent years than any major economy in history, a sure warning sign."
Companies from Apple (AAPL) - Get Free Report to Ford (F) - Get Free Report are anchored in the country by billions of dollars in investments.
"A slowdown there would be very meaningful to markets globally," Tchir said. "The hope that the Bank of China would create a bounce based on rate cuts is slowly disappearing."
Greece's debt troubles, while dramatic, appear much less significant for the U.S. economy, Goldman Sachs analyst Sven Jari Stehn said in a note late Monday.
"Spillovers from the Greek crisis into the U.S. therefore look quite limited," he said in the note, which advised that New York-based Goldman "does not expect a significant slowdown in broader Euro-area growth."
Peter Sanfey, a regional economist for Southeast Europe at the European Bank for Reconstruction and Development, agreed, saying that EU regulations should be able to contain any negative effects of a Greek default.
"The banks in the neighborhood are subject to the regulations of the local authorities there," he said, adding "we haven't seen any contagion or spillover."
In the meantime, the wrangling between Greek Prime Minister Alexis Tsipras and his country's creditors -- the European Commission, the European Central Bank and the International Monetary Fund -- has slowed, pending a Sunday referendum where Greeks will decided whether to accept additional bailout money tied to mandatory economic reforms.
Early polls showing a majority of Greek voters approving the creditors' terms matched analysts' expectations for the vote, particularly since many European Union members were inclined to consider a rejection of the offer as a vote to exit its common currency, the euro.
"Our base scenario at this point ... does not look for [Euro] exit, but is for a 'yes' in the referendum, followed by a deal with the creditors," JPMorgan Chase analyst Greg Fuzesi wrote in a note published on Monday.
Between now and then, Brean's Tchir said Tspiras has more control over the situation than most observers believe. Even if Greece doesn't reach a deal with the EU or the IMF and exits the Euro currency, Tchir said, it might be able to seek financial support from Russia or China.
With that possibility on the horizon and a prime minister who didn't hesitate to call for a vote after Greece's payment deadline, Tchir said the period leading up to the referendum will reveal the power Greece has.
"It will make people realize just how much Greece is in the driver's seat," he said. "Greece can win by defaulting."