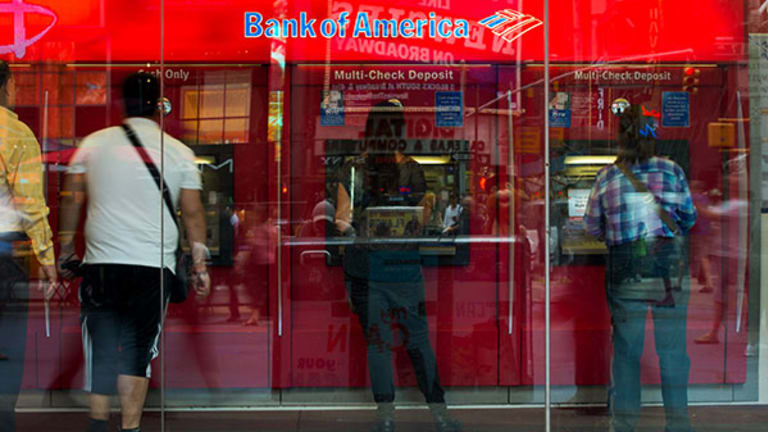 Why Channeling Warren Buffett Might Make You Wary of Bank Buybacks
Banks from JPMorgan Chase to Wells Fargo and Capital One have expanded repurchase programs this year as finance stocks plummeted. Ultimately, says banking analyst Dick Bove, that's a bad thing.
Editors' pick: Originally published March 23.
Basically, stock buybacks are a sugar fix for banks: Investors like the short-term rush from them, says Rafferty Capital Markets analyst Dick Bove, but they're ultimately bad for business.
"In order to buy back stock, a company must take available cash that could be invested in the business," Bove said in a note to clients this week, written on the heels of increases to repurchasing programs at four major finance firms so far this year: Capital One (COF) , Wells Fargo (WFC) , Bank of America (BAC) and JPMorgan Chase (JPM) .
In logic reminiscent of Warren Buffett's attitude on dividends, Bove said the assumption that the cash can't be better spent in growing the firm "implies that there is something wrong with the company's business model -- i.e., the bank cannot find a positive use for its funds."
He does concede a short-term benefit, however: share-price gains. And those were a welcome boost after a rough start to 2016 for finance firms, with share prices tumbling amid concerns about global volatility; a slowdown in China, the world's second-largest economy; and possible loan defaults by energy companies struggling with a slide in oil prices. The KBW Bank Index has dropped 11% so far this year, while the broader S&P 500 and Dow Jones Industrial Average are little changed.
Within a day of announcing the buyback expansions, the stocks of JPMorgan, Bank of America, Wells Fargo and Capital One all climbed, in most cases by at least 1%, and in half, close to 3%.
"There is plenty of evidence that in the short-run, buying back stock may stimulate better stock price performance," Bove noted. "Long run, I am not sure for most companies, but I feel strongly that it is not good for banks."
By definition, buybacks reduce common equity, he argued, and since bank regulators tie leverage to capitalization, banks are able to lend less afterward and their long-term growth is curbed.
Additionally, "banking is a highly cyclical industry that relies heavily on its capital," he said. "The recent travesty of the huge buybacks in 2007 followed by the just-as-huge stock issuances in 2008 to 2010, indicates the peril of stock buybacks in a cyclical industry. The companies are buying back at the high and selling at the low."
More broadly, whatever return the company was generating on its cash before the buyback is lost, Bove said, "and there is nothing replacing these revenues."
The reasons are similar to those Buffett, the billionaire CEO of Berkshire Hathaway, has cited in arguing against paying dividends to that company's investors: Overall, they stand to benefit more from Berkshire making acquisitions, expanding its existing operations or investing in capital markets, he says.
And Berkshire stockholders evidently agree: They overwhelmingly voted against a 2014 shareholder proposal to require a dividend, a measure that was ultimately withdrawn because the backer didn't present it at the annual meeting, Buffett noted in his letter to investors that year.
"Ninety-eight percent of the shares voting said, in effect, 'Don't send us a dividend but instead reinvest all of the earnings,'" Buffett wrote. "To have our fellow owners -- large and small -- be so in sync with our managerial philosophy is both remarkable and rewarding."
Despite his disenchantment with dividends, Buffett isn't necessarily opposed to buybacks. "Berkshire's intrinsic value far exceeds its book value," he wrote in a shareholder letter in February. "That's why we would be delighted to repurchase our shares should they sell as low as 120% of book value. At that level, purchases would instantly and meaningfully increase per-share intrinsic value."
The buyback expansions announced by banks so far this year total roughly $20 billion, and by far the largest is Wells Fargo's. The San Francisco-based bank said Jan. 26 that its board had approved buying back as many as 350 million more shares, which would have totaled about $17 billion at that day's closing price. Last year, the bank returned $12.6 billion to shareholders through both dividends and share repurchases, CEO John Stumpf told analysts in January.
JPMorgan, based in New York, said Thursday that it will repurchase as much as $1.88 billion of its stock through the end of June, in addition to a buyback plan of $6.4 billion approved last year.
Rival Bank of America, based in Charlotte, N.C., said in a regulatory filing Friday that it would repurchase as much as $800 million of its common stock to counter the dilution from stock-based incentive payments to employees eligible for retirement. The purchases expand a previous buyback authorization of $4 billion, announced in March 2015.
Exclusive Look Inside: Bank of America and Wells Fargo are holdings in Jim Cramer's Action Alerts PLUS portfolio.Want to be alerted before he buys or sells either one? Learn more now.
Capital One, based in McLean, Va., said in mid-February that its board had authorized buying up to an additional $300 million of shares through the end of June.
One reason for the popularity of repurchase programs is that companies can modify them, generally, without alarming or irritating their shareholders. "Companies fight hard to maintain their dividends," Bove noted. "Any dividend cut would widely be regarded as a problem. Not so with buyback programs, they can be varied at will with no negative kickback."