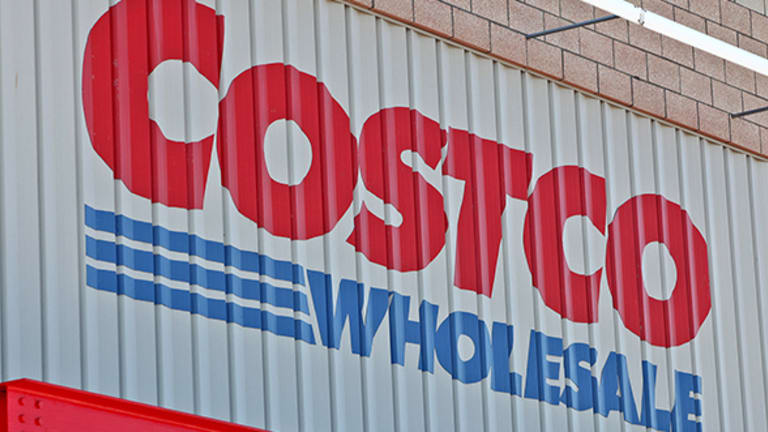 Why Cash Saved at the Pump Lands at Costco, Not Macy's
Oil prices may have been low for the last 14 months, but consumers just aren't buying anything at the malls. Here's where they're spending and why.
Oil prices may have been low for the last 14 months, but consumers just aren't buying it. Consumers also aren't buying anything at malls.
Many observers have believed that people would use the money they're no longer paying at the gas pump to go shopping. This hasn't happened for two somewhat-connected reasons:
There's no reason to believe oil prices will stay low.
The retail world has changed.
The last time oil prices were below $50 a barrel was during the financial crisis of 2008 to 2009. Unfortunately for U.S. households, the price of oil shot up right when unemployment was increasing. Just when people were worried about holding on to their jobs, they were also paying more for gasoline and heating oil.
The first chart below, using data provided by Nasdaq, shows that at the end of 2009, the price of oil nearly doubled from its lows earlier in the year. Meanwhile, 2009 was a year when many people lost their jobs, as seen in the second chart, and those who were able to keep their jobs likely saw bonuses and raises reduced and benefits cut. Even those who were employed budgeted as though they may not be working for long.
Fast forward to today, when oil prices have been low for a little more than a year.
Who can blame households for still operating with a recession-era mentality and being suspicious of how long low oil prices can last? They weren't sustained when households needed them most.
It's also worth noting that households don't spend as much time thinking about why prices are lower as people in the financial world and media do. If there is a broader economic or political reason for sustained lower prices, households are less likely to pay attention to it.
In terms of shopping, this means that consumers who may find an extra $100 or more at the end of the month from low oil prices are still favoring Action Alerts PLUS portfolio holding Target (TGT) - Get Target Corporation Report and Trifecta holdingCostco (COST) - Get Costco Wholesale Corporation Report over such shopping-mall stalwarts like Macy's (M) - Get Macy's Inc Report and Nordstrom (JWN) - Get Nordstrom, Inc. Report .
This leads to the second point. Consumers have shifted their consumption habits since the recession, and only the smart retailers have caught on. The deep recession coupled with advances in technology in recent years completely changed the way the consumer thinks and operates. In 2009, there was no extra money, so consumers shopped only when they had to --- and they sure weren't planning to pay full retail price for their purchases.
When clothes and household items fell beyond disrepair, consumers learned the ease of comparison shopping online. Even shoppers who didn't like the idea of giving credit-card info online could still do their research from a laptop and make purchases in person at big-box discounters like Target and Costco. They got discounts, saved gas money and time by not making multiple trips. And although they're discount shops, Target and Costco even found a way to be cool by partnering with high-end brands.
Department stores realized that consumers were looking for deals, but they still haven't quite figured out what customers need. A 20-something fashionista may think nothing about spending time browsing disorganized racks for a discounted Diane von Furstenberg clothes at Nordstrom Rack or Macy's new Backstage project. But the average shopper values his or her time. If people leave their house to shop, they're going to go where they are certain to get what they want.
This trend is likely to continue as the popularity of department stores and the malls they're attached to wanes. Realizing that parents favor big­-box stores and teenagers no longer want to spend Friday nights cruising the mall, companies like Simons Property (SPG) - Get Simon Property Group, Inc. Report have to repurpose their retail spaces to get people through the doors. It is a tough task for the mall-based stores, as they'll be fighting to attract customers while Target and Costco can focus on making their already good offerings even better.
Perhaps it's too soon to declare the death of Macy's, Nordstrom and the malls just yet, but if customers do return, the healing process is going to be long and painful.
Editor's Note: This article was originally published at 12 p.m. EDT on Real Money on Nov. 13.