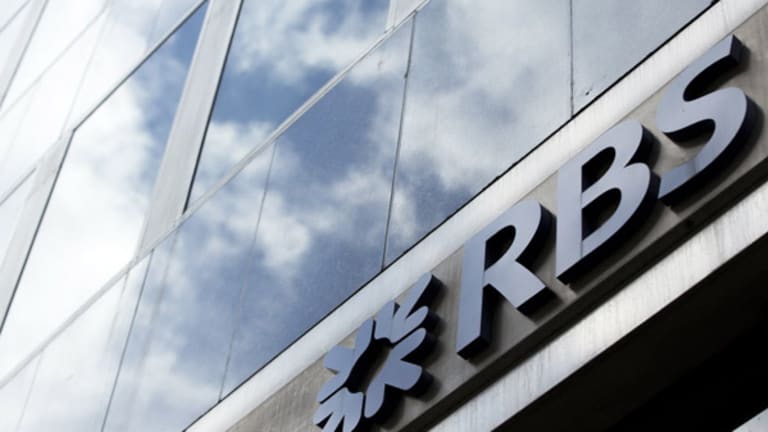 Publish date:
Why Bravehearts Are Looking Beyond RBS Restructuring
From DoJ fines to shareholder litigation, short-term noise is obscuring a strengthening core franchise.
From DoJ fines to shareholder litigation, short-term noise is obscuring a strengthening core franchise.
RBS (RBS) - Get Report  is set to remain a source of volatility in the U.K. banking sector for a while yet as regulatory headwinds show no sign of abating.
But with efforts to de-risk and restructure the bank now in the advanced stages, management and some analysts are turning their attention toward the core bank that will be left standing when the reformed RBS is ready to spread its wings. Could fortune soon begin to favor the brave?
The market reaction to Friday's third-quarter update reflects the relationship RBS has come to have with investors.
The stock rose sharply at the opening bell, to trade 5% higher at 207.0 pence, after it announced above-forecast quarterly results and a solid performance from the core-bank.
"This is a pleasing set of core bank results...we look forward to doing more," said CEO Ross McEwan.
But the stock fell once the quarterly conference call got underway as investors focused once more on a drawnout program of disposals, litigation costs that are yet to be fully addressed and key regulatory changes currently working their way through the pipeline.
Investors can probably be forgiven for their love-hate relationship with the stock.
After all, shareholders are staring down the barrel of a settlement with the U.S. Department of Justice that could cost them as much as $9 billion by some estimates. (RBS is the target of a similar probe to that threatening to engulf Deutsche Bank (DB) - Get Report , related to its sale of residential mortgage-backed securities before the credit crisis). 
The Brexit-induced deterioration of the U.K. economic outlook and interest rate environment has led management to abandon their 2019 target for delivering a cost to income ratio of under 50% and a 12% group return on tangible equity.
And the bank will next March begin defending itself in a court case relating to a pre-credit crisis rights issue, where it is alleged that it misled investors over its financial position.
Furthermore, regulatory change could also undermine efforts at engineering a lasting improvement in sentiment toward the stock.
McEwan acknowledged on Friday that forthcoming changes to the way banks assess mortgage risk on their books could make it difficult for RBS to reduce risk-weighted-assets over the medium term.
This is while uncertainties over the exact impact of 2018 accountancy rule changes (IFRS 9) might prove a headwind to the stock price when details of RBS plans begin to emerge in 2017. These new rules could result in RBS and other banks having to class a much larger portion of their loan books as nonperforming,  even if the borrowers are not yet in default.
"We always said that 2015 and 2016 would be very noisy," remarked McEwan on Friday.
The long-running saga surrounding RBS' past conduct and restructuring measures has obscured its emerging core bank from view.
Briefly the world's largest bank  by assets, RBS started out with more than £150 billion of bad apples it was seeking to offload shortly after the financial crisis,  and has spent the intervening years shifting them on to other owners in an effort to derisk its balance sheet.
At the end of the third quarter it had £39.8 billion of risk-weighted-assets (RWA) in its bad bank, which it expects to reduce further to somewhere between £30 billion and £35 billion by year-end.
It said on Friday it will miss the 2017 deadline set by the European Commission for selling the 300 or so bank branches dubbed Williams & Glyn.
But the third-quarter results were also  testament to the drastic restructuring achieved so far by RBS, even if it does still have some way to go. The core bank generated profit of about £3.1 billion and achieved a 14.2% adjusted return on equity, which is enviable for an industry that has been under fire for sub-par returns for so long.
"In our view, RBS has a strong core business, a focus on cutting costs and, due to substantial de-risking, one of the safest loan books of any U.K. bank," said Peter Richardson, an analyst at Berenberg.
Campbell forecasts that the core franchise at RBS is capable of generating earnings per share of at least 17 pence annually and that, assuming a ten times price to earnings multiple, October's lows of 170.0 pence should form a floor value for the stock.
RBS stock was down by around 1%, at 194.4 pence, shortly after noon in London. It has shed 35% of its value for the 2016 year-to-date.