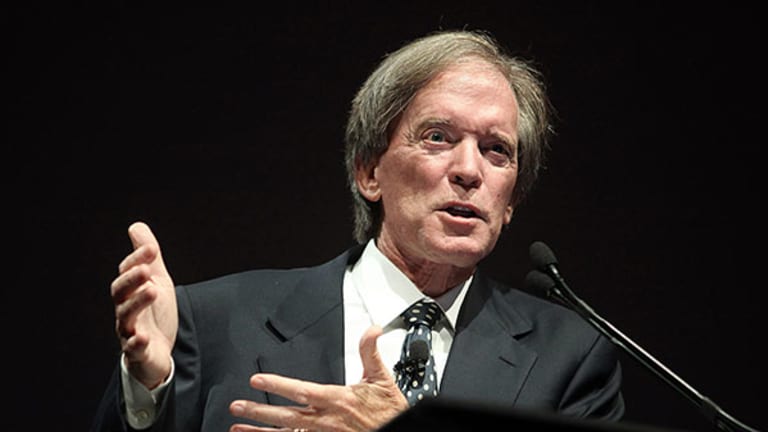 Why Bill Gross Blames Low Rates for Wile E. Coyote's Downfall
Bill Gross argues that central banks are behaving like casinos, doubling down on policies designed to boost the economy and creating a bubble that will eventually hurt investors.
Updated from Dec. 3.
Bill Gross is all too familiar with the fate of Wile E. Coyote, the hapless Saturday morning cartoon character repeatedly lured over a cliff while chasing the Road Runner, on whom he hopes to feast. In every episode, the shaggy beast winds up hanging in mid-air, shocked by how far he's about to fall.
And how much it's going to hurt.
That's just how investors lured into markets that are inflated because of low interest rates and central bank stimulus programs are going to end up, says Gross. The co-founder of Pimco more than 40 years ago, Gross' investing prowess earned him the moniker of "Bond King" before he moved to Janus Capital last year. 
"One day, the negative feedback loop on the real economy will halt the ascent of stock and bond prices and investors will look around like Wile E. Coyote wondering how far is down," said Gross, a lead portfolio manager for Janus, in his December investment outlook.
Gross has been a longtime advocate for raising interest rates in the U.S. Until Wednesday's 0.25 percentage point hike, the Federal Reserve has kept interest rates near zero since the financial crisis of 2008 in an attempt to boost the economy and curb unemployment. But that's not to say he thinks Europe is in better shape.
Central banks are behaving like casinos in much of the Western world, he says. Keeping rates low and repurchasing government bonds to stimulate growth, an initiative referred to as quantitative easing, is functioning like the "Martingale" strategy used by gamblers. Using that technique, players who lose one bet just double the next one to get back to even.
Other Rising Rates Stories
"Given an endless pool of 'chips,' the theory is nearly mathematically certain to succeed, and in today's global monetary system, central bankers are doing just that," he said. European Central Bank head Mario Draghi's commitment several years ago to do "'whatever it takes' is a Martingale promise in disguise," Gross said.
And in fact, the European Central Bank doubled down on its strategy on Dec. 3, stretching a quantitative easing program that repurchases about €60 billion (about $65 billion) in assets a month for an additional six months, through March 2017. It may last even beyond that, if necessary, Draghi said at a news conference.
In the U.S., the Fed ended its own quantitative-easing program in late 2014, after purchasing about $3.5 trillion in assets. Traders have speculated for much of this year that the central bank would soon begin raising interesting rates, which finally began on Wednesday.
"Timing is key," Gross reiterated Thursday. "Even Martingale casinos eventually fail. They may not run out of chips, but like Atlantic City, the gamblers eventually go home, and their doors close."