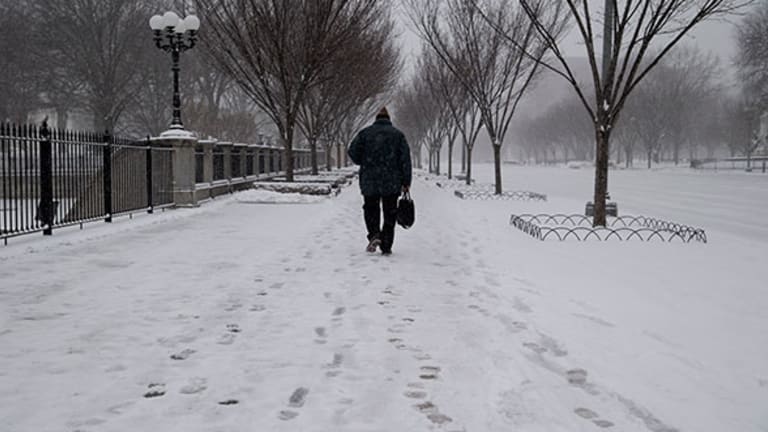 A Burst of Real Winter Weather Is Lurking and Big Natural Gas Stocks Could Get Hot
What you need to know.
Editor's note: This article was first published earlier Monday on RealMoney.com.
This is just a very quick follow up to my column of Jan. 9, advising a buy of natural gas stocks on the back of a quick drop in stockpiles. I still think there is time yet for these stocks to perform, despite their admittedly slow performance so far.
We pointed out on Jan. 9 the excessive expectations of natural gas traders coming into the start of the year -- seeing enormous drops in stockpiles finally dropping below five-year averages for the first time in several years. We also pointed out in that column the unbelievable speculative long positions in natural gas, waiting for those stockpile shortages to convert to a big rally in natural gas. Instead, what the traders got was a wash out, seeing natural gas prices move from close to $4 per thousand cubic feet to $3.20 on Monday.
I saw this as an opportunity to get into natural gas, and natural gas stocks for a short time, looking to take on the panicked selling of the specs and waiting at a better price for a recovery that seemed imminent.
So far, it hasn't been imminent at all.
Natural gas has lagged, as have the natural gas stocks, at basically the same level we initiated positions earlier in January, with a small rally that gave me some initial hope, but then another mini-bust.
So, what should we do now? 
I believe the thesis for this short-term trade is still very much in play, and natural gas prices were being held back by the very mild winter conditions we've been seeing in much of the northeast. That's about to change over the next week, as a regular burst of real winter weather is headed south from the Arctic, dropping temps into the 30-degree (Fahrenheit) range as far south as Atlanta -- at least according to the National Weather service:
This is enough, in my view, to give this trade another week or two at least to work -- we aren't out anything so far, and our close stops should stay in effect.
Again, the stocks to use are of your own choice. I like Southwestern Energy (SWN) - Get Free Report for its high beta -- but more conservative choices would be Range Resources (RRC) - Get Free Report (which has performed better) or Cabot Oil & Gasundefined .
At the time of publication, Dicker was long SWN, although positions may change at any time.