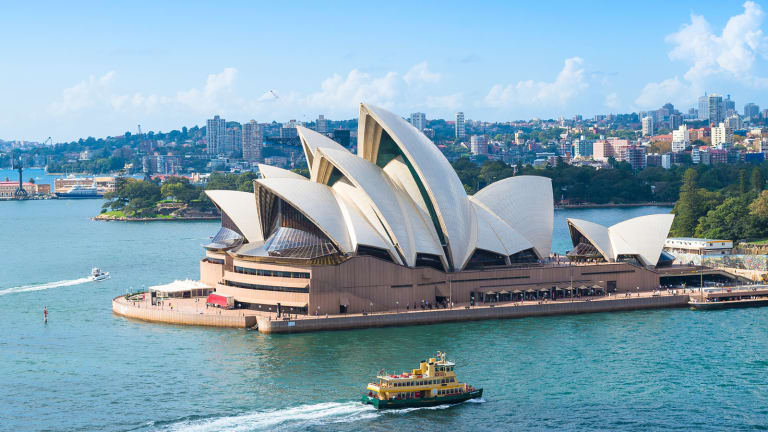 Why Australia Is Good for Warren Buffett but Not You
Some of Australia's biggest companies are reeling from a drop in Chinese demand for the natural resources they mine, which makes the country a risky bet for small investors.
NEW YORK ( TheStreet) -- Warren Buffett is making a big bet on Australia, but investors should be cautious about following the Oracle of Omaha's example and putting their own money Down Under.
Despite an agreement by Buffett's Berkshire Hathaway to pay A$500 million for a stake in an Australian insurance firm and the country's free-trade deal with China signed Wednesday, analysts see limited growth potential in Australian stocks in the near future, thanks to a slowdown in demand for some of the country's biggest exports.
On a scale of one to five, where one represents a market with all stocks at sell ratings and five a market with all stocks at buy, Australian stocks average 3.5, according to the study. That compares with Korea's 4.4 rating and China's 3.9.
Among the reasons is that one of the continent's key industries, mining, has seen a steep decline in production. Miners produce more than half of the country's exports and account for several of Australia's largest-revenue companies, including No. 1 BHP Billiton (BHP) . 
Both BHP and Rio Tinto (RIO)  benefited from an economic boom in East Asia, as manufacturers bought more and more of the raw materials from Australia's naturally occurring reserves of metals and minerals. Australia was particularly well positioned to supply raw materials to real estate developers in China, said Gordon Johnson, an energy and metals analyst for Wolfe Research in New York.
In 2014, four of the five highest-grossing exports from Australia to China were metals, according to Australia's Department of Foreign Affairs and Trade. Leading the list was iron ore, the key raw material used to make steel. Between mid-2013 and mid-2014, it exported A$57 billion in ore to China, more than double what the next four exports on the list brought in.
Australian miners got more money for their products, too. A dry metric ton of iron ore rose from US$36.63 in December 2007 to US$187.18 in February 2011.
With the good times rolling, companies ramped up production. Then China's growth began to slow: The price of a metric ton of iron ore fell to US$60 in May, and revenue at BHP Billiton dropped from its peak of US$60.5 million in 2011 to US$47.7 million in 2014, a decline of just over 21%. 
That collapse took stock prices with it. BHP Billiton's shares hit their all-time high of US$102.68 on the NYSE on April 11, 2011. On Wednesday afternoon, they were trading around US$43.69.
The turn in the market was so severe that Atlas Iron Ltd., Australia's fourth-largest miner of iron ore, announced in an April statement that it planned to suspend mining operations "due to recent significant falls in the iron ore price."
Whether the industry ever returns to the profitability it experienced a few years ago will depend on what happens in China. The world's second-largest economy is projected to continue expanding, but its growth rate has decelerated along with its building craze.
Wednesday's free trade deal won't do anything to reignite Chinese demand for Australian ore, Johnson said.
Initially, the agreement will remove tariffs from at least 85% of Australian goods headed to China, with an ultimate goal of 95%. By 2035, the treaty is expected to generate A$20 billion in new agreements between firms in the two countries, which already conduct A$160 billion in business.
If the treaty is ratified by both countries, "it's going to be a race to the bottom," Johnson said in a phone conversation. Until Australia finds another customer with a similarly large appetite for its commodities-heavy exports, American investors might be better off staying away from the market. The exception, according to Johnson, is if they plan to sell short. 
Growth in other areas of the economy remains slow, JPMorgan's Walters said: "The rotation to non-mining growth remains a work in progress."
Whether the free trade deal will spur expansion in the long run remains to be seen. If it succeeds, Australia could increase exports to China, Japan and South Korea by US$13 billion, or nearly 11.7%, according to a study conducted by the Centre for International Economics for the Australian government.
Meanwhile, the price of consumer goods imported to Australia from those countries is expected to drop, stimulating consumer purchasing, the study says.

That might benefit retailers such as Woolworths, Australia's second largest company by revenue, but "consumer spending remains subdued" for the near term, according to Walters. 
One industry doing well, meanwhile, is Australia's banking sector, said David Ellis, a Sydney-based analyst who covers Australian banks for Morningstar.
"The Australian major banks coped very well through the [global financial crisis]," receiving no bailouts on the scale of those the U.S. government gave to failing institutions in the early months of the financial crisis, he said. The Australian government did help raise A$150 billion in funds for its largest banks, including the Commonwealth Bank of Australia and the National Australia Bank, to lend to consumers as credit from overseas dried up in 2008.
Average return on equity at Australian banks today falls between 15% and 16%, he said. American institutions averaged 8.98% for the first quarter of 2015, according to the Federal Reserve Bank of St. Louis.
There's a significant risk related to mortgages, however. For April 2015, the national median house price in Australia was A$666,242 (about US$522,260), according to the Australian Bureau of Statistics. Well above the U.S. median for either new ($297,300) or existing homes ($219,000) for the same month, according to the St. Louis Fed, the prices make Australian housing some of the most expensive in the world.
Consequently, the banks that carry the debt from housing purchases are vulnerable should prices begin to slide. "In a property meltdown, the four major banks would incur material losses on their residential mortgage books," Ellis said.
It's one of multiple economic trends to watch and think carefully about before jumping into the Australian markets.