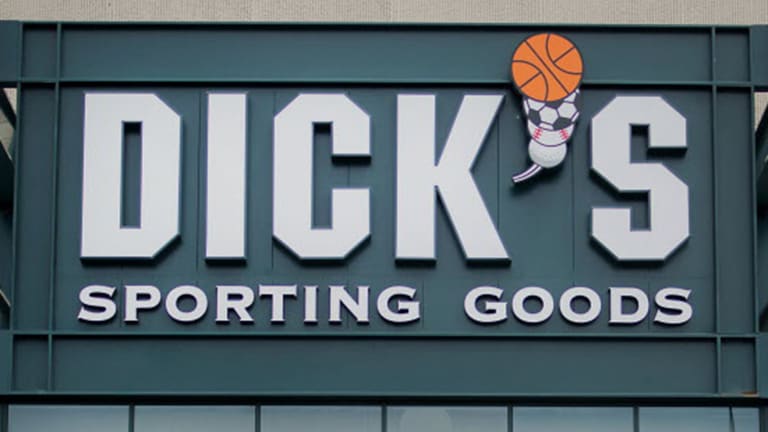 Why Analysts Pick Dick's Sporting Goods
Dick's Sporting Goods could see significant upside, analysts said.
Dick's Sporting Goods could see significant upside, analysts said.
Editor's Note: This article was originally published on Real Money at 12:15 p.m. on June 28.
Dick's Sporting Goods (DKS) - Get Report could see a 32% return on valuation thanks to the demise of its rival Sports Authority, according to analysts from Goldman Sachs. The analysts reiterated their buy rating on Dick's and added shares to their America's conviction list. Goldman also sees a potential 28% upside to its $53 12-month price target.
Analysts at the firm believe the closure of Sports Authority's bankruptcy process, on or shortly after the July 15 sale hearing associated with Wednesday's auction, could be a major catalyst. Goldman analysts previously postulated that outside interest in Sports Authority store leases would be minimal. It was revealed over the weekend that Dick's purchased 17 store leases, the only competitor to purchase more than one.
Sports Authority filed for Chapter 11 bankruptcy protection in March. After efforts to find a buyer that could continue to operate the company failed, the Englewood, Colo.-based retailer decided to start liquidating its inventory.
"DKS is one of few retailers in our coverage universe offering investors visibility into accelerating top- and bottom-line results due to the closure of its largest competitor, The Sports Authority (TSA), and margin expansion due to in-sourcing key e-commerce functions in 2017. In 4Q of this year, DKS will also face an easy compare (to last year) due to the unseasonably warm holiday selling season in 2015," Goldman's note said.
Despite the loss of one of its main competitors, Dick's sees the immediate impact of Sports Authority's demise as being minimal thanks to industry headwinds. Earlier this year, Dick's lowered its current-quarter earnings to between 62 cents and 72 cents per share vs. Wall Street's 78 cents per share expectations.
But Goldman believes the benefits from Sports Authority store closures will be felt starting in the fourth quarter when it sees sharp acceleration in earnings before interest and taxes, as well as earnings-per-share growth.
Aside from Sports Authority's closing, investors should start to focus on some of the thing happening internally at Dick's, analysts at Goldman believe -- specifically the prospect of a fully in-sourced online business that should provide an earnings lift in 2017.
"DKS continues to invest to in-source key functions associated with its online business that it does not control -- including technology, direct fulfillment for the core Dick's business, customer service, payment processing and webstore maintenance -- all of which are handled by GSI today (a subsidiary of eBay (EBAY) - Get Report ) for a fee," Goldman's note said.
However, despite these potential tailwinds, Goldman remains troubled by macro headwinds in the sports retail sector.
"We continue to harbor longer-term concerns for full-line sporting goods retailers, notably from vendor disintermediation and, secondarily, brick-and-mortar capacity growth, including from more niche outdoor sporting goods retailers that accelerated their expansion in recent years," Goldman warned. "Our longer-term concerns impose valuation discipline on full-line sporting goods retail stocks, and a tactical approach to our ratings."