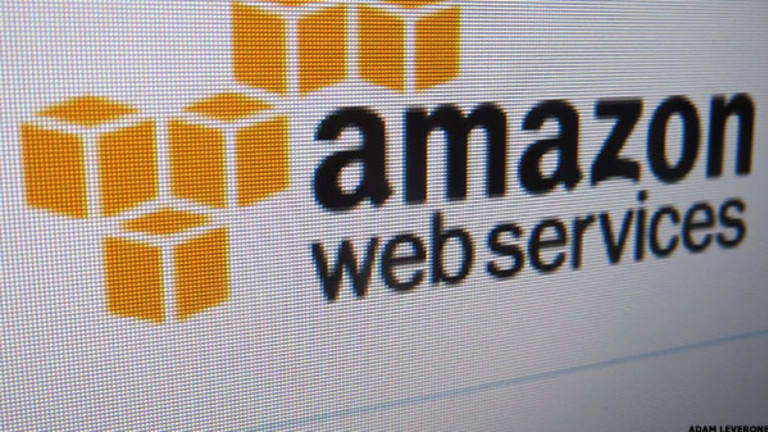 Why Analysts Love Amazon Web Services
Amazon Web Services highlights the growing versatility and profitability of the e-commerce giant.
Amazon Web Services highlights the growing versatility and profitability of the e-commerce giant.
Editor's Note: This article was originally published on Real Money at 1:44 p.m. on June 27.
E-commerce giant Amazon (AMZN) - Get Report continues to dominate the marketplace, disrupting the retail and technology sectors. This time its web services division -- AWS -- is the latest source of momentum for the company, with the government being a major contributor to growth.
"We estimate that strong government and large enterprise adoption of AWS, coupled with continued strength in new cloud-native applications, should drive nearly $1 billion of incremental cloud revenue for AWS each quarter this year," KeyBanc analysts wrote in a research note Sunday.
Furthermore, KeyBanc analysts anticipate that for "every $1 billion of cloud adoption at AWS could drive an incremental $0.37 in [earnings per share] to Amazon overall." Shares of Amazon were trading lower Monday, around $684.
AWS hosted a public-sector event in Washington, D.C., last week that showed that adoption of AWS is picking up. According to Amazon, AWS offers a broad set of global computer, storage, database, analytics, application and deployment services that help organizations move faster, lower IT costs and scale applications.
Amazon's Aurora cloud database is AWS's fastest-growing service -- one that is "growing at a frenetic pace," noted analysts -- already surpassing the adoption of Amazon's redshift (a cloud data warehouse). About 7,000 databases have migrated since the beginning of the year, and the weekly rate of migrations has more than tripled since March, according to KeyBanc analysts. But they added that, "it still has only a tiny foothold in the $34 billion database market."
The government is one of the main spenders on information technology. KeyBanc analysts said AWS now has 2,300 government customers and a big reason "for accelerating adoption of AWS in government is broader awareness of the benefits in agility, not just the cost."
CSRA (CSRA) , a provider of IT and tech services to government, serves as just one example of how AWS's momentum will likely continue. It plans to have 65% of workloads on public cloud by 2021, illustrating how "large enterprises are embracing the public cloud."
The robust AWS momentum reinforced KeyBanc's bullish stance on Amazon, as analysts maintained the price target of $820.
Similarly, analysts at William Blair noted on June 9 that the "Infrastructure-as-a-Service (IaaS) market is forecast to grow from $12 billion in 2015 to $62 billion in 2020. Analysts anticipate Amazon to maintain its leading market share," despite increasingly aggressive competition from Microsoft (MSFT) - Get Report and  Action Alerts PLUS holding Google (GOOGL) - Get Report . They cited the company's feature depth, geographical footprint and industry mindshare as reasons why Amazon should maintain high win rates over its competitors.
"AWS's 2015 revenue was $7.9 billion," wrote William Blair analysts, "We estimate Microsoft Azure generated revenue of $1.2 billion in 2015, and Google Cloud Platform generated $400 million. This implies that AWS is roughly 7 times the size of Azure and 20 times as large as Google Cloud Platform."
William Blair analysts are expecting revenue of $12.1 billion for 2016 and $17.6 billion for 2017, as they reiterated a market outperform rating for the e-commerce giant.
AWS is also set to launch 1,000 new products this year and "continues to differentiate itself through product innovation and the breadth of features and services it offers," said JMP analysts in a research note last Wednesday.
Amazon is a holding in Growth Seeker, and portfolio co-manager Chris Versace said in an interview with Real Money Monday that Amazon's expanded features and capabilities for AWS has allowed it to gain traction in the Fortune 500.
"From an investor perspective, not only is this a great tailwind for the business, which fits with our Connected Society investing there, but the margins for AWS are significantly ahead of the online retail business," said Versace, "This means continued growth at AWS is a positive mix-shift toward a higher margin business, which bodes well for profits and earnings in the coming quarters."