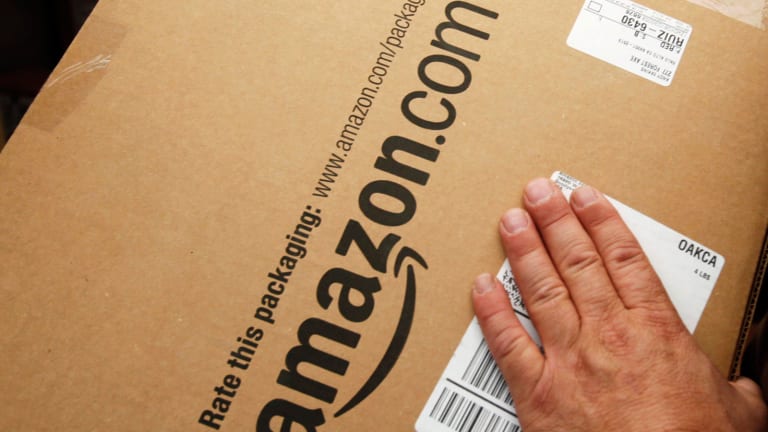 Why Amazon Will Own the Holiday Season
Amidst the retail sector carnage of the past two weeks one thing has become abundantly clear: online shopping will be bigger this holiday season than ever before.
Amidst the retail sector carnage of the past two weeks, one thing has become abundantly clear: online shopping will be bigger this holiday season than ever before.
The interesting thing is that people are not making the connection to what that means precisely. To me, it should read: shopping on Amazon (AMZN) - Get Amazon.com, Inc. Report will be bigger than ever before.
Although I think Amazon's valuation is completely outlandish, pricing in a future in which flying drones deliver packages as soon as they are ordered from Facebook's (FB) - Get Facebook, Inc. Class A Report virtual reality glasses and in which most malls in the country are shuttered, the stock is the clear one to own right now for the 2015 holiday season.
And once Amazon puts up its robust holiday quarter, the talk in the market will return to how the company is going to continue to crush traditional bricks-and-mortar retailers in 2016 and beyond. Then the valuation goes even higher, despite the Federal Reserve making it more expensive for institutional investors to borrow money to buy inflated stocks such as Amazon, Tesla (TSLA) - Get Tesla Inc Report and a host of companies earning money from eyeballs.
Here are three reasons to consider Amazon shares following an already impressive 12% year-to-date gain.
1. Walmart is struggling... because of Amazon
I don't believe Walmart (WMT) - Get Walmart Inc. Report cares about its store level workers, honestly. I think they are viewed as cattle designed to carry out missions that line the pockets of the Waltons and the executive team. You may not agree with that, and that's 100% OK, but I have become somewhat of a Walmart historian.
At the core, Walmart's higher wage campaign this year is being driven by two things. First, it has underpaid workers for years in order to pump up profits and enrich the C-suite. Second, it believes by paying Debbie the department manager more per hour she will help sell more underwear to Michelle, the near-broke mother of two. And by Debbie sealing the deal on a sale that didn't occur a year ago, that is one less sale on Amazon.
Unfortunately for Walmart, its plan to foster more sales via improved customer service is not yet working, judging by another meager comp in the U.S. for the third quarter. People simply believe Amazon is the low-cost leader for the majority of the items they need, and want, in their home.
Interestingly, Walmart noted its e-commerce traffic was softer than expected in the third quarter. I have never heard that before from the company, and this comes following serious investments to bolster the site's functionality.
I think Amazon is stealing the company's traffic both in store and from those looking to buy a TV online. This is very alarming for the world's largest retailer, and it will become more pronounced this holiday season.
2. Amazon is showing unrivaled deal power
On Wednesday, the online retailing giant unveiled that it will offer new holiday deals every five minutes as opposed to every 10 minutes a year ago. Simply put, that is sick.
Walmart, Target (TGT) - Get Target Corporation Report and other retailers operating online are unlikely to compete with that because they need online to be profitable this holiday season, as their stores see mixed foot traffic week to week.
And as Amazon offers that real-time crazy deal intensity, discounts in bricks-and-mortar stores will be virtually the same day to day.
Associates at a Walmart aren't going to change the prices in the electronics department every five minutes based on what Amazon is doing -- it's virtually impossible to orchestrate something of that magnitude over thousands of stores, considering the bureaucracy inherent to a bricks-and-mortar retailer.
In the end, Amazon is going "all in" this holiday season, reminding its competitors that it is 10 steps ahead -- 10 steps ahead of competitors' investments in improving their own online shopping experiences.
3. Amazon has shown Wall Street it wants to make money
Talk about an ideal setup: you have a company such as Amazon likely to own a key selling period, and a management team that has proven over the past six months that it wants to earn actual profits beyond a single quarter.
The way things are shaping up, Amazon is poised to deliver a significant, Wall Street-beating sales gain this holiday season, coupled with a better-than-expected bottom line.
Net sales in the fourth quarter are seen by the company growing 14% to 25%, and operating profits are expected in the range of $80 million to $1.28 billion. I would not be surprised if the results are above the mid-range of those targets, and if that's achieved, it's likely to not only justify Wall Street's bullishness, but make more people believe in the company in the front half of 2016.
Editor's Note: This article was originally published on Real Money at 10 a.m. on Nov. 18.