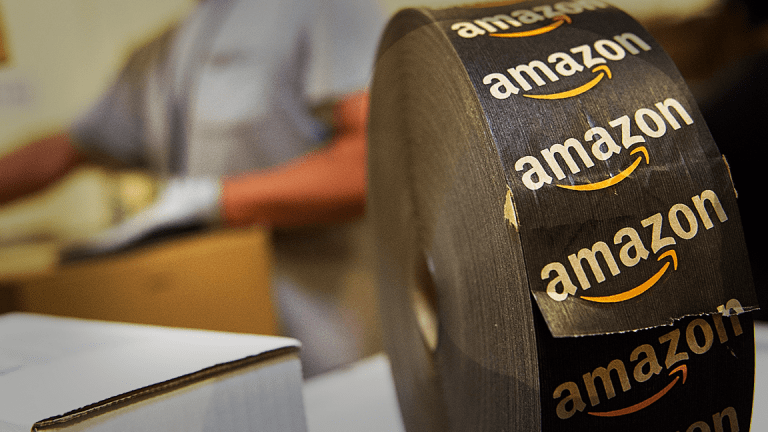 Why Amazon Should Buy Under Armour
This would support AMZN's brand-building efforts.
There is little question that Amazon (AMZN) has been a force of creative destruction across the retail landscape, utilizing its logistics and delivery platform that has compressed delivery to two days or less. That move has made two-day delivery table stakes for those looking to compete, and some, like Walmart (WMT) , are making those investments. Amazon, however, is not sitting on its proverbial laurels, but rather it continues to expand its reach from a product and geographic perspective while still looking for ways to shrink delivery times even further. Some of these newer initiatives include expanding into wholesale pharmaceuticals as well as food with its recent acquisition of Whole Foods. 
Some may see the Whole Foods deal as Amazon's move into more traditional bricks-and-mortar retail, but I see it more as a branded platform play to aid its Amazon Fresh business as well as compete with Blue Apron (APRN) and Hello Fresh with its own meal kit business. As part of that transaction, Amazon made 2,000 Whole Foods items available in the Amazon marketplace, and quickly netted a $500,000 bump to its sales in a single week. To me, this shows the power of the Amazon online order-logistics-delivery muscle, and explains why bricks-and-mortar retailers and branded companies like Nike (NKE) are anxious to partner with the company they once scoffed at. 
Here's the thing: Even as Amazon has been not so quietly destroying the retail landscape by selling wares from other companies, it has been not so quietly expanding its own private-label offerings. Earlier this year, it launched several private-label apparel brands with products in men's accessories, women's dresses and handbags followed by its own line of lingerie in April. More recently, Whole Foods' private-label goods have joined the company's portfolio private-label products that span Basics, Lark & Ro, Amazon Essentials, Buttoned Down, Mae, Goodthreads and 40 others. 
In late October, Amazon launched its private-label sportswear line to compete with newly minted partner Nike as well as Lululemon Athletica (LULU) , Adidas and others. Interestingly enough, Amazon sportswear gear under the Peak Velocity and Rebel Canyon labels, at least for now, can only be purchased by Prime members. Given chatter several months ago that Amazon was working with Makalot Industrial Co., which produces clothing for Gap (GPS) , Uniqlo and Kohl's (KSS) as well as Eclat Textile Co., which counts Lululemon and Under Armour (UAA) as customers, we are not surprised by this latest private-label addition.
 Sportswear, much like the fashion industry in general, is very brand-conscious and as we've seen over the last 12-18 months, a fickle beast based on the latest designs and product offerings. Arguably, the company that has been hardest hit has been Under Armour. A year ago, the management team talked of expanding its women's line, leveraging a team of new designers and expanding its presence in the footwear market. Some may say it has been more challenging than expected, while others would counter with the argument that the revival at Adidas while also competing with Nike has made all the difference. 
In my view, while it would have to work out some kinks and revitalize its product offerings, acquiring Under Armour would catapult Amazon's presence into the branded sportswear market with a name that still carries weight, has global recognition (especially in key markets like China that Amazon is looking to crack) and several brand ambassadors. Amazon would gain seasoned design teams that it could leverage across its other private-label brands as well as the ability to quickly expand into other areas, such as footwear. Let's also remember that Amazon is looking for its second U.S. headquarters, and last I saw Baltimore passed on several of the criteria, and given the drubbing Under Armour shares have had, a buyout offer might allow CEO Kevin Plank to exit gracefully. 
If such a pairing came together, some potential ripple effects would be what would happen to Dick's Sporting Goods (DKS) , which counts Under Armour as a key partner, as well as Kohl's. Something to ponder if Jeff Bezos and team read this.
This commentary was originally sent to subscribers of Trifecta Stocks. Click here to learn more about this dynamic market commentary and portfolio product.
More of What's Trending on TheStreet:
At the time of publication, Versace had no positions in the stocks mentioned.