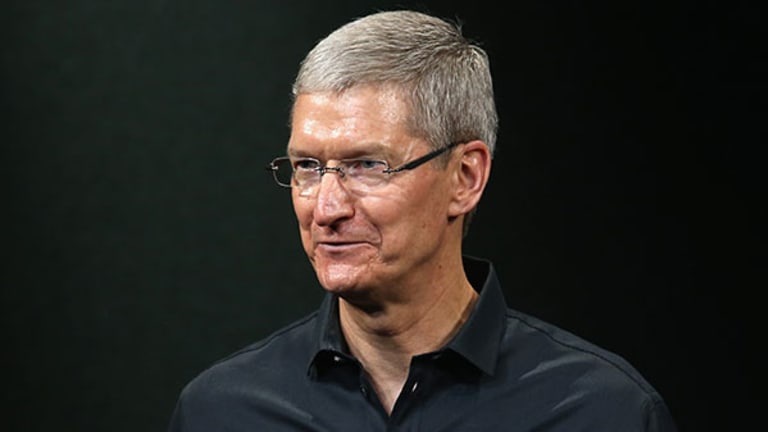 Why a Television Set Would Do Wonders for Apple's Image
Apple should stake out and defend at least a little bit of high-end turf to ensure its allure doesn't dilute and eventually wear thin.
NEW YORK (TheStreet) -- As the tech media clamors (albeit inanely) for a cheap iPhone and Macbook and iMac prices continue to drop, Apple (AAPL) - Get Free Report better start minding its image. That might not seem important amidst the company's short-term dominance -- particularly with respect to mindshare -- but it's more than material over the long haul.
And the timing couldn't be better for Apple to reinvigorate itself as a pseudo-luxury brand.
iPhone 6 is about to obliterate Android, giving Apple its first meaningful marketshare story -- without even trying -- since iPad. So it has got that part of the equation covered. Concurrently, it needs to work on the high-end portion of the proposition.
As I have noted numerous times over the last couple years, Apple can start with its third-party retail relationships. But it can also introduce a new product that's aspirational. One Apple prices at a true premium and inspires iOS and Mac lovers to save their pennies to tie together the ultimate personal and professional digital ecosystem.
Short-term none of this matters. Because, whether I'm right or wrong about the fate of iWatch, iPhone 6 will elevate Apple's mindshare and marketshare position. We'll hear all about it on the company's Q4 holiday period earnings conference call in January 2015. I'm next to certain that call will be the most incredible one Apple has ever hosted.
But Apple has to think beyond iPhone 6. Beyond knocking off Android, which isn't even formidable competition in the first place. Apple needs to make a decision with respect to where it situates itself with consumers vis-a-vis forthcoming new products.
Do you want to continue the trend of hawking your junk at Walmart (WMT) - Get Free Report? Or do you want to recapture the notion of exclusivity? I vote for the latter.
While, on one hand, it makes perfect sense to achieve ubiquity through almost universally accessible products, you've got to moderate that by making real, to some extent, the myth that Apple is a high-end luxury brand.
There's no better way to start than in home entertainment. Work Beats Electronics into the mix and crank out a truly disruptive all-in-one television/set top box. Price it for a couple grand and watch the people swoon. That's what I'm talking about Tim Cook! Defending at least a little bit of high-end turf will ensure the Apple allure doesn't dilute and thus wear off.
--Written by Rocco Pendola in Santa Monica, Calif.
Rocco Pendola is a full-time columnist for
TheStreet
. He lives in Santa Monica. Disclosure: TheStreet's editorial policy prohibits staff editors, reporters and analysts from holding positions in any individual stocks.