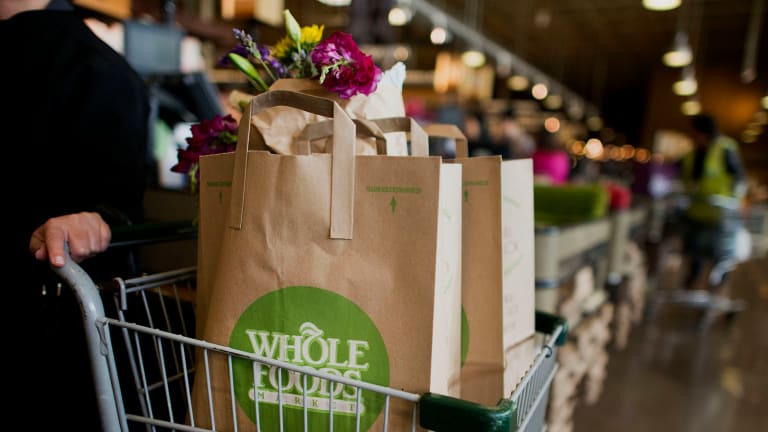 Whole Foods May Never Be Able to Charge High Prices for Organics Again
Competitors have seriously undercut Whole Foods on price, but the high-end grocer is preparing to respond in a major way.
NEW YORK (TheStreet.com) -- The supermarket chain often dubbed "Whole Paycheck" for its high-priced organic and natural foods may have to start settling for a smaller portion of its customers' salaries.
Whole Foods (WFM) , the leading organics retailer in the U.S., recently reported first quarter results that fell short of Wall Street's expectations, with total sales increasing 10% to $3.65 billion and comparable store sales growing 3.6%. Analysts had been expecting slightly higher revenue and significantly, more than 5% in same-store sales growth.
Whole Foods' shares tumbled in the days since, and are now down about 15% year-to-date.
It's been an up-and-down year for Whole Foods, which reported disappointing earnings back in May 2014, but spiked 9% on its best-ever quarterly sales in November 2014. Analysts expect this May's disappointing results to persist, however, with the biggest problem being that the 1,200-store grocery chain is no longer the only player in the natural foods space.
Just about every grocery retailer, from big box stores Walmart (WMT) - Get Walmart Inc. Report and Target (TGT) - Get Target Corporation Report to traditional grocers such as Safeway (SWY) and Kroger (KR) - Get Kroger Co. (KR) Report, now sells organics. And some new grocers focused on value-priced organics have started to emerge, such as Sprouts Farmers Market (SFM) - Get Sprouts Farmers Markets, Inc. Report and The Fresh Market (TFM) .
Organics and specialty foods have offered the highest growth rates in what has been a very flat sector over the last several years, says Brian Gilmartin with Trinity Asset Management, and as a result, more and more competitors have emerged to challenge Whole Foods' dominance.
"I think it's a perfect example of competitive dynamics," he says. "The returns were there, and now they're seeing a lot of competition."
The competition is getting smarter, too, says Graeme McVie, vice president of business development with retail analytics firm Precima.
"What you're seeing is the mainstream grocers are upping their quality and they're getting better and better at telling that whole organic story that Whole Foods is so good at," he says. "And if the mainstream guys are closing the quality gap, then Whole Foods needs to do something to close the price gap by coming a little bit further down. 
Indeed, Whole Foods has been doing just that by, announcing last year that it would be emphasizing "value offerings" and promotions. And in May, Whole Foods' co-CEO and founder John Mackey unveiled plans to launch a new brand of smaller stores in the U.S. in 2016. The yet-to-be-named store chain will cater to millennial shoppers in dense, urban areas who may be more price-sensitive than the suburban shoppers that make up most of Whole Foods' customer base.
Mackey said the stores will offer the company's "industry-leading standards at value prices" and feature modern design and a curated selection of goods with a focus on convenience and lower prices.
Mackey emphasized that these new store concepts would be an addition to the existing Whole Foods brand and not a replacement. "We believe the growth potential for this new and complementary brand to be as great as it is for our highly successful Whole Foods Market brand," he said.
The challenge Whole Foods is going to face, McVie says, is that as it lowers prices, the grocer will need to weigh its current cost and service structure against those new revenue numbers. 
If its costs for staffing, store fixtures and everything else stay the same, then falling prices could negatively impact its gross margins. Whatever course the firm chooses -- lower prices vs. better customer experience -- will have a significant impact on Whole Foods' business going forward, analysts say, as it can't have it both ways.
Whole Foods currently has one of the highest sales per square foot performances in the supermarket industry at $930, although that's a distant second to privately held Trader Joe's at $1,734 per square foot. The grocery segment as a whole averages sales of $507 per square foot.
"It's one of those situations where they might have to bring the price down to retain the shoppers, but pricing a little bit higher would keep the service levels higher and their margins healthier," McVie says. "So you have this top line/bottom line dilemma that they're going to have to address."
John Heinbockel with Guggenheim Partners called the new store concept the "Old Navy of organics," suggesting that the dual format approach will actually drive customer segmentation in the same way that Old Navy expanded Gap's (GPS) - Get Gap, Inc. (GPS) Report reach, bringing Whole Foods into even more direct competition with value organic grocers like Sprouts as well as traditional supermarkets. 
For its part, the Old Navy strategy has been working for Gap. The lower-cost concept took hold almost immediately upon launch in 1994, ballooning to 59 stores by the end of its first year and becoming the first retailer to reach $1 billion in sales in its first five years in business.
A decade into its existence, Old Navy represented about 40% of Gap's $16 billion in annual revenues and has helped the parent chain largely fend off challenges from lower-cost rivals including American Eagle (AEO) - Get American Eagle Outfitters, Inc. Report and Aeropostale (ARO) , both of which trail the combined Gap-Old Navy in the market.
Whether Whole Foods can pull off a similarly successful play -- and what it will mean for the grocer's bottom line -- remains to be seen.
This article is commentary by an independent contributor. At the time of publication, the author held no positions in the stocks mentioned.