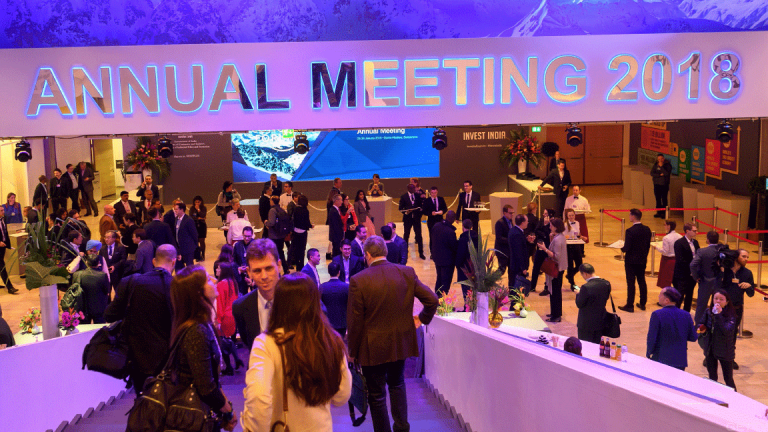 Who Needs to Be in Davos When You Can Use Twitter for Free?
Here are some highlights from the first day of the World Economic Forum in Davos.
The world's elite have descended on Davos, Switzerland for the annual World Economic Forum. If you forgot to purchase your pricey ticket don't sweat it, TheStreet (and Twitter) has your back. 
Globalism is the topic of the day in Davos with the theme of this year's meeting being, "Creating A Shared Future in A Fractured World."
Here are some of the highlights of the event so far.
The U.S.' Status As World Leader
Whether you love him or hate him, President Donald Trump tends to elicit strong feelings not only from Americans, but people around the world. 
A new Ipsos MORI poll of 18,000 respondents from 25 countries placed the U.S. in the bottom third of countries with the most positive influence globally, just ahead of Russia, Israel and Iran and just behind China, India and the EU. 
Leaders of the New School
Speaking of India, the country's GDP is expected to grow 7.4% in 2018. Meanwhile, China's GDP is expected to grow at a 6.8% rate this year, though some economists say that GDP may not be the best way to measure growth.
The Future of Globalism
The WEC in Davos has the reputation of being an arctic pool party for globalists, but globalization may be losing its appeal, according to India Prime Minister Narendra Modi. The evidence of this backlash is most apparent in the West post-Brexit and MAGA, but Modi has a remedy to reverse such thinking.
Work Smarter, Not Longer
Germans on average work the shortest days of anyone in the world. Mexicans, on the other hand, work the longest days, according to data from the Organization for Economic Cooperation and Development.
Mexicans work about 43 hours per week on Average. Greeks work the longest hours in Europe.
The U.S. Still Has One of the World's Most Competitive Economies
The U.S. ranks second out of 137 in the World Economic Forum's Global Competitiveness Index, right behind host country Switzerland. 
More of What's Trending on TheStreet: