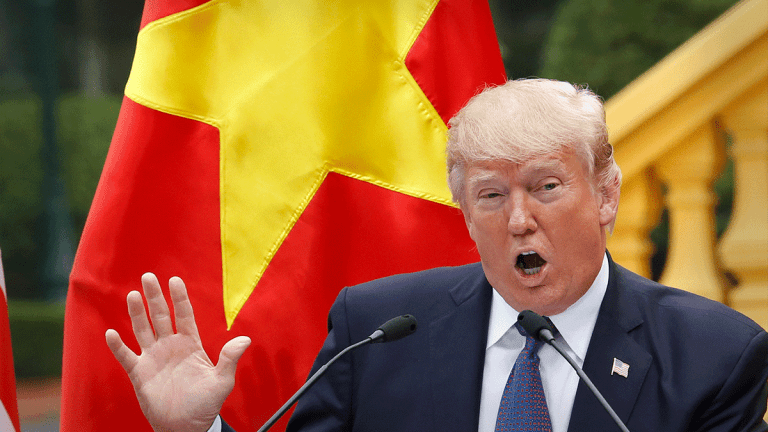 White House Claims Trump Regrets Not Raising China Tariffs Higher
Sunday evening, U.S. stock futures were lower following comments over the weekend on trade with China.
President Donald Trump said Sunday through a spokeswoman that he felt he should have increased tariffs on Chinese imports higher than he had.
"He regrets not raising the tariffs higher," a White House spokeswoman told Reuters and other media of the president and his planned tariff hikes for hundreds of billions of dollars worth of imports from China.
The White House spokeswoman said she was clarifying earlier comments of Trump's that had been allegedly misconstrued during the G-7 meeting over the weekend.
The White House's statements follow a surprise threat by Trump to further increase tariffs on Chinese goods coming to the U.S. following that nation's plans to modestly increase tariffs on a smaller amount of U.S. exports to its country. 
In the latest of a dizzying series tariff threats and pull-backs by the White House, Trump said on Friday that 15% tariffs would be imposed on Sept. 1 on $300 billion in goods imported from China, raising the tax by 5%. By Oct. 1, the tariffs on $250 billion in additional imports would also be raised to 30% from 25%.
Trump also on Friday said over Twitter that "American companies are hereby ordered to immediately start looking for an alternative to China" including bringing their companies to the U.S. and making your products in the U.S.
Those statements -- which were in response to China increasing tariffs on about $75 billion worth of U.S. exports to its nation -- sent the Dow Jones industrial average sinking with a 623 point decline. The S&P 500 also lost nearly 76 points.
In overnight trade Sunday, Dow futures were down 183 points, or 0.71%, to 25,487; S&P futures fell 22.10 points, or 0.77%, to 2,833.50; and Nasdaq futures fell 66.50 points, or 0.89%, to 7438. Gold futures added $15.10, or 1.45%, to trade at $1,552.70.
The tariffs China announced on Friday for U.S. exports are far smaller in scale and scope than the U.S.' fees on imports.
"The tariffs announced today by China's government are a departure from previous rounds of retaliation: they focus almost entirely on further raising tariffs on products that have already been targeted. That most likely reflects concern that applying tariffs across the board to all the goods that China buys from the US would end up damaging China's economy," wrote Mark Williams, Chief Asia economist, for Capital Economics in a note on Friday.
Most of the goods on China's tariff list, said Williams, are "being hit for a second time," and just $11 billion of the $75 billion in U.S. exports to China -- mostly crude oil -- would be taxed for the first-time. Furthermore, the total impact of the tariffs would be felt as only about a 6% tariff, he said, comparing that percentage to the tax on Chinese imports to the U.S.
"China's authorities have evidently taken a decision not to expand tariffs to cover all US goods, as the Trump administration has done for goods from China. The leadership has to be seen to be retaliating forcefully," said Williams, adding that in retaliating against Washington, Beijing "is running into the limits of how much it can inflict pain on the US without also hurting itself."  
Williams' views of China's motives appear in line with that of analysts for the Wall Street firm Goldman Sachs who wrote Friday.
"It could be argued that not doing anything in retaliation might be in the interests of the Chinese economy, but we believe this would be not acceptable politically," the analysts wrote. "The government clearly indicated it would retaliate a number of times, so this action should not come as a surprise."
China's Ministry of Commerce, meanwhile, said through the China Daily newspaper that Washington would "bear all the consequences" for its latest round of import fees. 
This story has been updated with new information and with some earlier typos and garbled phrases corrected.