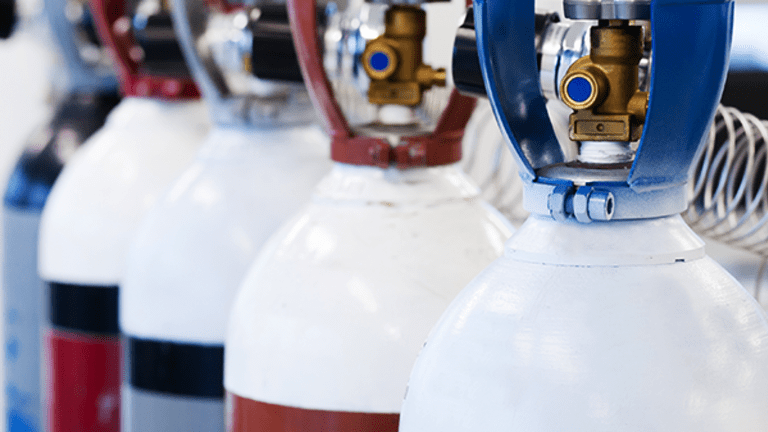 Is The Better Dividend Stock: AmeriGas or Its General Partner UGI Corporation?
AmeriGas and UGI Corporation both offer exposure to the propane market... But which is the better buy for dividend investors at current prices?
AmeriGas Partners LP (APU) and UGI Corp (UGI) have a lot in common.
As an MLP, AmeriGas' corporate structure is split into limited partners and a general partner.
UGI is the sole General Partner-and owns 26%--of AmeriGas.
Both pay dividends to shareholders. But when it comes to dividends, this is where their differences become apparent.
UGI is a Dividend Aristocrat, which refers to companies in the S&P 500 that have raised dividends for 25+ years.
You can see the entire list of Dividend Aristocrats here.
Meanwhile, AmeriGas is a Dividend Achiever, one of 271 stocks with 10+ years of consecutive dividend increases.
You can see the full Dividend Achievers List here.
UGI has a much longer history of dividend increases, but AmeriGas has a much higher dividend yield.
This article will discuss the key differences between AmeriGas and UGI.
Business Overview
Winner: UGI
UGI has several various operating subsidiaries.
It has a large regulated natural gas utility business, with more than 600,000 customers, as well as a midstream and marketing segment.
It also has a large international footprint, with operations in 16 countries in Europe.
Lastly, UGI has an energy services segment, which sells natural gas and electricity to residential and business customers.
Overall, approximately half of UGI's annual earnings come from natural gas, with the other half derived from propane.
Source: 2016 Investor Day Presentation, page 5
Last year, UGI reported adjusted earnings-per-share of $2.05, representing 2% growth from 2015.
UGI is more diversified than AmeriGas, both regarding product category and market penetration. This diversification gives it an advantage.
By contrast, AmeriGas is a much more focused company. It is the largest propane distributor in the U.S.
Source: 2016 Annual Report, page 5
Propane sales account for nearly 90% of the company's annual revenue, with related equipment and accessories accounting for the remaining 10%.
AmeriGas enjoys some degree of certainty, as consumers will always need to heat their homes and businesses.
That said, this is a more complicated period than usual for AmeriGas, because of unseasonably warm weather in the U.S.
According to the company, 2016 was 15% warmer than usual, on average.
This caused AmeriGas' gallons sold and adjusted earnings before interest, tax, depreciation, and amortization (EBITDA) to decline 10% and 12%, respectively, in 2016.
Warmer temperatures reduce demand for propane, which impacts AmeriGas more so than UGI.
Growth Prospects
Winner: UGI
These difficult conditions persisted in the first quarter.
AmeriGas still managed to grow EBITDA by 4.2% for the quarter, despite warmer temperatures, thanks to higher volumes and cost controls.
Source: Q1 Earnings Presentation, page 14
Still, AmeriGas has more limited growth prospects than UGI. The U.S. propane industry is essentially a saturated market.
It does have a few potential growth catalysts, however, in the form of customer additions, and improving its balance sheet.
For example, AmeriGas recently completed a cylinder exchange program, which helped the company boost 13% cylinder volume growth last quarter.
Furthermore, the company is refinancing its debt. It issued a tender offer for $500 million of 7% notes due 2022 and issued $700 million of 5.5% notes due 2025.
In the process, the company lengthened its maturity schedule and lowered its cost of capital.
Of the two, UGI is the better stock pick for growth.
UGI has exhibited stronger growth than most investors are likely accustomed to from a utility stock.
Source: 2017 Annual Meeting, page 4
There are three key reasons for this. First, with a large regulated utility business, UGI benefits from rate increases.
Regulators allow UGI to pass along periodic rate increases to its customers, which virtually ensures a nominal level of revenue growth.
Toward the end of last quarter, UGI's core utility business filed a rate case for UGI Penn Natural Gas. It is expected to provide the company with $21.7 million in incremental revenue.
Next, UGI should benefit from international diversification.
UGI has a large international business, thanks to its 2015 acquisition of France-based Finagaz, for approximately $450 million.
Adding Finagaz doubled UGI's distribution business in France.
Finally, UGI's midstream business should provide growth. Its midstream operating subsidiary completed construction of its Sunbury pipeline, which started service on January 1st.
UGI's midstream segment has access to several premier regions of production in the U.S., including the Marcellus Shale.
Its midstream segment increased profit by 17% last quarter.
These tailwinds helped UGI post record profit both last year, and in the first quarter of 2017.
Looking ahead, UGI management expects adjusted earnings-per-share of $2.30-$2.45 in 2017.
This would represent 12%-20% earnings growth in 2017.
Dividends
Winner: AmeriGas
UGI has an extremely impressive dividend history.
It has delivered uninterrupted dividends to shareholders for 132 years, going all the way back to 1885.
The company has also raised its dividend for the past 29 consecutive years.
UGI typically increases its dividend at a higher rate than AmeriGas each year. Since 1999, UGI increased its dividend by 6.4% compounded annually.
Source: 2016 Investor Day Presentation, page 8
That said, dividends are the one area in which AmeriGas has a huge advantage over UGI.
MLPs typically sport high dividend yields, and AmeriGas is no exception.
AmeriGas currently pays a distribution of $3.76 per unit. Based on its recent share price, AmeriGas sports a hefty 8.2% dividend yield.
Meanwhile, UGI's dividend yield is just 1.9%.
UGI's dividend yield is paltry by comparison-the S&P 500 Index, on average, has a 2% dividend yield.
AmeriGas has raised its dividend for 12 years in a row, which is less than half as long as UGI has raised its dividend.
But with a dividend yield more than four times UGI's, AmeriGas is much more attractive for income investors.
Final Thoughts
As the General Partner of AmeriGas, UGI collects significant income from its investment. For example, AmeriGas contributed $43 million to UGI's profit in 2016.
The arrangement is advantageous for UGI but is a weight hanging on AmeriGas, because it is less cash flow available for distributions.
Between the two, which stock is the better buy, mostly depends on the specific goals of the investor.
For growth investors, UGI is the much better play, because of its diversification and 26% ownership of AmeriGas.
But, for income investors, AmeriGas' 8.2% dividend yield is very attractive and covered by underlying cash flow.
I am not long any of the stocks mentioned in this article.