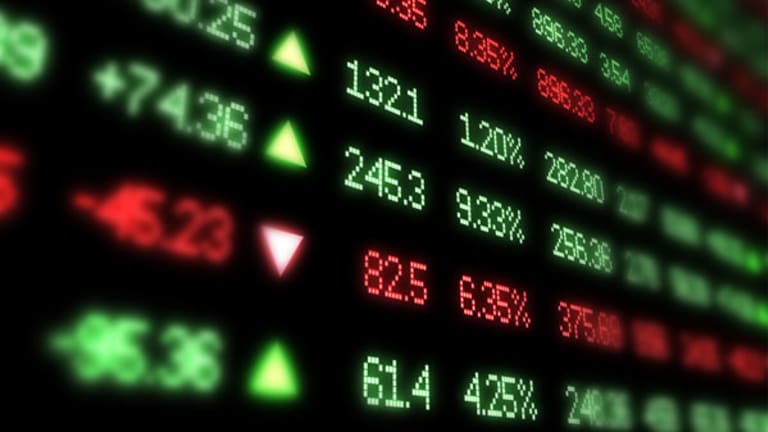 Which Way Is the Economy Heading?; Fields Run Over at Ford: Jim Cramer's View
Cramer shares his views on which way the economy is really heading, and discusses what happened to Ford's Mark Fields.
Jim Cramer shares his views every day on RealMoney. Click here for a real-time look at his insights and musings.
Cramer: Which Way Is the Economy Really Headed?
Originally published May 23 at 2:51 p.m. EST
If you think for a minute that this economy is easy to figure out, then you are just a dreamer. We are at a moment where you could argue that the economy's off the rails or the economy's about to roar, and I would think that either case can be made in a thorough and rigorous fashion.
In fact, this is the most half-full/half-empty moment we have seen in ages. Let me start with the bullish forecast, and it's pretty darned powerful.
First, we have fabulous employment numbers. The jobless claims are the lowest since 1988. That's a staggering figure. Just incredible. You simply cannot have that level of employment and believe you could be anywhere near a recession. It's just impossible.
Second, housing's incredibly strong. We know housing represents only 10% of the economy, but it punches well above its weight when you think about all the business that comes with building or buying a home. This morning, luxury homebuilder Toll Brothers (TOL) said this has been the best spring selling season in over 10 years. To quote from the call, "the supply of new and existing homes continues to trail the growth in population and households". Bob Toll, the founder of the company, said on the quarterly release: "Many factors are bringing buyers off the fence right now, including low interest rates, urgency created by the limited supply of resale, and new homes and improving personal balance sheets and credit profiles."
I have followed this company since it came public. I have never heard them this bullish, and I want to make something very clear. When the market was red hot right before the housing crash, Bob Toll was forecasting that there's too much hot buying and things would end badly because credit was too available to the wrong people. That's not what he's saying now. It's just a fantastic time to be in the homebuilding business and it will stay that way as long as rates are low and jobs are plentiful.
Then there's the incredible revolution in technology that is putting so many people to work. We talk a lot about cloud computing, but when you listen to the numbers of people who need to be hired by these tech firms and the wealth they are creating, you have to say this is an economy that can't get enough bodies and an economy that is enriching anyone who owns stock. Toll pointed out that there is a self-fulfilling notion of the stock market; as it goes higher, the people who own stocks feel richer and do some buying.
What are they buying? We know they are buying iPhones -- the numbers are staggering. We know they are buying anything that goes into the home. We heard that from Home Depot (HD) last week, which is seeing a level of purchasing that's pretty insane.
And they are taking trips galore, as we know from the airlines. Just today JetBlue (JBLU) raised numbers. Every single cruise line boosted their earnings forecasts and Disney (DIS) and Universal theme parks announced some amazing numbers. These are all special, experiential opportunities and their sales are amazingly strong.
Feeling good? Excited by the prospects that I just outlined?
OK, now let me give you the other side of the trade.
First, the bond market. All my business life, for 33 years, I have been told that no individual is as smart as the bond market. It is the sum, the repository of all wisdom, and interest rates have been on a relentless decline. They are saying there's just not a lot of demand for money. They are also saying the Fed better not raise short-term rates because there's absolutely no reason to do so. Not with this inexorable grind toward 2% on the 10-year.
Second, as hot as the housing market is, the auto market is cold. Mark Fields, the former CEO of Ford (F) , lost his job in part because of the weak first quarter the company had. A lot of that is the decline of sales in the United States, where business has just plateaued. We also got some terrible numbers from AutoZone (AZO) today showing you that spending on cars is way down.
Third, the wrong stocks are going higher. The consumer-product stocks have been ripping. That's just insane if the economy is strong. They rally when the economy is slowing, not speeding up. Sure, some of the gains are from the stocks of companies that are rumored to be targets of Kraft-Heinz (KHC) . But a prototypical stock like Coca-Cola (KO) , which is certainly not a target, acts terrifically. I am so tempted to be a buyer of Procter & Gamble (PG) here as a catch-up trade to all the others in the business.
The utility stocks are acting as if they are junior growth stocks. Cramer fave Dominion (D) hit a record high. American Electric Power (AEP) is pennies from a record. Same with Con Ed (ED) . You do not get a move in this group like this if you have any hope that the economy is gaining strength.
Then there's the FANG and FANG-derivative stocks and all of those related to social, mobile, cloud and video games. They have been juggernauts. The one thing they have in common? They do not need any help from Washington to make their numbers. That's an important distinction because the big industrials and the banks have, for the most part, seen their highs earlier in the year when there was hope for tax reform. But the scandals and the health care repeal-and-replace usurped the agenda and budget the president's people put together, which is philosophically different from anything the Republicans or the Democrats have ever put out.
There are some big cuts in taxes and in entitlements like Medicare, and even if Trump were a dictator I don't know if he could get this through. It is so far removed from the reality of the way Washington works that you can bet that it will further push back any hope for tax reform or infrastructure or repatriation legislation. Without help from Washington, it is hard to see the economy can maintain its strength in the face of the rate hikes that the Fed seems to view as so necessary.
And then there's the biggest economic bear story of all: retail. We came through this retail earnings season with even the good ones being pummeled. Any retailer in the mall, anyone, saw their stocks annihilated, with even Foot Locker (FL) and Children's Place (PLCE) getting hammered. The former may have deserved it, the latter didn't, but it doesn't matter. They all got taken apart. When the only strong stories in retail involve Walmart (WMT) and Costco (COST) and Home Depot, and the latter has come down since it reported, then you can only conclude that the consumer is anemic and not spending. Or that she has everything she wants except Grand Theft Auto, an Apple phone and makeup!
So what are we supposed to make of the mosaic? How can it be so oppositional? I think it's temporary. One of these two visions is going to triumph over the other. I believe the economy will get better, that the bonds are a sell, not a buy, and that the economy will prove resilient.
The forces of weakness right now do outweigh the forces of strength, and if it weren't for the power of international markets to influence the fortunes of many of our companies that do business, then I think the weakness would be too palpable and the stock market would be due for a more significant pullback than we got last week. As it is now, though, the contest hasn't been resolved and until it is, I think we will have a hard time breaking up or down from these levels.
Action Alerts PLUS, which Cramer co-manages as a charitable trust, has no positions in the stocks mentioned.
Cramer: Fields Got Run Over at Ford
Originally published May 22 at 2:117 p.m. EST
Maybe it was always an impossible task. I am talking about how now deposed Ford (F) CEO Mark Fields was expected to cut costs, grow sales and develop driverless cars while at all times being held hostage to the peaking U.S. auto market. Oh, and it sure didn't help that he followed in the footsteps of Alan Mulally, the man who kept Ford out of bankruptcy, the only major U.S. automaker that didn't succumb to reorganization during the Great Recession.
Fields, who took over the reins of the storied Ford Motor Co. July 1, 2014, was fired today, less than three years after taking the job, replaced by Jim Hackett, who oversaw the autonomous vehicle division from March of last year and had been a member of the board of directors since 2013.
While it is true that the stock had fallen from $16 to $11 during Fields' tenure, I could argue that it should never have been that high given that it's not like Fields came in and started destroying shareholder value. The hand he was given by Mulally was good, but also quite dependent on the U.S. market. More than 64% came from a market that we all acknowledge had plateaued.
Plus, Mulally hadn't spent on driverless cars like some of his competitors. Fields had to catch up quickly without breaking the bank. Any commitment to do so required at least several billion dollars to get right and Fields wasn't in a position to spend that all at once while maintaining the dividend and dealing with a declining U.S. market. Still, Fields' first quarter of this year was, indeed, a weak one, down 30%. Plus, he made it clear to me that it would be a down year, something I knew would cause him headaches, and sure enough, shareholders were calling for his head just 11 days ago.
Several things counted against Fields. First, the company lagged badly in the large, fast-growing Chinese market. That's no fault of Fields'; he was furiously trying to catch up from day one. Second, without the U.S. doing well, Ford simply couldn't beat the conventional competition, which skews more international, so his stock did fall behind Fiat Chrysler (FCAU) and General Motors (GM) . Third, the stock of Tesla (TSLA) just took off, passing Ford in value as it went from about $230 to $308 during his tenure, giving it a market cap of about $50 billion versus Ford's $43 billion, an embarrassment that's more the fault of the stock market's infatuation with Elon Musk's vision than anything Ford could have done.
Finally, Fields ran into the buzzsaw that was President Trump, who pressured him into scrapping plans to make small cars in a $1.2 billion plant in Mexico. Pretty rotten luck when you consider that all the car makers have found their way to Mexico to save costs and make cars, particularly small cars, more economic.
The man who replaces Fields? He's a close friend of Chairman Bill Ford, who refused to say Fields was fired, instead saying they both agreed after 28 years at Ford, it would be good for the 56-year-old to be replaced by the 62-year-old Hackett.
Bill Ford talked about the great job Hackett had done at Steelcase (SCS) , the office cabinet company, before joining Ford. It's tough to tell from the stock. It came public at $28 after Hackett had been the CEO and finished at $17 when he retired, although to be fair, like Fields, the stock was up on a spike when it came public and the company never fulfilled its grand ambitions.
To me, Fields should have been given more of a chance. Now it's Hackett's turn. Let's hope his experience at Steelcase has some relevance to Ford because, believe me, he will need it. The job sure won't be any easier than the one Fields did his best to take on at a time when running a traditional auto company has never been more difficult.
Action Alerts PLUS, which Cramer co-manages as a charitable trust, has no positions in the stocks mentioned.
Action Alerts PLUS, which Cramer co-manages as a charitable trust, has no positions in the stocks mentioned.