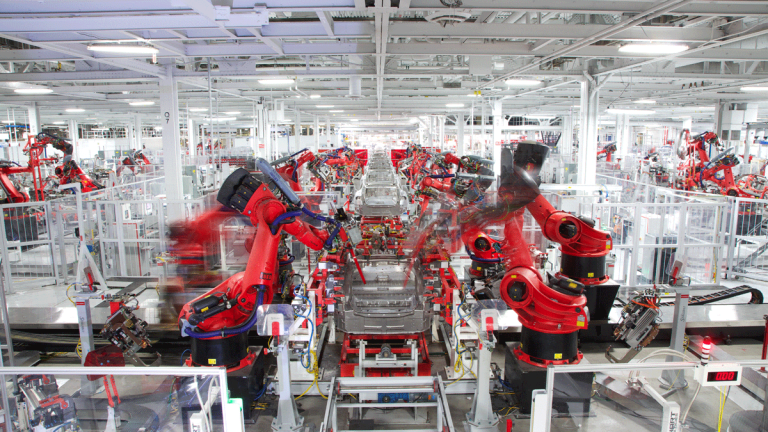 Here's Where We Are in Tesla's Production Curve
Tesla's latest Model 3 numbers show that the production curve is working, even if it's been shifted to the right by a few months.
Tesla Inc. (TSLA) - Get Tesla Inc. Report is gearing up for the ninth circle of "Model 3 production hell."
In an email to employees Tuesday, Tesla CEO Elon Musk let the cat out of the bag with respect to where Tesla currently sits in its Model 3 production ramp up.
The company is planning on reaching a burst-build target rate of 6,000 Model 3s per week in June, in order to hit its long-stated goal of 5,000 cars per week with a margin of error.
To do that, Tesla is pushing to a 24/7 production schedule at its Fremont, Calif. factory following three to five days downtime for production line upgrades both at the Fremont factory and the Gigafactory in Nevada.
The email also revealed that Tesla completed 2,250 Model 3 vehicles last week, alongside another 2,000 Model S and Model X vehicles.
Here's more or less where that puts Tesla Model 3 on its production timeline curve:
Much ado has been made about Tesla's inability to meet its production goals. Thing is, those criticisms are pretty vapid. By its very nature, a new model production ramp up is fraught with pitfalls and challenges. While those can cause delays, they don't have a lasting impact on the entire car program -- they simply shift the production timeline curve to the right.
At this point, Tesla is clearly several months behind schedule. But asking for flawless execution for a car that's revolutionary in so many ways is more than a bit short-sighted.
Likewise, Tesla has been here before. Back in 2012, I was at Tesla's Fremont plant as the very first production Model S vehicles were creeping down the assembly line. It was a painfully slow process as technicians worked out bugs along the line and trained robots at artificially slow paces in order to ensure that speeds could be increased without issues.
Later that year, there were plenty of complaints about Tesla's delays in the Model S assembly line (in Sept. 2012, Tesla was falling short of its goal of producing 400 Model S sedans per week, with more than 13,000 reservations in the queue).
But Tesla's ramp up for the Model S looked a lot like the production timeline chart above, albeit shifted to the right. Today, those production delays are a distinct memory, and you can have a custom-optioned Model S delivered in 1-2 months.
Now, we're seeing major parallels in the Model 3 program.
It took Tesla four years to accomplish the volume on the Model S and X production line that it's done in about eight months for the Model 3.
To be very clear, delays in Model 3 deliveries don't present an existential crisis for Tesla at this stage in the game. But poor execution (quality issues, for instance) could. Tesla's latest snapshot at its assembly line shows us that its strategy is working.
This article is commentary by an independent contributor. At the time of publication, the author held no positions in the stocks mentioned.