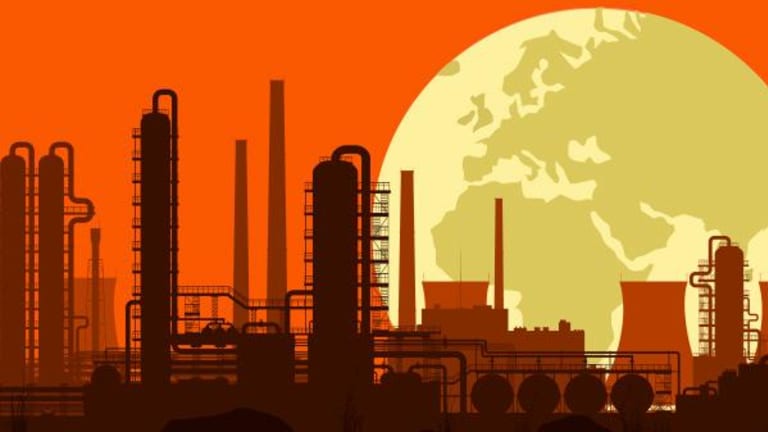 Where to Make Your Move on Oil
As U.S. crude exports surge, this is the most obvious play.
Oil's well that ends well? I'm heading to an energy conference in Texas this week, and it is striking to reflect on the change in attitudes in just one year. A year ago today, the front-month West Texas Intermediate crude future closed at $33.75 per barrel. Today the front-month contract trades at $53.35, off slightly on the day, and in a narrow range for the past month. 
Please don't make the mistake of focusing myopically on the day-to-day movements; oil prices are up 60% since this time last year. That price delta saved an industry. That's not an overstatement, and I am sure my friends who run E&P companies and I will hoist a few glasses of brown liquor this week in Dallas in celebration. 
But "whew, we made it" is not a viable strategy in equity investing. The market is a forward-looking, discounting mechanism, and by the time the front-month numbers show the market is "OK," the stocks have already moved.
"I think they're going to make it" is a great strategy when the rest of the market is panicking and ignoring true supply/demand fundamentals, but that was February 2016's trade, not February 2017's. 
Permian stalwarts RSP Permian (RSPP) and Diamondback Energy (FANG) have risen 71% and 38%, respectively, in the past year. Further, the remarkable one-year stock price performances of other, smaller independents like Evolution Petroleum (EPM) (+102%) and Sanchez Energy (SN) (+251%) are an indication that much of the easy money has been made in the E&P sector. 
But this is Real Money, not "Easy Money." The most important factor in investing is the second derivative. Calling an inflection point is the most lucrative trade, and in go-go market environments like the Trump Jump, it may be the only way to produce market-beating returns. 
The most remarkable figure in last week's Energy Information Administration data was not the year-on-year change in prices (we see that on our screens in real time) or the year-on-year change in U.S. inventories. U.S crude stocks are still too high at 518 million barrels, up 8.9% year on year, and that's why WTI is trading at $53 a barrel and not $73. 
But $53 is livable for the E&Ps--as seen in their share price appreciation--and it's also a level at which demand destruction is a far-off worry. 
Demand is key. So the most remarkable data point last week was the surge in U.S. exports. Last week, U.S crude exports averaged 1.211 million barrels a day versus 399,000 barrels a day in the year-ago week. That alone won't solve the supply issues at Cushing, Okla.--remember that the net exports data are quoted in thousands of barrels and the inventory data are quoted in millions of barrels--but it helps those companies that move crude. 
Pipeline master limited partnerships have done well in this environment and some still offer value after the group's run; I'll cover them in a future column. The most obvious play on the increased movement of oil, though, is oil shipping companies. 
Unlike RSPP and the like, tanker shipping stocks have been hammered over worries of increased supply of Very Large Crude Carriers (VLCCs). I think those worries are overblown, and investors are missing the positive impacts of ton-mile demand from new sources of exports. The U.S. Gulf of Mexico is farther from China and Japan than the Arabian Gulf is; longer journeys mean more revenue. 
Look at some of the beaten-down names in the tanker space and their year-on-year share price performances: Nordic American Tankers (NAT) (-43%), Euronav (EURN) (-14%) and DHT Holdings (DHT) (-19%). If there is any value left in these exuberant markets, the unloved tanker shipping segment is where it lies. 
Take a look at those three names and don't forget VLCC MLP Navios Maritime Midstream Partners (NAP) , which has performed well in the past year (+21%) as worries about the creditworthiness of its parent--and my firm's largest holding--Navios Maritime Holdings (NM) , have proven to be unwarranted. Yet NAP currently yields 15.5%, a very, very attractive figure in this interest-rate environment.
At the time of publication, Collins was long NM, NM-H, NAP and EPM, although positions may change at any time.