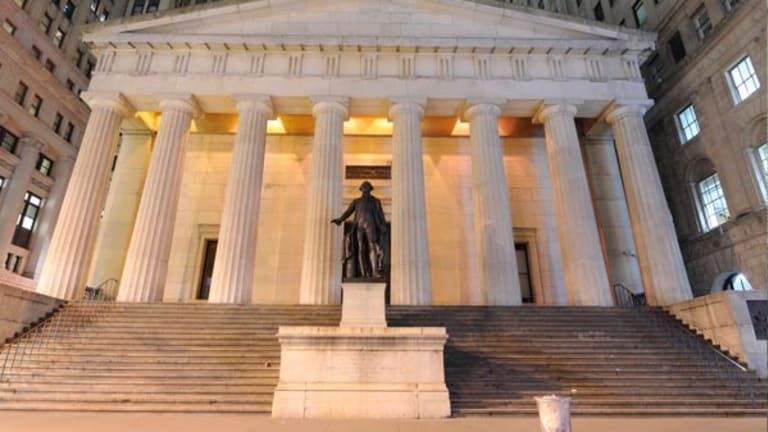 Where to Invest? History Serves as a Guide
The U.S. has been in this situation before. Here's what's worked in the past.
The U.S. has been in this situation before. Here's what's worked in the past.
BOSTON (The Street Ratings) -- As the economy falls into a funk and the Federal Reserve ends the second stage of its bond-buying program this month, where should Americans invest their money?
To find out, I took a step back and examined the economic situation in relation to recent history in trying to find attractive investment categories and securities.
To start, a business cycle can be broken down into two phases: a contraction and an expansion. Each can be divided into five sub-phases. In an expansion, there are the following phases: initial recovery, early upswing, late upswing. During a contraction, there's a slowdown and a recession.
Some economists might classify those stages differently. (For reference, I am using the CFA Institute text written by John Calverley.) The premise is the same: Over a period of eight to 10 years, the economy tends to follow a similar pattern. Here are the five phases of the business cycle with a further explanation of each:
Recession:
Everyone is now thoroughly familiar with this phase, as we have lived through the most recent Great Recession. In a recession, the economy contracts significantly. It's officially defined as two consecutive quarterly declines in gross domestic product. Unemployment is high, with low corporate profits, big drops in consumer spending and weak consumer confidence.
The recent recession was a bit of a "black swan" event due to the combined fallout of the banking system and the housing bubble. The damage that was done made for a prolonged recovery. The 18-month recession marked the longest on record (as categorized by the NBER) since World War II. What does well in a recession? Stocks lag and bonds outperform. Consumer staples, utilities, education companies and discount retailers are the best bets.
Initial Recovery:
The economy starts to rebound from the mess left over from the recession. Business confidence picks up, although unemployment likely remains high. Often there is government monetary intervention to help restore faith and improve the health of the economy. Cyclical stocks, small-cap stocks and riskier assets tend to perform best in this stage. Think back to the spring of 2009. While the bottom was formed in March 2009 (remember the economic cycles tend to lag the market by a few months), the stocks that bounced most were indeed the stocks that had been left for dead.
Early Upswing:
Increasing consumer confidence and the economy starts to get some legs behind it, as growth picks up. No real signs of the economy overheating, with typically slow inflation and low interest rates. Unemployment starts to fall and businesses begin to increase production and investment. Calverley notes: "A key question is how long it will take before inflation starts to become a problem. Short rates are moving up as the central bank starts to withdraw stimulus from the recession. Stocks are still trending up. This phase usually lasts a year and often several years if growth is not too strong and the output gap closely slowly."
The above sounds familiar, doesn't it? Low inflation? Check. Low interest rates? Check. Businesses increasing production? Check. Unemployment falling? Check (not a big check, but still a check -- now at a seasonally adjusted 9.1% from 10.1% in October 2009). Central bank starts to withdraw stimulus? Check (that is, if QE3 doesn't come into play). Stocks still trending up? Check. All signs suggest we are still in this phase. But when did we enter this stage? How long does it last? It's hard to say. Each business cycle is unique, with varying lengths, and different causes for expansions and contractions.
My guess is that, since we still have historically high levels of unemployment with a large output gap (the measure of potential GDP versus actual), this is likely a multi-year phase, which may have started in mid-2010. There are inflation concerns on the horizon and continued worries over the housing market, but with GDP expectations down across the board, the chances of the economy overheating anytime soon are highly unlikely.
The graph below, while using different terminology, is a great illustration of the cycle. In blue, the stock-market cycle is shown preceding the economic cycle (since the market is always anticipating changes in the economy).
My belief is that we are somewhere in the early to middle innings of the initial recovery. On the above graph, it would be in the early-bull to middle-bull phase (which would coincide with an early to middle recovery on the economic cycle portion of the graph). So what has historically outperformed in the early upswing cycle of the economy? Sectors that do best, moving from early to middle, are technology, industrials, basic materials, energy and precious metals.
Late Upswing:
A boom mentality hits and the economy is in danger of overheating. Low unemployment combines with a rise in inflation. The central bank attempts to cool the economy typically by raising interest rates. Bond yields rise, and stocks top out and are volatile. Think back to the technology bubble in 1999 and how the Fed increased interest rates six times in an attempt to curb the gangbusters economy.
Slowdown:
The economy slows and inflation continues to quicken. Business confidence is down, and inventories fall. According to Calverley: "The stock market may fall, with interest-sensitive stocks such as utilities and financial services performing best."
So here are some of TheStreet Ratings' top picks in the aforementioned sectors that do well during the early upswing phase of the business cycle.
Our highest-rated technology stocks:
Oracle
(ORCL) - Get Report
,
Apple
(AAPL) - Get Report
,
Teradata
(TDC) - Get Report
,
FactSet
(FDS) - Get Report
and
OpenText
(OTEX) - Get Report
.
Our highest-rated industrial stocks:
United Technologies
,
Siemens
(SI) - Get Report
,
Roper Industries
(ROP) - Get Report
,
Pall Corp.
(PLL) - Get Report
,
Grainger
(GWW) - Get Report
and
Danaher
(DHR) - Get Report
Our highest-rated basic materials stocks:
Hawkins
(HWKN) - Get Report
,
Air Products & Chemicals
(APD) - Get Report
,
Compass Minerals
(CMP) - Get Report
,
Sigma Aldrich
(SIAL)
and
Royal Gold
(RGLD) - Get Report
.
Equity research manager Chris Stuart, CFA, joined TheStreet Ratings after working as a senior investment analyst with Merrill Lynch covering small-cap equity and alternative investment strategies. Prior to that, Stuart worked for One Beacon Insurance as an actuarial analyst and at H&R Block as a financial adviser. Stuart earned his bachelor's degree in finance from the University of Massachusetts, Amherst. He holds a Chartered Financial Analyst (CFA) designation and is a member of the Boston Security Analysts Society (BSAS) and the CFA Institute.