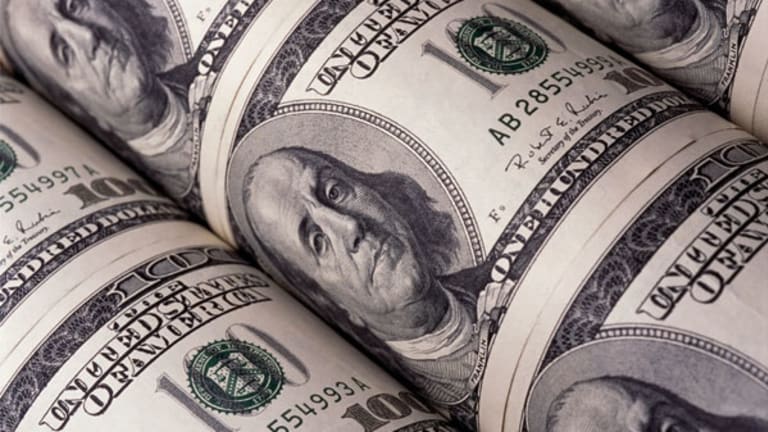 Where to Buy in 2014: Jim Cramer's Best Blogs
Catch up on Jim Cramer's thinking over the past week on where to buy in 2014.
NEW YORK (TheStreet) -- Jim Cramer fills his blog on RealMoney every day with his up-to-the-minute reactions to what's happening in the market and his legendary ahead-of-the-crowd ideas. This week he blogged on:
Click here for information on RealMoney, where you can see all the blogs, including Jim Cramer's -- and reader comments -- in real time.
Where to Buy in 2014 
Posted at 11:30 a.m. EDT on Friday, Dec. 6
(The following is text from Jim Cramer's keynote speech at The Deal Economy Event on Dec. 5.)

When I heard I was coming back to orate at The Deal conference this year, I knew I was in big trouble.
Last year I spoke at a time of incredible turmoil in the stock market. Washington had gone off the rails, hedge fund managers were shorting stocks left and right, individuals were rushing to sell any winners to lock in gains ahead of new taxes and the economy looked very tepid.
Into that breach I came here with some break-up and takeover ideas that I look back on now and think, "wow, what a genius." The reality? The talk came at pretty much the lows for the era. That's how you could catch doubles with recommendations like Deckers (DECK) - Get Free Report, the maker of Uggs, or Alliant Tech (ATK) , the government's bullet maker, without takeover bids. It's how Johnson & Johnson (JNJ) - Get Free Report could rally 40% or Hess (HES) - Get Free Report could rally 70% percent from last year's speech, just on the talk of a breakup, not on the reality.
And it's why almost all of the picks I made handily beat the market year over year. I have always said it is better to be lucky than good and maybe last year's talk is Exhibit A of that adage.
But we are in a what-have-you-done-for-me-lately profession and that means I have to give you a whole new crop of stocks that I think can beat next year's market, too.
That's no mean feat with stocks up 25% on average this year and only five stocks in the Dow having rallied fewer than 10%. Amazingly, only two stocks in the venerable index are actually down, IBM (IBM) - Get Free Report and Caterpillar (CAT) - Get Free Report, and their declines are pretty imperceptible. It's just the opposite of last year's scenario.
It's been a banner year for fund performance, unless you work at one of the considerable number of portfolio managers who fought the rally tooth and nail, which, thank heavens, we didn't do for my charitable trust, my principal way of keeping my hand in the market these days.
The Market's Changed Dramatically
This year I want to do something different. In 25 days, I will have a new book out, "Get Rich Carefully," and it's about looking at stocks from some totally different perspectives. Over the five years since I wrote my last book, I believe the market has changed in some dramatic ways, particularly in relation to methods of trading, as well as government intervention.
It's a market that looks sublime and placid on the surface, but underneath lurks a seething Washington bear that hibernates and then springs up every few months to wreak havoc on stocks, clawing them down 5%, 8%, 10%,  sometimes almost as much as 20%. The market's become a bucolic farmer's field to make hay when the sun shines, except when the hidden landmines of Washington appear underfoot and blow up those who have been lulled into thinking that all is well in the republic.
"Get Rich Carefully" is born of that tension, a confidence-crippling political environment layered on top of a pretty decent earnings story and the polemical challenge from Washington, I think, is responsible for so many people staying away from this glorious bull market (or at least fleeing from it at the worst possible moments, every time a Washington IED explodes in their faces, vanquishing hopes of participating in the riches this market's producing for those who don't have one foot out the door at all times).
That's why I wrote "Get Rich Carefully." Because between the mechanical failures of the market that make a mockery of the asset class known as common stocks and the internecine warfare between Democrats and Republicans that I actually think will be worse this time around as we approach the 2014 elections, we are going to have still one more year with deep fissures that will present terrific buying opportunities.
And let's be sure of one thing before I get into the stocks and themes I like. I don't care if you are for big government, small government, no government or single issues that keep you from thinking beyond those parochial concerns, I just want you to make money.
To do so means to expect the unexpected and attack it with a strategy involving NOT stocks specifically, but long-term themes that enable you to take advantage of Washingtonian-inspired bear raids to put money to work at lower prices than you should otherwise be able to get.

The book's pretty much tightly under wraps. I don't even have a copy in hand. But I want to give you the first preview of one of the most important sections, the top themes for 2014 and beyond, and the best stocks to play them with, including ones I do expect to have difficulty in staying independent when the D.C. bear romps on Wall Street and takes all stocks down.
The New Holy Trinity of Tech
The first theme is the need to embrace the new Holy Trinity of tech: social, mobile and the cloud. Right now only a few companies actually see the vision of what's happening in tech. You need to have recognition that the old way of doing things, the client-server way, which excludes the on-the-go-tablet-toting-smartphone-utilizing individual, both at home and at the enterprise, is now a thing of the past. You need a strategy that captures the strengths of those devices to do everything on a cloud-based platform, not a soup-to-nuts offering provided by EMC (EMC) , Cisco (CSCO) - Get Free Report, IBM or, most importantly, Oracle (ORCL) - Get Free Report, all of which I expect to be losers in the coming year.
Those four companies have become dinosaurs in the face of the social, mobile and cloud revolution.
Who has the smarts to harness these three? First is Salesforce.com (CRM) - Get Free Report, which has become the de facto new Oracle, the platform that all different functions can operate on.Workday (WDAY) - Get Free Report for human capital and finance, KenAndy for enterprise resource supply, Veeva (VEEV) - Get Free Report for global life sciences, Concur (CNQR)  for travel and Facebook (FB) - Get Free Report and Yelp (YELP) - Get Free Report for social and mobile are all based on a Salesforce.com platform that allows for open solutions that cost so little for enterprises to adopt, once they have ripped out the legacy database plumbing.
Watch for LinkedIn (LNKD)  and Yelp to storm the gates as they are armed with both subscription and advertising models for recruitment and leisure respectively, and I am a huge believer that you need both advertising AND subscription sales in a world where advertisers are paying less and less to reach an increasingly mobile audience.
[Read: Who's the Best Tech CEO of 2013?]
Yelp's been heading down of late and I think that it's the most likely candidate to be purchased by a larger company trying to get immediate access to social, mobile and the cloud. It was pursued by just about every major tech company in the space before it came public and I don't think it is trading at a level that's too expensive for Google (GOOG) - Get Free Report or Facebook or Yahoo! (YHOO)  or even Twitter (TWTR) - Get Free Report to pull the trigger on.    
Don't want to venture into the ultra-expensive world of cloud-based systems, where the best acting stock is the 90x-earnings Workday? Then go with the way Action Alerts PLUS, my charitable trust, is investing in the new social and mobile world: Google. Here's a company that has quietly become the hottest business on earth, a company that's known for its superior search function, but should be known for its dominant advertising franchise, its best-in-class personal computing AND smartphone franchises, as well as an endless stream of popular devices that have not yet even begun to be monetized. I think that in 2014 you will see YouTube be commercialized in a shockingly positive and additive way and Google estimates are simply way too low. It could easily rally 25% when those numbers get bumped in early 2014.
Sometimes you can judge a company by the desire of young people to work there. Google's probably the toughest ticket to get a job of any company in the country. Go ask your kids, they know. I can't place a soul there.
Wealth From Health
Second theme? Companies that keep us healthy. Lots of times we must invest with the future in mind, meaning the future of what younger investors are compelled by and they are all about trying to stay healthy, even more than aging baby boomers.
This sector's become crowded with the recent advent of public companies like Sprouts Farmers Market (SFM) - Get Free Report, The Fresh Market (TFM)  and Fairway (FWM) , all of which are giving the primary health and wellness supermarket chain, Whole Foods WFM, a run for its money. But I think that Fairway and Fresh Market have over-expanded badly and I don't like their prospects at all. Sprouts has done well so far and it's kind of like a public Trader Joe's. But the winner here? It's simple: Hain Celestial (HAIN) - Get Free Report. It's the dominant natural and organic food purveyor for all of these stores and it is in an endless land grab to snap up the hottest and the best of the lot.
Irwin Simon's Hain is the utimate arms dealer to all supermarkets trying to catch up with the fastest-growing segment in the pantry. It's a stock that's up 40% from when I spoke about it here last year and I still like it very much, as the earnings, aided by some new killer products and the entry into Wal-Mart (WMT) - Get Free Report, have exploded and far exceeded anyone's expectations on Wall Street.
For the long haul I would still go with Whole Foods because I think it can trump all of these other stores with its presentation and relatively inexpensive prices vs. the perception on Wall Street. I think its stock will get a spur when it opens its gigantic Brooklyn store in a few weeks' time, presenting the new look for its next leg of growth. 
There's a reporter who hates Hain at Barron's and he's good for a periodic slam job on the company. His hit-man approach coupled with Washington-based swoons have given you multiple opportunities to get into Hain at a discount in the last year. He's not done. Take his articles as terrific entry points into the stock. I suggested here last year that Hain might be taken over by a major food company.

Since that time, I think the rest of the food group has gotten even more desperate to become MORE natural and organic and it would make a ton of sense for Nestle, General Mills (GIS) - Get Free Report or Kellogg's (K) - Get Free Report, all of which are challenged for growth, to snap up Hain for $120 a share, 50% above where it is now but a bargain for them because it would immediately raise their price-to-earnings multiples given the growth acceleration Hain would present all of them once the deal closes.
The Cost-Conscious Consumer  
We've got a consumer who -- rich or poor -- no longer feels wealthy and that's a consumer worth investing in. There are two plays on this theme that make the most sense to invest in: Costco (COST) - Get Free Report and TJX (TJX) - Get Free Report. Costco has prided itself on offering the lowest price for merchandise because it makes its profit on the Costco cards so many of us proudly carry.
I recently pulled up with Craig Jellinek, Costco's chief executive officer, and I am convinced that he is following perfectly in the tradition of retired CEO Jim Sinegal in offering the treasure-hunt experience that is fabulous for customers, but a nightmare for suppliers because Costco rotates through new product constantly and then pulls it just when it feels that the goods have gotten too commonplace. It's the secret -- besides those incredibly good samples and the ultra-low prices -- to the chain's strength.
[Read: Store Credit Cards Are Back With a Vengeance]
TJX is a marvel to behold. It's the company that comes with cash to the strapped retailer, the J.C. Penneys (JCP) - Get Free Report of the world, and says we will take your excess inventory for dimes on the dollar and then TJX marks it up to quarters on the dollar in a way that the public can't resist.
It truly is the only discounter that has thrived during this period, which has seen Target (TGT) - Get Free Report, Wal-Mart, Penney and even Ross Stores (ROST) - Get Free Report stumble. I love to shop at the TJ's right across the street from here, buying the same goods that I have seen marked up gigantically at those supposedly discounted retailers.
If you want stability and a slower growth play on the concept, consider Tanger Factory Outlet (SKT) - Get Free Report, a real estate investment trust that's capitalizing on the inability of major stores to maintain full price. This is the one real estate investment trust I follow that has held up in the face of higher interest rates. I think it will continue to do so.
Weak Antitrust Department
What's the fourth theme? The bounty that comes from a very weak Antitrust Department that seems to bless deals that would be vetoed out of hand by any Republican administration. The biggest beneficiary? The airlines.
The combinations that have been allowed in the airline industry have, for the first time, let these companies earn their cost of capital and THEN SOME. It is the single best time ever to be in the airline business because of a dramatic decline in competition and I can't emphasize enough that you need to invest in this area that I have formerly found to be totally uninvestable.
[Read: IRS Announces 2014 Standard Mileage Rates]
I had favored Delta (DAL) - Get Free Report, which I think can easily advance some 50% from these levels if oil stays tame, although its ownership of a refinery allows for a very favorable cost advantage. But the ridiculously anti-competitive merger that was the US Airways-American Airlines deal, I think could lead to a double in the next 18 months for the combined company, which will trade as AAL. History has shown that when airlines are allowed to merge, the synergies are awesome and the possibilities for fare increases remarkable and seemingly endless.
Previously, when we have had these combinations, they ultimately ended badly for shareholders because discounters came in to compete and ruin the margins. But this time there are many things working against the potential discount entries. First, they need new planes and the lines for planes from Boeing (BA) - Get Free Report and Airbus are ridiculously long. You can't get a Dreamliner until 2020 and the queue for the 777 is already beyond the reach of a startup.
Normally, startups would simply purchase old planes and get things up and running instantly. But the old planes now use too much fuel and fuel can equal 50% of the costs of operating the airline, which is just too prohibitive to compete with the majors, which are outfitted with the latest and least-jet-fuel-consuming aircraft.

There is one formidable discounter out there, Spirit Air (SAVE) - Get Free Report, but Spirit, run by Ben Baldanza, a frequent guest on "Mad Money," has no desire to compete with the majors because one of the reasons why the majors are so profitable has to do with their willingness to drop routes that are unpopular for their high costs of operation, but extremely popular for the low-operating cost Spirit. SAVE, as the stock's symbol tells you, doesn't want to compete against the big dogs. It wants to go where they won't fly. 
Yes, the airline business is that exciting right now and until this year I hadn't recommended an airline stock since 1985 when I burned my client base at Goldman Sachs with an ill-fated recommendation to buy the now-bankrupt and soon-to-be up-and-running American.
You want a real sleeper? Consider Volaris (VLRS) - Get Free Report, the Mexican discount airline that is doing the same for Mexico that Spirit's doing for this country. I think it's a steal as it has done next to nothing since coming public earlier this year, but the country's growing by leaps and bounds.
Stealth Tech
A fifth theme that will make you money in 2014? Think stealth tech and the power of innovation. When we think of tech we think of Microsoft (MSFT) - Get Free Report, Intel (INTC) - Get Free Report, Cisco, Oracle, IBM and even Apple (AAPL) - Get Free Report, companies that were at the forefront of innovation, but now seem to be content with simple line extensions with smaller form factors, although Apple's so cheap it is still worth owning.
To get real innovation these days, real progress, you have to consider companies like Colgate (CL) - Get Free Report, which is taking tremendous share from Procter (PG) - Get Free Report and Unilever (UL) - Get Free Report, particularly in the emerging markets as it develops new products that the locals love. Other stealth tech plays to examine? How about Under Armour (UA) - Get Free Report? This Baltimore-based apparel company is rolling out new products literally quarterly, with properties that keep you warm or monitor health in ways that you couldn't dream of just a few years ago. It is a factory of innovation.
But perhaps the most inventive major tech company out there is none other than the once-sleepy Wilmington, Del. colossus DuPont (DD) - Get Free Report. Double D is developing the most new products and reinventing itself on the fly, going from being a boring old chemical concern to being a company that feeds the world and develops health and safety devices that are pulling it away from the pack.
Dupont's hard-charging CEO, Ellen Kullman, is shaking up the company in ways that would be inconceivable not that long ago, getting out of prosaic slow-growth businesses and into proprietary products that don't need strong economies around the globe to propel sales. Next year she will be spinning off her last commodity business, her boom-or-bust Ti02 franchise, a classic little-value-added product line that makes whiteners for things like toothpaste and paint. I think the new Dupont, with little commodity exposure, will see a dramatic lift to its price-to-earnings multiple as it goes from being a boring GDP play to a secular growth company.
Ride the Four Horsemen of Biotech    
Sixth theme? Biotech. Our old-line drug companies, with the exception of Johnson & Johnson have gone from venerated institutions with breakthrough science to simple creators of me-too line extensions and shrewd marketers of old drugs.
In their place have come the four horsemen of the big pharma apocalypse: Biogen-Idec (BIIB) - Get Free Report, Celgene (CELG) - Get Free Report, Gilead (GILD) - Get Free Report and Regeneron (REGN) - Get Free Report. Each has some blockbuster franchises that are right now generating billions in sales for these companies with new drugs waiting in the wings that will produce wins for years and years to come.
Biogen Idec has a world-class multiple sclerosis franchise, including a new drug that's just approved and that's almost certainly going to reach blockbuster status next year. Celgene, just upgraded by UBS, has got a leading blood cancer drug franchise with Revlimid, but watch for its anti-pancreatic cancer and anti-rheumatoid arthritis drugs, which could allow this $164 company to have $17 in earnings power in 2017. That makes it cheaper than any of the big pharma stocks. It could rally 50% and still be less expensive than Pfizer (PFE) - Get Free Report or Merck (MRK) - Get Free Report when it gets there.
Gilead may have the first cure for Hepatitis C, which is responsible for about 50,000 deaths each year and has hobbled hundreds of thousands more. I think this drug, which stems from Gilead's initially-reviled but now widely-hailed purchase of PHARMASSET for $11 billion a couple of years ago, even as it had only 90 employees and no revenues to speak of, will be the biggest new entrant of 2014.
Regeneron's a company that may have the most exciting product portfolio of any of the four horsemen. Currently it sells Eylea, which is a maintenance cure for maculate degeneration, a condition that affects hundreds of thousands of people around the globe. Sales for this drug continue to exceed expectations every quarter.
But the real excitement for Regeneron is a new class of anti-cholesterol drug that can be taken by those who can't tolerate statins. The new rules about the need to take anti-cholesterol drugs regardless of your cholesterol count will play right into the hands of this soon-to-be-approved medication. I think Regeneron could have multiple years of outperformance. And if it doesn't? I think Sanofi, its partner and minority owner, buys the whole company for a huge premium to where it is trading now. 
Focus on Shales
Final theme? Oil and gas. We hear a lot about this revolution in our country and there are multiple ways to play it. I think we have to focus on the success of four shales, the Bakken in North Dakota, The Eagle Ford and Permian in Texas and the Niobrara in Colorado. These are the most oil rich plays, with both the Eagle Ford and the old Permian being the biggest beneficiaries of the new form of horizontal drilling that's allowing us to find much more oil than we ever thought still existed in this country.
The Eagle Ford and the Permian can best be played with EOG (EOG) - Get Free Report, although some would say that Pioneer Natural (PXD) - Get Free Report has the biggest repository in America. Scott Sheffield, the CEO of Pioneer, has declared on "Mad Money" that his part of the Permian contains the second biggest oil field in the world, topped only by the largest field in Saudi Arabia.

If he's right, and we will know in 2014 if he is or not, you could see the stock advance 30-40% after a couple of excellent quarters where guidance is raised and production increased dramatically.
But my favorite, the independent that might be the next major, is Noble (NBL) - Get Free Report, which dominates the Niobrara and also has the biggest natural gas field perhaps in the world adjacent to Israel. This field, the Leviathan, is incredibly important because it is able to break the stranglehold that a newly-threatening Russia currently has on the natural gas market in Europe. I think it's a double.
More aggressive types might want to buy Linn Energy (LINE)  ahead of its closing of the Berry Petroleum deal next month. That company with its almost 10% yield, should be able to travel from $30-36 in a short period of time once that deal's finished. EOG and Pioneer are natural takeover targets, particularly the former now that the man who built it, Mark Papa, is stepping down this year. It's up 50% on a takeout at a minimum.
Best Ideas from AAP
I can't leave you without some ideas that my charitable trust, Action Alerts PLUS, has recently been buying. Our biggest position is Johnson & Johnson (JNJ) - Get Free Report, a company I featured last year as a breakup candidate and which I believe is, at last, on the verge of doing so. This is a stock that's rallied some 30% under Alex Gorsky, the hard-charging CEO who has had to spend the last 18 months cleaning up from his processor, but is now ready to grow the company and split off laggard divisions.
We like Emerson (EMR) - Get Free Report, the next big industrial that we think is ready to roar on a turn in China. Finally, there's the position that I think has the most short-term potential but nobody really champions and that's Bank of America (BAC) - Get Free Report because it's finally gotten its litigation woes behind it and is now focusing on growth with a terrific deposit base to work from.
Morgan Stanley (MS) - Get Free Report, an excellent performer in the last year, still has a lot of upside too.
Can 2014 repeat the performance of 2013? I have no idea.Can the stocks that fit these themes beat the market? Ah hah, I think they could have the same success as last year's picks although, unlike last year, I sure don't have the luxury of speaking to you at the lows of 2013. I know if any of the deals I alluded to finally happen we could have a shot at beating last year's performance.  
Considering that the stocks of the acquirers foften rise as much as the targets these days, you would think that the cyclical trough in M&A will now be upon us. To this I say anything's possible ... but, above all, do not hold your breath.
Best of luck to all in 2014. 
Action Alerts PLUS, which Cramer co-manages as a charitable trust, was long AAPL, BAC, COST, EMR, GOOG and JNJ and MS.