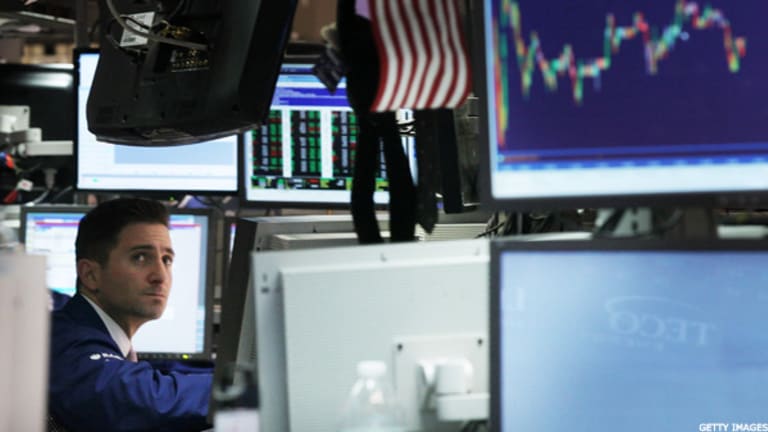 Where the S&P 500 Is Headed; Why I Sold Monitise: Best of Kass
In highlights from his trading diary of the past week, Doug Kass says the S&P 500 has topped out and explains why he sold Monitise shares.
NEW YORK (Real Money) -- Doug Kass of Seabreeze Partners is known for his accurate stock market calls and keen insights into the economy, which he shares with RealMoney Pro readers in his daily trading diary.
This past week, Kass wrote about why he thought the S&P 500 had topped for the year and explained his sale of Monitise shares.
Please click here for information about subscribing to RealMoney Pro.
It Ain't Heavy (Yet) So It Must Have Been a Bottom
Originally published on Wednesday, Oct. 22, at 12:29 p.m. EDT
"The road is long
With many awindingturn
That leads us to who knows where
Who knows when
But I'm strong
Strong enough to carry him
He ain't heavy, he's my brother."
 -- The Hollies, "He Ain't Heavy He's My Brother"  
As I wrote this week, there are several conflicting market tales that seem to have developed.
On the one hand, the short-term market cycle has likely bottomed and I don't expect last week's downside to be reclaimed this year.
On the other hand, the S&P 500 index has likely topped for the year. 
To me, the above divergences suggest that, in all likelihood, The Ali Blah Blah Top is in place for the balance of 2014 and we could be entering a continued period of market volatility over the next few months.
Getting more specific (and recognizing the risks inherent with such a precision of forecast), if I was forced to guess, the S&P (now standing at 1940) is at or near the likely high for the next two months and that 1850-1875 (on the S&P) might be the low end of the range.  
Using a longer three-to-four-month horizon, the S&P (after the 120-point rise from last Thursday morning) has an unfavorable reward vs. risk, with a potential high at 2000-2025 and a low of 1800-1850.
I am expanding my shorts (on a scale) into the strength of the last five trading days and I am back into a net short position.
At the time of publication, Kass had a short position in the SPDR S&P 500 ETF (SPY) - Get SPDR S&P 500 ETF Trust Report .
Explaining My Monitise Moves
Originally published on Wednesday, Oct. 22, at 8:26 a.m. EDT
"Everyone that has looked under the hood of this company in terms of its technology --  originally Visa, whether it be MasterCard, whether its Banco Santander -- have wanted to do something with the company. Whether to invest in the company or to use Monitise' s engine to pilot their mobile offerings." -- Lee Cooperman, "Fast Money Halftime" 
Over the last two days I have sold most of my Monitise (MONIF) shares, principally as a result of the 15% advance (albeit from the lows) after Omega Advisors' Lee Cooperman defended the stock on "Fast Money Halftime" on Monday.
I strive to be transparent in view and in actions in my Diary.
While I believe I have been straightforward in my explanation (and have detailed my MONIF sales throughout the day and at my day's-end summary of trades), continued remarks in the comments section lead me to think otherwise. So I wanted repeat my rationale and logic for this week's stock sales.
I have consistently viewed Monitise as a potentially important and disruptive player in the mobile payments and banking industries. Given its leading market position, strong partners (IBM (IBM) - Get International Business Machines Corporation Report , MasterCard (MA) - Get Mastercard Incorporated Class A Report and others), thoughtful stakeholders (Omega, Legg Mason, etc.)  and prospects for the potential of a rapid trajectory of sales/profits/cash flow, the ingredients for a home-run stock seemed to have been in place.
I have also characterized Monitise as speculative investment and said the stock should be appropriately weighted in portfolios. The company lives in a rapidly changing and innovative space in which the competitive landscape has the potential for an overnight transformation. Monitise is the back end of the solution in a game-changing industry and there is always the potential that its role will yield less returns than generally expected (in terms of average revenue per customer).
Moreover, the company's market valuation, while not pie in the sky, has always been considerable (the shares closed yesterday with a near $1 billion capitalization), so some of the market's high expectations have been built in.     
Though total subs have gone from about 20 million shares to more than 30 million shares over the last year, Monitise's execution over the last six months has been disappointing (two guidedowns) after the company moved from a licensing to a subscription model. Let's call it two strikes against the company.
Recently, Visa (V) - Get Visa Inc. Class A Report announced its intention to cease its development relationship with Monitise. (Visa accounts for about 6% of Monitise's revenues.) Visa went on to say it is considering the sale of its interest in Monitise. We might call this strike three, though I have underscored that Visa was never going to be a continuing  subscription-based customer and that Monitise is de-emphasizing the job shop part of its business.
Over the course of my investing career, three strikes typically disqualifies a company for my investment and I usually sell and walk away from an investment. Nevertheless, though disappointed in the company's execution (and modestly so regarding the Visa decision), the opportunities facing the company have remained substantive, and players in disruptive industries often have speed bumps.
So, I stuck with Monitise and, at times, I purchased (and sold) more. 
The recent IBM partnership emboldened me further, though the market didn't seem materially impressed (as measured by Monitise's share price).
As the share price dropped, abetted by some active and aggressive short-sellers, I have been trading around the position. In most of the last two weeks and before Lee Cooperman's Monday appearance, I had steadily been re-accumulating the shares.
That said, my sales this week were not necessarily a memorial or requiem for my investment in Monitise.
They were a tactical move, a direct reaction to the 15%-plus rise in Monitise's share price after the recommendation and endorsement Monday coupled with my intention to liquefy my portfolio in an uncertain investment backdrop. (As I wrote previously, I would consider any of my long holdings for sale after an (artificial) 15%-plus rise that was not a function of improving fundamentals, but as a result of an endorsement in the media).
The longer-term investment case for Monitise remains intact. But given that run-up, the news vacuum until the first half of 2015, the likelihood of persistent tax selling over the balance of the year and the aforementioned unpredictable stock market conditions, I believe (though I might be wrong) I will be able to replace my sold shares with lower-priced stock in the months ahead.
The following factors form some of the basis of the continuing investment case for Monitise:
The business opportunities in mobile payment and in mobile banking are huge.
Though progress has been uneven, as the company has moved from a licensing to a subscription model, subs have grown to more than 30 million customers from 20 million over the last year.
Monitise has continued to repeat its subscription target of 200 million customers by 2018.
Insiders are eating their own cooking and have bolstered their ownership in Monitise's shares through open-market purchases (and not by option exercises).
Every investor, partner and most banking customers, when looking under Monitises's hood, has elected to partner or invest in Monitise. (See Lee Cooperman's quote at the beginning of this column.)
Thoughtful institutional investors (such as Omega Advisors and others) have reiterated their endorsement of the company.
Monitise continues to make important strides in high-profile banking client wins (most recently Banco Santander). The IBM joint venture is a strong statement of confidence in Monitise and its product suite. Moreover, if successful, it could presage a takeover.
A large short base could buoy demand for the shares. (Note: Blau has modestly lowered its short position this week.)
The share price is 70% less than its 12-month high, in theory rendering the reward vs. risk (if the company executes) even more attractive.
I hope this column sufficiently explains my recent moves to all our subscribers.
At the time of publication, Kass was long MONIF, short IBM.
Doug Kass is the president of Seabreeze Partners Management Inc. Under no circumstances does this information represent a recommendation to buy, sell or hold any security.