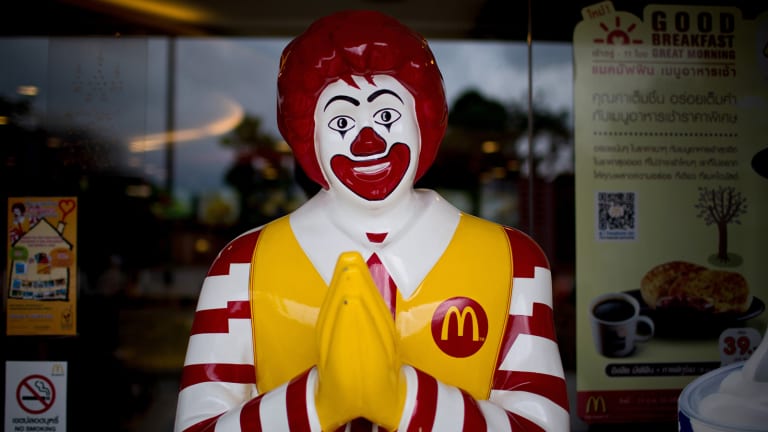 Where McDonald's Can Look to for Signs of Hope
McDonald's is struggling in the U.S., but its performance in two international markets provides some hints of what the burger giant's new CEO could do domestically to turn things around.
NEW YORK (TheStreet) -- McDonald's (MCD) - Get Free Report continues to struggle in the U.S., but its performance in two key international markets provide some hints of what the burger giant can and should be doing domestically to turn things around. 
On Monday, McDonald's released its sales numbers for May -- its last monthly release before the next quarterly report -- and the company wants investors to focus on its longer-term results. For the month, U.S. same store sales fell 2.2% due to ongoing declines in restaurant traffic.
Exclusive Look Inside:
You see Jim Cramer on TV. Now, see where he invests his money and why.

On McDonald's latest results and CEO Steve Easterbrook, Jim says: It's a beginning and it is why they hired him. I think he can simplify and win back the franchisees.
Want to be alerted before Jim Cramer buys or sells a stock? Learn more now.
But the U.K. and Australia, which McDonald's classifies as "international lead markets," continue to dish up solid sales following years of investments in restaurant redesigns and marketing of new premium burgers and value meals. May was no exception for either region. McDonald's Europe logged a 2.3% same-store sales increase in the month, with the U.K. called out for performing particularly well. In April, comps in Europe rose 1%, and the results in the U.K. were characterized as "solid."
Meanwhile, for McDonald's Asia-Pacific Middle East division, comps declined 3.2% in May, but Australia was cited as having a "strong" performance. Australia was also seen as logging a "strong" performance in April.
Australia was one of the first McDonald's markets to receive its "Create Your Taste" platform, which allows customers to customize their burgers using touchscreen kiosks. As of the first quarter, Create Your Taste was in a handful of Australian markets, and it's expected to roll out to almost all the restaurants in Australia this year. "Australia is in the early stages of turning around its business through a multifaceted approach to enhance brand appeal for consumers, including meaningful enhancements to our menu, including both core and new menu items across several categories, value platforms and better restaurant operations," said McDonald's CEO Steve Easterbrook on the company's first quarter earnings call on April 22.
The first quarter represented the third consecutive quarterly increase in the country's comps, according to the company, and customer traffic has increased steadily since September of last year.
The Create Your Taste platform is being slowly expanded in the U.S. this year as well.
As for the U.K., which Easterbrook ran from 2006 to 2010, its ongoing sales strength is a testament to the new CEO's potential to turn around struggling businesses. Easterbrook is credited with fixing the U.K. business in the region by introducing a sharp focus on employee training, introducing healthy options to the menu, and championing restaurant redesigns. McDonald's U.K. has delivered an astounding 36 consecutive quarters of sales growth.
Since taking the reins for the overall company, Easterbrook has announced plans to emphasize both value meals and premium burgers, mirroring changes he implemented in the U.K. So far, however, McDonald's U.S. continues to struggle right into the heart of the summer.
But McDonald's is leaving investors with several things to be encouraged about.
"Breakfast continues to be our strongest daypart -- [sales] were relatively flat in May, but [are] positive year to date," confirmed McDonald's spokeswoman Becca Hary via email. This relatively strong performance comes even as YUM Brands' (YUM) - Get Free Report Taco Bell and others are aggressively going after the breakfast market. Breakfast sales represent about 25% of McDonald's U.S. sales. McDonald's also began testing all-day breakfast in April at 94 locations in San Diego and according to recent reports, is seeking to expand it across the country in coming months. Initial results, according to Hary, have been "encouraging."  
McDonald's has also reportedly been revamping its value menu. According to BurgerBusiness.com, McDonald's is testing a low-price burger in select markets that will anchor the company's popular Dollar Menu, which has been renamed  the "Lovin' Value Menu."  The burger will consists of two regular burger patties with white cheddar cheese, tomato, lettuce and creamy dijon mustard sauce on a potato bun, and sell for $2.49 by itself and $4.69 as part of a combo meal.  Another revamp is the addition of "mini deals" on the Lovin Value Menu. These are combo meals that were often found on the dollar menu and more, and tend to be high margin.
Finally, McDonald's is testing a Classic Pack boxed meal, which first appeared in Australia in 2010, according to BurgerBusiness.com. The Classic Box is priced at $13.99, and offers customers the option of two quarter pounders with cheese or two Big Macs (or mix and match) plus two medium fries, three sauces and a 20-piece chicken McNugget. The meal is designed for four people to share.
This article is commentary by an independent contributor. At the time of publication, the author held no positions in the stocks mentioned.