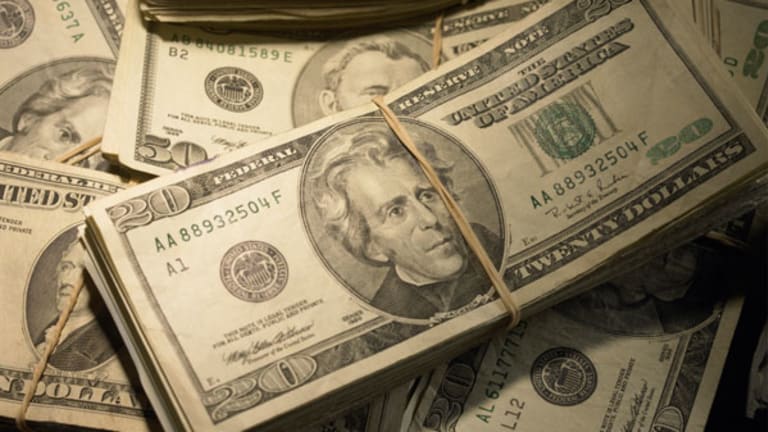 Where Are the Numbers Coming From?: Jim Cramer's Best Blogs
Jim Cramer talks about how the jobs numbers baffle him and says not to give up on this market.
Jim Cramer talks about how the jobs numbers baffle him and says not to give up on this market.
Jim Cramer fills his blog on RealMoney every day with his up-to-the-minute reactions to what's happening in the market and his legendary ahead-of-the-crowd ideas. This week he blogged on:
How the jobs numbers are baffling
How we shouldn't give up on this market
Click here for information on RealMoney, where you can see all the blogs, including Jim Cramer's -- and reader comments -- in real time.
Cramer: How Do They Arrive at These Jobs Numbers?

Posted on June 3 at 4:56 p.m. EDT
I don't like being baffled. I don't like looking at a nonfarms payroll report that says only 38,000 people when we were expecting at least 138,000 and not having any idea how that disappointing figure came about.
Sure, we can try to piece it together. The Labor Department tells us mining has lost 10,000 jobs, which makes 207,000 jobs since reaching a peak in September 2014. That's what happens when coal just gives up the ghost. We know that within "manufacturing" of durable goods, 7,000 lost their jobs in machinery and 3,000 in furniture and related products. Employment in what's known as information declined 34,000, of which "about 35,000" were striking Verizon (VZ) - Get Report workers. Many industries -- finance, construction, hospitality and leisure, transportation and government -- were little changed, except for health care, where costs obviously continue to rise, as 24,000 people were added to the rolls in ambulatory care, 17,000 in hospitals and 5,000 in nursing care facilities. That's 487,000 people hired in that industry in the last year.
Here's my problem. That information plus comments like "the number of persons employed part time for economic reasons increased by 468,000 to 6.4 million in May, after showing little movement since November," a number that represented individuals who would have preferred full-time employment but had their hours cut back, or because they were unable to find a full-time job, tell us so little.
Were these jobs lost or hours cut back in areas where minimum wages were raised? Were they oilfield-related, and oil companies and pipeline companies have been laying off people? Were the jobs lost in fast food, where automation's been making it so fewer people touch a hamburger? Or banks, where apps have led to massive migration to hand-held banking, eliminating tons of bricks-and-mortar jobs? Were these jobs lost because outfits like Salesforce.com (CRM) - Get Report let you connect directly to your customer, often without a secretarial or clerical intermediary? Was it pure productivity gains? We just don't know.
Plus, we got these maddening revisions. March's employment figure was revised from 208,000 to 186,000 and April from 160,000 to 123,000. That could be the difference between the Federal Reserve thinking the economy is overheating and it needs to raise rates vs. an economy that's just fine and nothing need be done. How are these outrageous revisions possible? The Labor Department says that's because "it incorporates additional information that was not available at the time of the initial publication of the estimates."
To which I say, enough already. Major economic decisions are made because of all of these numbers. Huge decisions.
It is incredible to me that Amazon (AMZN) - Get Report could track a pair of Rockports I bought every second along the way and the Labor Department can't track tens of thousands of people and what they are doing. We have companies with artificial-intelligence capabilities that can predict almost perfectly well ahead of the numbers of goods bought and which ones are in demand. We have supply chains for billions of items that are almost never wrong. Or just go ask IBM's (IBM) - Get Report Watson, for heaven's sake. (Amazon is part of TheStreet's Growth Seeker portfolio.)
The precision in industry is fantastic. The precision in government in this, the most important tally in the world, is nonexistent. This is the least rigorous part of our government's statistical gathering and it is just plain maddening.
It's time for the Labor Department to come into the 21st century and outsource this survey. We simply can't have it be this lacking in depth or being incorrect altogether.
When I asked the president's press secretary, he didn't even think it mattered, instead saying not to get caught up in any one or two months.
But it is not me who is being caught up. It is the stock market, the bond market, the Fed, the real economy, for heaven's sake.
Whoever wins the presidency in the fall, this process must change. It's an outrage. It's stupid and it is embarrassing for a great country like ours to have such knuckleheaded data. It's a problem everybody knows about but no one does a thing about. That's got to change and change now and I hope any of the myriad firms that could do a better job is listening and volunteers its services, because this Mickey Mouse tallying project must end.
There. I've said it. Which information technology company wants to step up because, alas, anything's better than what we have now.
Action Alerts PLUS, which Cramer co-manages as a charitable trust, has no positions in the stocks mentioned.
Cramer: These Voices Say Not to Give Up on This Market
Posted on June 2 at 6:54 p.m. EDT
Broadcom (AVGO) - Get Report reminds you, yet again, do not give up on this market. Demandware (DWRE) says do not give up on this market. Gap Stores (GPS) - Get Report says do not give up on this market. Johnson & Johnson (JNJ) - Get Report says do not give up on this market.
As a defender of the tape, I think we have to see this market for what it is: an episodic journey where some stocks advance and some are left behind and you can settle for average as so many do because it is so difficult to spot the great ones.
Or you can do the homework, examine the stocks, like a Broadcom, which was such a fabulous combination with Avago, or an NXP Semiconductors (NXPI) - Get Report , which is amazing when merged with Freescale, or a JNJ, which actually gained traction when it bought a hair-care company.
Taken separately, it's a vast miasma of just OK-edness. Taken together as you examine all of these situations, you realize there's more good than bad.
For example, tonight I had NuVasive (NUVA) - Get Report on Mad Money. Taken from the surface, it's a medical device company going up against Medtronic (MDT) - Get Report and JNJ. Good luck.
But when you listen to CEO Greg Lucier talk about how proprietary the technology is and you recognize that he has created a vast suite of back products for all ages and difficulties, you know this company can stand alone or be bought in a heartbeat by anyone who wants to dominate the back space, which is huge given how many baby boomers are coming into back problems right now.
Anyone who listened to Lucier last time he was on Mad Money heard about some remarkable gene-sequencing machines his company back then, Life Technologies, had developed. Not long after his appearance, the company got a monster takeover bid from Thermo Fisher (TMO) - Get Report . (NXP Semiconductors and Thermo Fisher are part of TheStreet's Action Alerts PLUS portfolio.)
Lucier had been at that company for more than a decade. He just got to NuVasive a year ago, but the transformation is so palpable it's incredible.
Again, not saying great tape. Just taking issue with the complacent bearishness to say open your eyes. NuVasive, NXPI, Broadcom, Demandware. These are not random events.
They are purloined letters of opportunity.
Action Alerts PLUS, which Cramer co-manages as a charitable trust, is long NXPI and TMO.
At the time of publication, Jim Cramer's charitable trust Action Alerts PLUS held no positions in stocks mentioned.