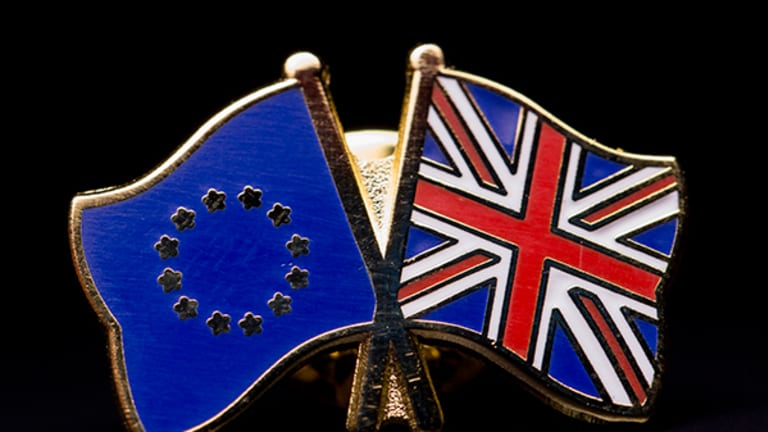 When Will European Union Regulators Reveal Plan B?
Investors should create a shopping list of European stocks but wait a bit before buying.
Like children of divorcing parents, markets today are happy that the U.K. and the EU are having a dialogue. At least they're talking. At least they can reach a compromise, is the hope.
Continuing the analogy with divorce, at the end of the day separation is painful for the short term but staying together in a toxic relationship is very harmful for the long term. Perhaps, slowly, investors are beginning to realize this.
For the long term, investors should probably expect stronger efforts from policymakers to reach a sustainable recovery in Europe. As Algebris Investments CEO Davide Serra pointed out: "Europe gets better when it's on its knees; we are on our knees now. They (European politicians) have a Plan B -- the issue is when do they pull the trigger and how."
However, investors should not rush into the markets just yet. Just as I warned before the referendum that the markets were celebrating a Remain vote too early, I feel I have to stress that today is probably not the day to buy U.K. stocks hand over fist, even though the FTSE 100, the DAX and the CAC-40 were all up around 2% in morning trading in Europe.
As for European stocks, investors should keep pen and paper (or laptop, smartphone or tablet) handy and jot down attractive names to consider for a shopping list, but not jump in yet either.
The markets are celebrating the fact that EU leaders are gathering in Brussels on Tuesday for a summit and outgoing U.K. Prime Minister David Cameron will be there. There is hope that things will begin to move towards some form of progress, although Cameron made clear last Friday that Article 50 of the EU Treaty officially kickstarting the withdrawal will only be triggered by his successor.
Already, the battle for leadership in the U.K. Conservative party is underway, with former London mayor and top Brexiteer Boris Johnson and current Home Secretary Theresa May the frontrunners, adding to hopes that things are going ahead. The pound has bounced off its lows, rising around 0.5% against the dollar in morning trade in London.
But other than that, investors should not expect any more signs of progress. German Chancellor Angela Merkel has already said that no talks, not even informal ones, can begin regarding the U.K.'s deal outside the EU until Britain notifies the bloc that it wants to pull out.
Analysts are optimistic that the EU, and the eurozone especially, will be using the Brexit shock as a positive catalyst.
"The response by eurozone officials may be more QE and bigger budget deficits," according to HSBC's chief European economist, Karen Ward.
This is because the eurozone will probably be hit by an economic slowdown in the U.K., with Ireland, Belgium and the Netherlands the most vulnerable, but also Malta and Cyprus not far behind, as they are the biggest exporters to Britain from the single currency area.
But as portfolio manager and macro strategist at Algebris Investments Alberto Gallo said, investors should be aware we are in an environment of QE infinity, where returns on money-printing are diminishing as "the best of the recovery is behind us and there is less yield."
Gallo cautioned that there is political risk ahead for Europe and the world as well. Spain is again facing a hung parliament as repeat elections at the weekend have not yielded a result much different from the one last December. Then there is the Italian referendum on the Constitution in October, followed by elections in the U.S. in the autumn and in Germany next year.
"Going forward, volatility and tail risk will be more frequent. Benchmark long-only strategies are no longer good for this environment," Gallo added.
Investors should be watching the talks in Brussels today and tomorrow for any signs of what the Plan B is and how it will be implemented, to get ideas about what strategy to follow. In the meanwhile, here are some Real Money articles about the effect of Brexit on U.S. companies and the economy:
Editor's Note: This article was originally published at 8 a.m. EDT on Real Money on Real Money.