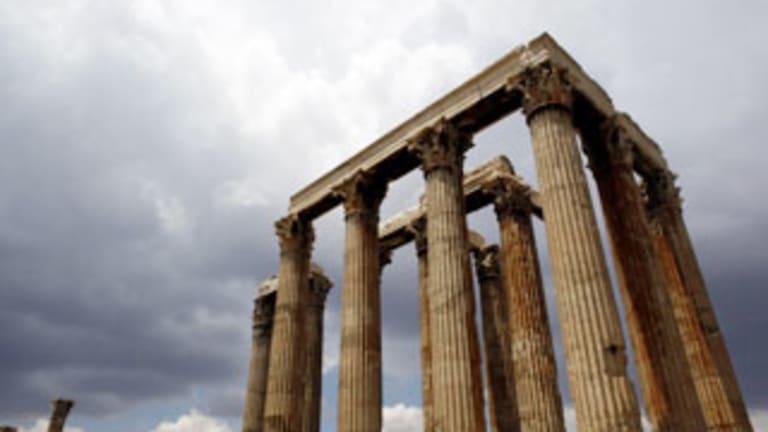 When This Deal Ends, Things Could Go South Quickly in Greece
Assuming Greece's economic reforms are accepted, its financing will be extended. But negotiations must address financing after May, or consequences could be dire INSEAD's Douglas Webber said.
NEW YORK (TheStreet) -- Greece will be solvent -- and remain in the euro zone -- for a few more months, thanks to the planned extension of its bailout. But after that, the situation could turn south quickly unless both sides reach a lasting agreement, INSEAD Business School professor Douglas Webber said.
No agreement could lead to a run on Greek banks, Webber said. It would eventually make a Greek exit from the euro zone "increasingly likely and inevitable," he added.
Provided that the euro zone finance ministers approve Greece's list of economic reforms, the struggling country will receive a four-month extension to its financing as part of an agreement both sides reached on Friday.
The 7.2 billion euro aid extension will allow the indebted sovereign to continue paying its bills, Webber said, but only temporarily, assuming the reforms are deemed acceptable by the European Central Bank, International Monetary Fund and European Commission. 
The extension will provide Greece with financing through the end of May, Webber said. 

Global X FTSE Greece 20 ETF GREK data by YCharts
In the beginning of June, another round of financing will be necessary, and it would be prudent for the two sides to arrive at deal before the next round of funding comes up, the Paris-based professor said. 
Negotiations are far from over, and without further financing after May, the economic situation in Greece will turn south rather quickly. 
The country is already plagued by a 25% unemployment rate and a failure to reach further financing deals will exacerbate the situation rapidly. 
 Leaving the euro zone is highly undesirable, especially from Greece's standpoint. The economic consequences for the country "would be grave indeed," said Webber.