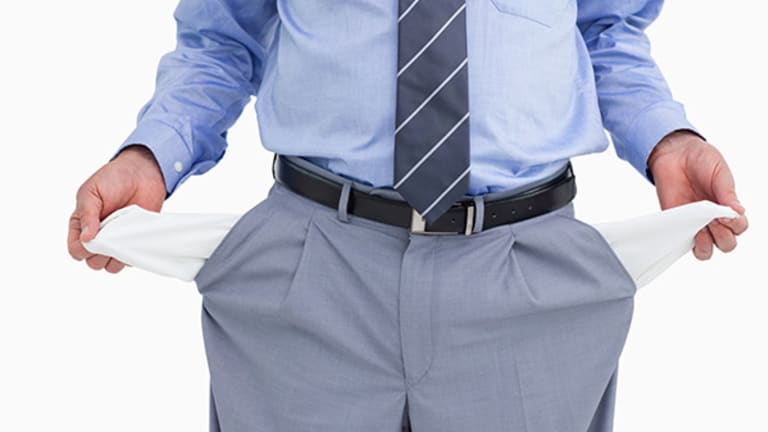 When the Crowd Is Right; Are Fossil Fuels Turning Into Dinosaurs: Jim Cramer's Best Blogs
Catch up on Jim Cramer's ideas from this past week, when he wrote about why contrarians sometimes make negative profits, and how the petro industry's pulling down everything it touches.
Jim Cramer fills his blog on RealMoney every day with his up-to-the-minute reactions to what's happening in the market and his legendary ahead-of-the-crowd ideas. This week he blogged on:
Why contrarians sometimes make negative profits.
How the petro industry is pulling down everything it touches.
Click here for information on RealMoney, where you can see all the blogs, including Jim Cramer's -- and reader comments -- in real time.
Being a Contrarian Investor Is Sometimes Just Wrong
Posted on Dec. 10 at 6:18 a.m. ET
"It seems that Freeport can't get anything right these days," a report on the once-mighty Freeport-McMoRan (FCX) - Get Freeport-McMoRan, Inc. Report begins. "Clearly the prolonged slump in commodity prices has crushed the company. Sentiment is prevailingly negative. But to own Freeport, investors need to accept its risk-reward proposition. Volatility comes with the territory. When commodity prices go south," the report continues, "so, too, do profits and the stock price. But there is an upside as well, which is that if gold, copper and oil go higher, so will Freeport."
The report then offers a compelling perspective: "The stock has been so badly beaten down that to sell FCX now makes little sense to me, considering what whipsaw potential there is if copper, gold and oil prices recover. Freeport trades for 10x 2015 earnings and 1.09x book value. At such low valuations, FCX now looks to be a cheap stock with huge upside potential and a 5% dividend yield is a very nice kicker."
The only problem? The report is dated Dec. 24, 2014, written by an analyst in Seeking Alpha. I will spare you his name because maybe he changed his view, but pretty much everything he wrote was wrong and didn't come to pass, not the least of which is the kicker; the 5% dividend yield is gone, because yesterday the company suspended its dividend.
But let's set the stage. Freeport's stock had been on a roller coaster ever since the great recession, trading from $7 in 2005 up to $58 in May of 2008 and then back to $7 in December of 2008 when it sliced its dividend, only to come roaring back to $58 in January of 2011. Then in December of 2012, with the stock at $37 and oil and $85, FCX paid $20 billion to buy Plains Exploration and Production and McMoRan Exploration for $20 billion.
That deal, unbeknownst to the analyst who sent this bulletin to about 70,000 people, pretty much sealed FCX's fate. Sure, a year ago, when the upbeat report was written, oil was at $55 while now it is $38, copper was at $2.8 and it is now at $2.09 and gold was at $1173, it is now $1077.
But the issue isn't the decline in those commodity prices, which, while severe, shouldn't have sunk this company to $7 where it sits once again on this amazing thrill ride. It's the debt the company took down. That's what made it suspend the dividend, amend its credit agreement, fire-sale assets and continue to sell stock at the market, having raised $1.6 billion since the program was announced not that long ago, leaving "only" $400 million left to sell to raise the $2 billion in equity it needs to service that debt. And is there any wonder why Carl Icahn's down big since the announcement that he had purchased 8% of FCX back on Aug. 28 of 2015 when the stock was around $10? Not even the mighty Icahn can trump that kind of seller.
Now, as daunting and cautionary as this tale of commodity woe is, what makes me most worried about FCX is that the next trip from $7 to $58 might not occur, because the copper market is suffering from a level of glut equaled only by the oil market. FCX was able to recover so quickly not because of our housing market, which did nothing during that period, but because of demand for emerging market infrastructure, mostly that from China. That infrastructure spend seems to have glutted everything that copper's used for in the People's Republic, mostly residential and commercial construction. There will be no snapback this time, and that takes into account the cutbacks that Glencore (GLNCY) , another ridiculously bullish back in the day copper miner, announced this morning that sent its stock up as Freeport's did yesterday on its austerity announcements.
Why point all of this out? Simple: Sometimes the consensus that had brought that stock down is right. Sometimes the negative sentiment is right. It doesn't always or even often pay to be a contrarian. The 10x earnings in 2015? It's losing money. The 1x book? The book is now astoundingly overvalued. The cash flow protection? Gone. Let this bullishness in the face of oversupply and a lack of demand remind you that when you are dealing with commodities, cheap isn't in the eye of the beholder. It's in the eye of the marketplace.
Is Oil the New Tobacco?
Posted on Dec. 7 at 1:37 p.m. ET
Are fossil fuels the next tobacco stocks?
Has a consensus developed that if it is fossil, it's going to go away? That plus the dissolution of the cartel known at OPEC are rattling this market in a way that nobody could have predicted a year ago.
Now, I've been talking about how we've been in crazy town for ages in this market where good news is bad news and vice versa. We had a nice change of pace last Friday when we got a strong jobs number at the market actually rallied.
But today perhaps the best news that could happen to the consumer, save a monumental tax cut, is a further decline in energy. That is having its usual horrendous impact on the stock market.
Now some of that is because many of these stocks were owned for income in a time when the market's been starved for income. We have seen an amazing decline in the master limited partnership space, a group known for its outsized distributions, in part because of a sense that the group's finished with the dissolution of OPEC and in part because a company that isn't even a master limited partnership, Kinder Morgan (KMI) - Get Kinder Morgan Inc Class P Report , has a stock that's falling apart. Notice I didn't say that Kinder Morgan is falling apart. I am just saying that the stock is and that may be all that matters.
How did we get into this positive predicament and remember I still regard it as positive because we are a net importer of energy as a nation and a net user of gasoline, heating oil and natural gas. There are only a few states that actually have oil- and gas-related jobs that were growing, pretty much just a handful, so the pain should be concentrated in those producing states. Not only that, but because the price of energy has become so low and the pipeline system is being built to ship cheap natural gas to where it can be made into plastics and other fuels, we will be adding manufacturing jobs to these states, especially Louisiana, which is the hands-down winner on a per-capita basis.
The answer is that OPEC dissolved. This cartel, founded in 1982 to boost prices, has been disassembled by its own members because they are so at odds with each other. Saudi Arabia is a rich country that hates Iran, a poor country, and the Saudis don't want Iran to get a lot of money to rebuild its bountiful facilities. I am sure the Saudis now view Iraq as a proxy state for Iran, so they don't want to support that. In the meantime, the Saudis don't want to lose their market share to the U.S. or China, so it is natural to price cut to keep those relationships.
We are a huge winner in a scenario where the Saudis want us to have cheap oil. If Washington weren't so dysfunctional it could put an infrastructure tax on gasoline of a couple of cents and double the size of that $261 billion highway bill. Heaven knows we need it.
Typically, I talk about how big institutions own stocks and when they make their elephantine moves you can see how they impact stocks.
But institutions are beginning to walk away from all fossil fuel stocks as the heat is being turned up on global warming. Any climate conference produces portfolio managers who want to steer clear of this sector.
At the same time it is heavily-owned by individuals as part of an overall move to pick up yield because there's not much opportunity in traditional fixed income to save enough money for retirement. So, individuals turned to these higher-yielding companies.
There are two kinds of pipeline companies: those that take commodity risk and those that operate as pretty much pure toll roads. The commodity pipelines have become very distressed in their actual business. The toll-road pipelines not as much. In fact, many of them don't have that much risk at all. They have been raising their distributions because producers need their pipes more than ever, particularly for natural gas as they get new users to take advantage of the glut, typically power plants that are switching from expensive coal to cheaper natural gas.
But here's the problem. These companies rely on the need for ever-increasing pipes to new areas of drilling and we are stopping a lot of our drilling because of the Saudis flooding the world with oil. The oil and gas we are pulling out of the ground right now, the profitable stuff, is profitable typically because it already has transportation via pipeline. The build-out of new pipelines works if there are new finds that can be exploited. That's no longer the case though.
The result? We are over-piped in many areas. Now, I want to be sure that people understand that many of these companies in this industry are doing incredibly well. They are conservative they will do fine. For example, Enbridge (ENB) - Get Enbridge Inc. Report just lifted its quarterly dividend on Thursday, boosting it 14% and talked about the coming pipeline shortage by 2021, which, given how long it takes to site and build means that you have to take action now if you are going to capitalize of that.
Which is why, to bring us to the heart of the matter. Kinder Morgan has been so acquisitive, including buying a pipeline that could move nat gas to many key areas at what could be a bargain basement price if everything goes well.
It doesn't matter, though. There is a tremendous fear that Kinder will have to cut the dividend and some, like Credit Suisse, speculate that it could be halved from its current 51 cents per quarter or 13% for the year. The company has been a tad cagey about how it is going to fund the acquisition and keep a good credit rating, but what matters is that a year ago the company was talking about raising the distribution regularly and now people think they will cut it. If you only owned it for the distribution then you have no reason to own it if they are going to cut it.
More importantly, if the best of the best might cut it -- and Kinder had been viewed in that light -- what does it say about the rest?
As I just mentioned with Enbridge, it should be viewed as case by case. But because these all trade together, typically through mutual funds or ETFs, and because individuals are scared to death about what's happening at Kinder, they are throwing them all out. It's not an total absurdity given that many of the less conservative companies are constantly offering stock to grow their businesses and as the stocks go lower you have a vicious cycle where more and more stock has to be offered and you get more and more dilution. It's a nasty situation.
Energy isn't even 10% of this market, but it clearly punches above its weight, as do the ETFs that control these stocks.
Let me throw in one other participating factor. If you run a hedge fund and decided to borrow money at low rates to pick up these big yields -- as many have -- you are in real trouble. That's because you most likely have margin calls that are forcing you to sell your holdings.
Today we saw a smattering of winners from the lower energy costs. Some airlines went up. So did some restaurant chain. We also had a delicious buyout bid for Green Mountain Coffee Roasters (GMCR) by a private firm at a 77% premium to where the stock was just the other day. You would think that could spur some buying.
But it didn't. Instead, in crazy town, we had relentless declines even of the companies that use large amounts of energy in their daily existences, companies like the packaged goods, food, and drug businesses that make their goods out of energy derivatives and ship them to stores using gasoline.
So, it just doesn't matter. The group's pulling almost everything down and it doesn't look like it can turn any time soon.
Action Alerts PLUS, which Cramer co-manages as a charitable trust, has no positions in the stocks mentioned.