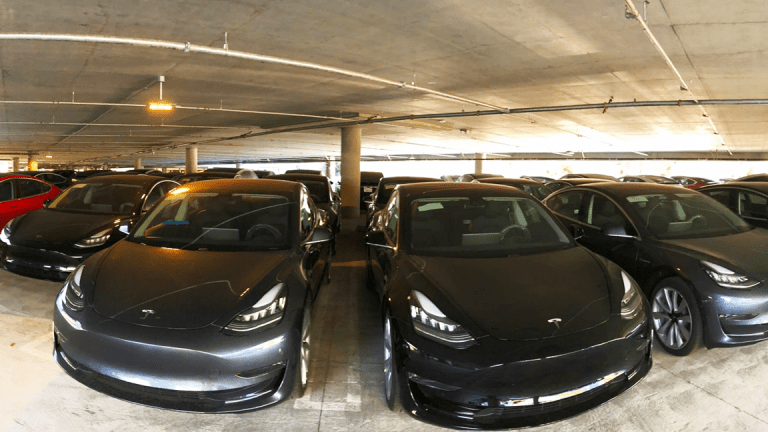 Tesla's First-Quarter Earnings: 13 Key Takeaways
The company said it is cutting its 2018 capex guidance from more than $3.4 billion to less than $3 billion, but here's what else you need to know from Tesla's first quarter earnings release.
About that Tesla quarter. 
Tesla (TSLA) - Get Tesla Inc Report  reported a first quarter loss of $3.35 a share versus estimates of a $3.54 a share loss, according to analysts polled by FactSet, on Wednesday after the close of trading.
The company posted revenue of $3.41 billion for the quarter, verses analyst estimates that projected the company would have about $3.22 billion in sales. Revenue for the quarter increased 26.3% year over year.
It is a crucial quarter for a company that has been burning through cash at an alarming rate while its CEO Elon Musk continues to tweet and pontificate over the company's long-term goals.
Here are some key takeaways from Tesla's first quarter earnings report which was released just after the market close on Wednesday, May 2:
Tesla is not for the faint of heart: "I think that if people are concerned about volatility they should not buy our stock," says Musk on a conference call with investors.
The company is cutting its 2018 capex guidance from more than $3.4 billion to less than $3 billion.
Tesla ended the first quarter with $2.7 billion in cash and $10.8 billion in long-term debt and capital leases. That compares with $3.4 billion and $10.3 billion, respectively, at the end of the fourth quarter.
Says it expects "positive GAAP net income and positive cash flow" in both the third and fourth quarters. 
The company still expects to "approximately" reach a 5,000-unit weekly Model 3 production rate in about two months
Model 3 net reservations "continued to exceed 450,000" at the end of the first quarter. That's down slightly from July 2017.
Tesla is aiming to hit a 25% gross margin next year for Model 3.
Reiterating its full-year Model S and X deliveries guidance of 100,000. Second quarter deliveries "will likely be similar" to a first quarter level of about 22,000.
Tesla says its guidance for third quarter and fourth quarter GAAP profitability assumes ramping Model 3 production to 5,000 per week, and getting to breakeven Model 3 gross margin in Q2 and "highly positive" gross margins in Q3 and Q4.
Tesla says weekly Model 3 production reached a level of 2,270
SpaceX and Tesla may be on a collision course: When asked if satellite bandwidth was an area of potential collaboration between Tesla and SpaceX in time? Musk says "it might be."
Tesla hasn't tried hard to sell the Semi, and that the Model 3 ramp is its biggest focus right now.
Comments point to a spring 2020 production launch for Model Y. In April, Reuters reported Tesla is aiming to start Model Y production in Nov. 2019. 
Check out more from TheStreet on Tesla and tune into our live blog of the earnings call this evening.
This article was written by a staff member of TheStreet.