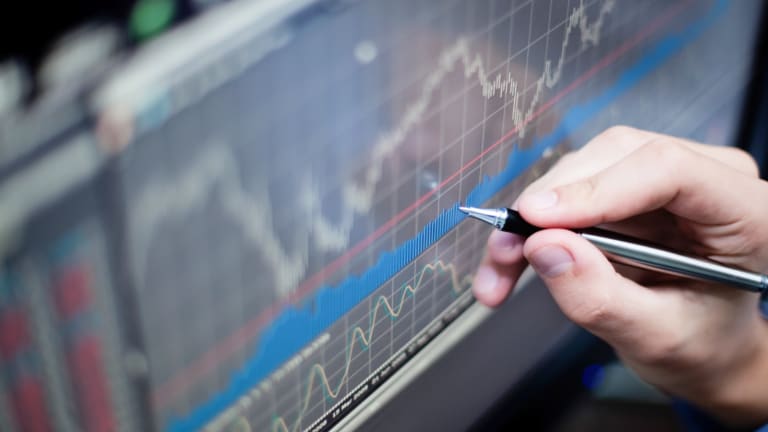 What You Need to Know About Market Corrections and Bear Markets
What's the difference between a market correction and a bear market, and what should investors be doing with their portfolios right now as stocks slide?
NEW YORK (TheStreet) -- Stock markets encountered heavy turbulence Monday, and by the end of the session, many investors were wondering whether the the markets remained in correction mode or were seeing a capitulation.
The S&P 500 index tumbled 77.68 points, or 3.9%, and the Dow Jones Industrial Average dropped by 588.47 points, or 3.6% -- another day of big losses.
The S&P 500 index has now ended its fifth-longest correction-free streak, according to MarketWatch reporter Tomi Kilgore, and he writes that there is now a high probability that a 20% bear market selloff may be coming. 
The stock market is now in a correction, which is defined by an index closing 10% below its 52-week high. A correction had long been overdue, and the last one happened four years ago, according to CNN/Money.
Corrections are considered healthy for stock markets, as they tend to sift out excessive speculation. But if corrections continue for too long they can turn into bear markets as investors end up losing confidence in stocks, liquidate their positions and put their cash elsewhere.
Defining Market Correction and Market Capitulation
Markets eventually come out of correction mode when investors start buying stocks again, which in turn pushes prices back up. 
A bear market is triggered when investors completely lose faith in markets and resort to panic selling. Reaction to news and certain events can usually create fear of uncertainty and serious concerns regarding the future of stocks.
In comparison, a market correction is less severe than a market capitulation, but both remain unpredictable.
A bear market is defined as a 20% or greater decline lasting more than 60 days in a broad stock market index, as this video from The Wall Street Journal explains. Since 1929, the U.S. has witnessed 25 bear markets, and they lasted on average for 10 months, the video says.
When Does a Market Correction Turn Into a Bear Market?
A market correction can turn into a bear market if investors gradually start losing faith in the markets. History tells us that investors' sentiments (fear and greed) usually drive the markets. When fear takes over, investors cause market fluctuations as they impulsively try to leave the tumbling markets. Investor psychology can turn a correction into a bear market if panic selling gains momentum, according to this CNBC article.
The market mantra is to buy low and sell high because that's what gets the profits. But during steep market crashes, quite the contrary happens: People wind up selling low as they worry about prices falling even lower in the future.
Should One Trade During a Market Correction?
While trading during market crash may be a crucial decision for those who are invested for the short term, it could lead to some irrational decisions for long-term investors. This article in The Washington Post says long-term investors should assess their portfolios calmly and avoid panic selling in a deteriorating market.
When markets are in a panic, any irrational behavior may create significant changes in an investor's portfolio and long-term goals. When markets sell off widely, good-quality stocks should be sought as they will sell at a discount. While many buying opportunities may be available, frantic buying without doing much research on the companies should be avoided.
Finally
Market sentiments are supposed to be highly driven by breaking news. Nobel Prize-winning economist Robert Shiller told CNBC, "When people who don't normally pay attention to the market are brought in, it can feed on itself like an epidemic." The current market turmoil in the U.S. is not the end of the world for long-term investors, however, Shiller said.
Another closely followed expert has said similar things. Mohamed El-Erian, chief economic adviser at Allianz SE,said onBloomberg the current selloff is not like financial crises in 1998 or 2008, which delivered seismic shocks to world markets.
El-Erian also said that the stock market dislocation is due to the emerging world and not falling oil prices or the European Central Bank. He said that for stock markets to gain stability, China would need to come up with a credible plan, which seems a bit unlikely.
As emerging economies remain in the spotlight, the global stock market commotion may go on for weeks or even months. The U.S. stock market selloff probably isn't going to be disastrous, but that doesn't mean it won't cause fear or anxiety.
This article is commentary by an independent contributor. At the time of publication, the author held no positions in the stocks mentioned.