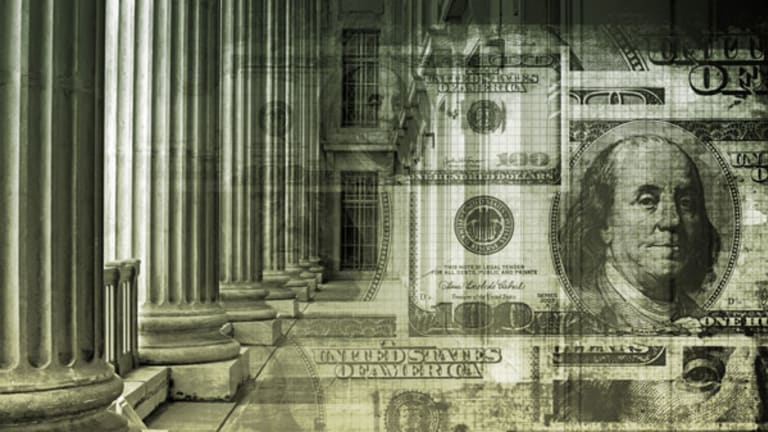 What Would Value Guru Benjamin Graham Buy?
Based on his criteria, value investing pioneer Benjamin Graham might have considered buying these stocks.
NEW YORK (TheStreet) -- There's little doubt that Benjamin Graham, considered to be the father of value investing, would not have participated in Facebook's (FB) - Get Meta Platforms Inc. Class A Reportinitial public offering.
Graham believed that investors should be "wary of new issues," a belief he espoused in his must-read classic,
The Intelligent Investor
. Graham gave two reasons for his IPO reluctance. First, he believed that new issues had "special salesmanship behind them", which meant that someone on Wall Street was getting their pockets lined because of the deal.
Second, he believed that IPOs were sold under "favorable market conditions," meaning the seller had an advantage over the buyer. Put another way, by the time a buyer gets a hold of their shares, the easy money has already been made because issues often price at more than they are worth.
In Search of the Next Berkshire Hathaway >>
The next obvious question is: What companies might Graham actually like in the current market? While markets have changed dramatically since Graham's death in 1976, the investment principles he espoused still have merit.
In selecting stocks for the "defensive investor," Graham laid out the following criteria, which I've modified slightly given the fact that the last edition of
The Intelligent Investor
was published in 1973.
1. Adequate size -- Graham excluded smaller companies. I've set the minimum market cap at $1 billion. 2. Strong financial condition -- Minimum current ratio of 2; long-term debt must be less than working capital. 3. Earnings stability -- Graham required positive earnings for at least 10 consecutive years. I am using seven years. 4. Dividends -- Graham required "uninterrupted" dividends for at least 20 years. I am using seven years here as well. 5. Earnings Growth -- Graham looked for companies that increased earnings per share by at least 33% during the past 10 years. I am using a minimum compounded annual growth rate of 5% over seven years. 6. Moderate price-to-earnings ratio -- Average P/E ratios should be less than 15 during the past three years 7. Moderate ratio of price to assets -- Graham sought companies with price-to-book ratios of less than 1.5, but would accept a higher P/E ratio, if the price-to-book ratio was lower. This end result was that P/E times the price-to-book ratio should be less than 25.5. 8. Other considerations -- U.S. companies only. I excluded foreign companies and American depositary receipts (ADRs) from the results.
Given the rather strict nature of the criteria, it's not surprising that just eight companies made the cut. Three of them are oil-related. The granddaddy of them all in terms of size is
Halliburton
(HAL) - Get Halliburton Company Report
, which has a $29 billion market cap, and has been a controversial name in recent years. The company currently trades at less than 10 times trailing earnings, just over two times book value, and yields 1.2%.
Dividend Growth Reveals the Path to Profits >>
The other oil-related names are
Diamond Offshore Drilling
(DO) - Get Diamond Offshore Drilling, Inc. Report
, and
Helmerich & Payne
(HP) - Get Helmerich & Payne, Inc. Report
. Both of these also trade for less than 10 times earnings, but so do a lot of names in the energy industry, where single-digit P/E ratios are currently the norm.
One of the most interesting names that made the list is electronic components company
AVX
(AVX) - Get AVX Corporation Report
. I've encountered this name often in recent years in a variety of value-related searches. With a current market cap of about $1.85 billion, AVX trades at about 8.5 times trailing earnings, and just 0.85 times book value per share. Its balance sheet is solid, with $781 million in cash and short-term investments, or $4.60 per share. That's compelling considering the current share price is less than $11.
AVX also has an additional $225 million, or $1.32 per share, in long-term marketable securities, and there's no debt. Given AVX's extremely high current ratio, which is just under 9, the company can easily afford to pay the current 7.5 cent quarterly dividend, which equates to a 2.75% yield.
Rounding out the list are defense name
Curtiss-Wright
(CW) - Get Curtiss-Wright Corporation Report
, pawn shop company
Cash America International
(CSH)
, workplace uniform company
UniFirst
(UNH) - Get UnitedHealth Group Incorporated Report
, and tobacco name
Universal Corp.
(UVV) - Get Universal Corp Report
. It's a rather eclectic mix of names, but I would not expect anything less.
Finally, I can't help but wonder what Graham would make of the hoopla surrounding the Facebook IPO, and subsequent debacle that's still unfolding. I'm sure he would be smiling, and shaking his head.
-- Written by Jonathan Heller, president of KEJ Financial Advisors and a contributor to TheStreet and Real Money. As of publication, he had no positions in the stocks mentioned.
At the time of publication, Heller had no positions in the stocks mentioned.
Jonathan Heller, CFA, is president of KEJ Financial Advisors, his fee-only financial planning company. Jon spent 17 years at Bloomberg Financial Markets in various roles, from 1989 until 2005. He ran Bloomberg's Equity Fundamental Research Department from 1994 until 1998, when he assumed responsibility for Bloomberg's Equity Data Research Department. In 2001, he joined Bloomberg's Publishing group as senior markets editor and writer for Bloomberg Personal Finance Magazine, and an associate editor and contributor for Bloomberg Markets Magazine. In 2005, he joined SEI Investments as director of investment communications within SEI's Investment Management Unit.
Jon is also the founder of the
, a site dedicated to deep-value investing. He has an undergraduate degree from Grove City College and an MBA from Rider University, where he has also served on the adjunct faculty; he is also a CFA charter holder.